Ruby Tuesday (NYSE:RT) has been a long time short of mine as the company's real estate portfolio clouded investors' judgment about what amounts to a lackluster restaurant chain. But those concerns have come to light in the past couple of quarters and RT has traded as low as $2 in recent months. I finally gave up my short at $2.51 a couple of months ago, saying the risk/reward simply wasn't there any longer. The stock has rallied since then, however, and heading into the FQ2 report in a couple of weeks, I'm cautious again.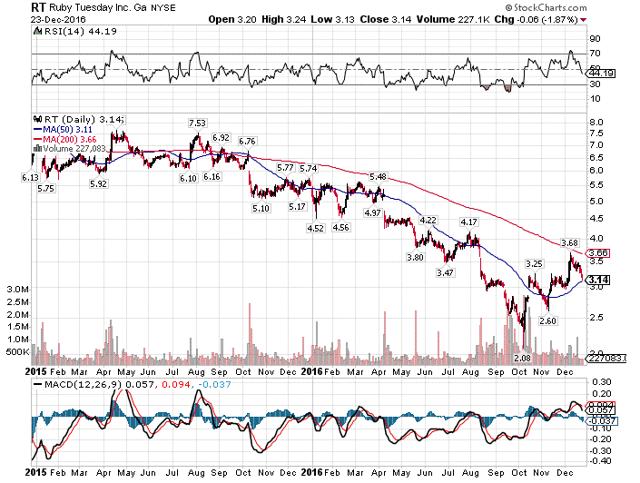 RT's revenue will be in focus during the report as we all know that roughly 100 of the worst stores in the system have been closed. That was a necessary and proper step as RT has struggled for what seems like forever with comp sales but thus far, the closures haven't really made any tangible impact. Comps are going to be absolutely critical during the FQ2 report because that will give us a read on how well the turnaround is progressing. I don't think there is a turnaround to speak of personally, but somebody does, judging by the fast and furious buying action we've seen since the October bottom.
The thing is that despite already having a couple of quarters under its belt since the closures, there has been absolutely no evidence of an increase in comp sales. RT continues to struggle as it hasn't addressed its core problem; people don't want to eat there. That's not my opinion; it is a fact based upon years of comp sales information. And with the industry struggling right now with not only waning demand but also rising labor costs, bottom-feeders like RT don't stand a chance. In other words, I expect a worse-than-forecast revenue number for FQ2 because the deck is certainly stacked against RT.
Speaking of higher labor costs, that was a big factor in the sizable decline in gross margins in FQ1 and I don't see any reason why that won't occur in FQ2 as well. Rising payroll costs are here to stay in the restaurant business and RT is more susceptible than most due to its already-thin margins and the fact that its traffic numbers continue to be terrible. I'd be shocked if gross margins are even flat to last year's, let alone show some kind of expansion. Input costs continue to be a tailwind for the industry but higher labor is something RT flat out cannot afford.
The story is the same for SG&A costs as RT hasn't been able to save money there despite its huge decline in sales. If some progress is made on this front in FQ2, that would be a huge development for the bulls. Again, there hasn't been any real progress but if RT is to grow out of its $3 stock price, it needs progress. Its cost structure remains way too high for its level of sales and won't be able to materially grow earnings without it.
Management said after the FQ1 report that it was expecting positive comps this fiscal year and with it now halfway over, we need to see something. Stating comps would be positive this year was a big claim to make but to be fair, if RT is going to do it, this would be the year. RT's comp sales have declined for a very long time and remember that the worst 100 stores are now gone. That means that getting to at least a flat comp should be a slam dunk. It doesn't mean it will happen in FQ2 but again, the read here is of paramount importance.
I still think that RT has lots of problems and that even if management is right and comps go positive this year, the stock has already priced in a turnaround in earnings. If we assume the industry average multiple right now is 15 and, more importantly, that RT actually deserves to trade with an industry multiple, we'd need to see better than 20 cents in EPS for it to grow into its current price. Remember that this company lost over $50M last year and has already lost $40M this year, meaning that any sort of positive EPS is still out of the question. In other words, the rally heading into the FQ2 report is extremely premature and I fear that we're going to see what we've already seen from RT before; a sharp rally that cannot be maintained. Given the enormous number of industry headwinds right now, the fact that RT has performed so poorly for so long and the fact that a turnaround and sustainable earnings are already priced in, there are many reasons to sell this rally into the earnings report.
Disclosure: I/we have no positions in any stocks mentioned, and no plans to initiate any positions within the next 72 hours.
I wrote this article myself, and it expresses my own opinions. I am not receiving compensation for it (other than from Seeking Alpha). I have no business relationship with any company whose stock is mentioned in this article.