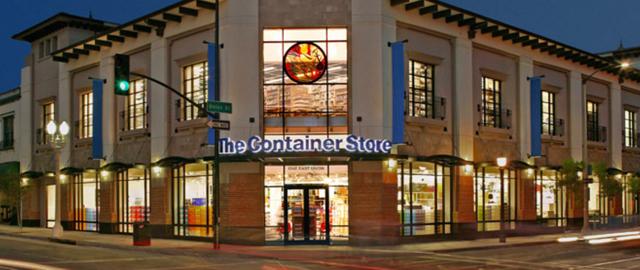 The Container Store (NYSE:TCS) has done nothing but disappoint investors since it came public a few years ago. I've been very bearish - even recently - as the stock has managed a number of rallies that eventually failed. With earnings coming up in a couple of weeks, TCS has once again rallied hard for no apparent reason. The stops and starts in housing stocks have seen TCS move higher, but it is plainly obvious that the company still has lots of problems, despite the success of its cost savings program. Heading into the earnings report, TCS is a strong sell.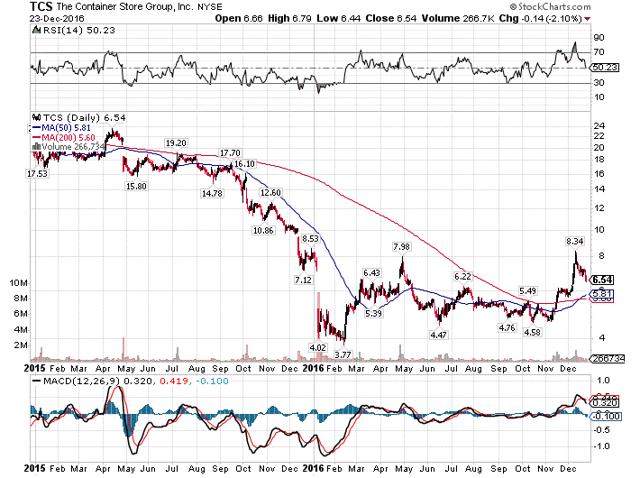 TCS has embarked on a journey of diversifying its revenue stream and modifying its cost structure in order to account for the lower-margin sources of revenue it has been chasing. The Closets business has been about the only thing that has gone right for TCS this year, and given that the January report will include the Christmas quarter, I expect another huge quarter for the Closets business. That segment added 2% to consolidated comp sales all on its own last quarter, so the gains are significant. But the rest of TCS has been horrendous, and I expect another very negative comp for Q3.
The only thing that could potentially save TCS from investors' wrath is that its material slowdown began around this time last year. Horrible late calendar 2015 results sent the stock to just four bucks early this year, and while that proved to be a short-term bottom, I wouldn't rule out a test of that level. TCS really only has one business that is working and that is the Closets business; all of its other lines have struggled mightily, and given how we've seen strong retailers struggle thus far in 2016, I can't imagine TCS figured things out quickly enough to make Q3 look even decent.
The other problem is that the ways in which TCS is diversifying its revenue - lower-margin products and services - are hurting profitability. The Closets business is producing lots of revenue growth, but the margins aren't close to the retail stores' level of about 60%. The elfa business is still terrible and always will be; I still can't figure out why the company bought it as its margins are around two-thirds of the level of the TCS retail business. And as comps continue to fall, we'll see more and more gross margin deterioration, which is something TCS cannot afford right now. Again, the fact that last year's Q3 was very weak will help, but keep in mind that even if the comparable gross margin level to last year's Q3 looks okay, that doesn't represent an improvement.
SG&A costs will be in focus as well as TCS has tried to trim fat from the model where possible, including questionable initiatives like restructuring senior executive pay agreements. TCS has certainly gone about cost savings in an interesting way, and last quarter, it resulted in a 40bps savings. That's fine but with razor-thin margins, TCS needs better. In addition, I've cautioned the gains we've seen on this front aren't repeatable. Thus, I think the runway for continued reductions in SG&A is pretty short and that expectations need to be adjusted accordingly.
The problem with all of this is that heading into the Q3 report, analysts are very bullish. Estimates for next year have been raised by better than 10%, but for the life of me, I can't figure out why. Recall that TCS's only source of revenue growth is from the Closets business and also that its gross margins have been struggling. As long as the only source of top-line expansion is the Closets business, gross margins will necessarily continue to fall. The Closets business carries lower gross margins than the retail business, and for that reason, even if revenue does grow the 5% analysts are estimating, gross margins are very likely to fall again. The more the Closets business grows, the lower the consolidated margins will be. That fact seems to be lost on analysts, and indeed, investors who are bidding the stock up, but this cannot be ignored. If revenue rises but margins fall, earnings growth is going to be very challenging to come by. The interaction between revenue and margins will be paramount when TCS reports Q3, and I don't think investors are taking TCS's unfavorable mix shift into account right now.
At better than 25 times this year's earnings, TCS is ludicrously expensive. It has received a turnaround multiple when no such event is occurring. Keep in mind that this company cannot find a way to grow other than to buy a very low-margin business (elfa) and push services that have lower margins as well. The retail stores continue to show lower and lower productivity, and as long as that happens, this stock shouldn't trade for more than $4 or $5. We are in excess of $6 right now, and that means that going into the report, the bias is to the downside. I don't know what TCS could possibly have done in Q3 for it to continue its upward march, so I'm still bearish here as the risk of multiple contraction on a weak report is real.
Disclosure: I/we have no positions in any stocks mentioned, and no plans to initiate any positions within the next 72 hours.
I wrote this article myself, and it expresses my own opinions. I am not receiving compensation for it (other than from Seeking Alpha). I have no business relationship with any company whose stock is mentioned in this article.