To receive timely trade ideas from us, take a free trial of our newsletter - click here to get started.
By Paul Price and Arrow Loop Research Staff
Tax rules and portfolio manager face-saving activities disproportionately affect stock prices at the end of the year. The excess selling pressure on poorly performing stocks often results in compelling bargains. Then, after the selling lets up, "the January Effect" comes into play.
Taxes
While it's impossible to guess when a particular stock will bottom, it's possible to use the trend to your advantage.
Because our basic strategy involves buying stocks when they are trading near the bottom of their normal ranges, we often end up with stocks that get hit with tax selling in December as shareholders jettison their losers to offset their gains. As a result, bargains can become even cheaper due to selling, which has nothing to do with the value of the shares.
Conversely, people are hesitant to sell winners because of the unfavorable tax consequences. Why take realized gains in December when you can wait a few weeks and defer paying taxes for another year? Further, some people may be anticipating lower capital gains rates for 2017.
Thus, stocks which experienced large run-ups in 2016 may have pent-up selling pressure deferred from December to January 2017.
Appearances
On top of tax selling, some of our favorite positions are the ones portfolio managers want to wipe off their 2016 records.
Portfolio managers hate to show big losers on their year-end statements. Nothing is more embarrassing or career threatening to a money manager than fessing up to owning large chunks of the previous year's worst stocks. They'll tend to cash out of these dogs before the end of December to avoid admitting to having owned them. While selling doesn't undo the loss, it does make the bad performers less conspicuous.
The January Effect
The overall tendency for the current year's biggest losers to morph into the next year's best gainers early in the year is called "The January Effect."
The wholesale dumping of poorly performing stocks puts extra downward pressure on the past year's losers in December. Many times, quality stocks sell off well below their fundamental values. Then in January, after the selling pressure passes, many stocks rebound strongly. Often even, the geniuses who unloaded their dogs in December come back to reestablish positions in January, hoping to profit the next time around.
The timing the bottoming of losers is hard to predict because some investors finish their tax selling earlier than others. So there is no precise year-end date to focus on. But, with only a few trading days left in 2016, it's time to act if you want to play this angle.
Two Candidates for the January Effect
Michael Kors Holdings Limited
Michael Kors (NYSE:KORS) has fallen to $42.84 from an all-time high of $101 and a year-to-date high of $59. But the company is doing well. Per share revenues, cash flow and book value have never been higher. As of July 2, 2016, the company held more corporate cash than it had in total debt. EPS for FY 2016 (ending Mar. 31, 2017) is projected to come in at $4.41, just a few cents shy of the record level set a year earlier.
KORS is now selling for just 9.9x the current year's profits. That is close to the best valuations in the share's history (green starred below). From recent lows, KORS appears well positioned for an early 2017 rebound.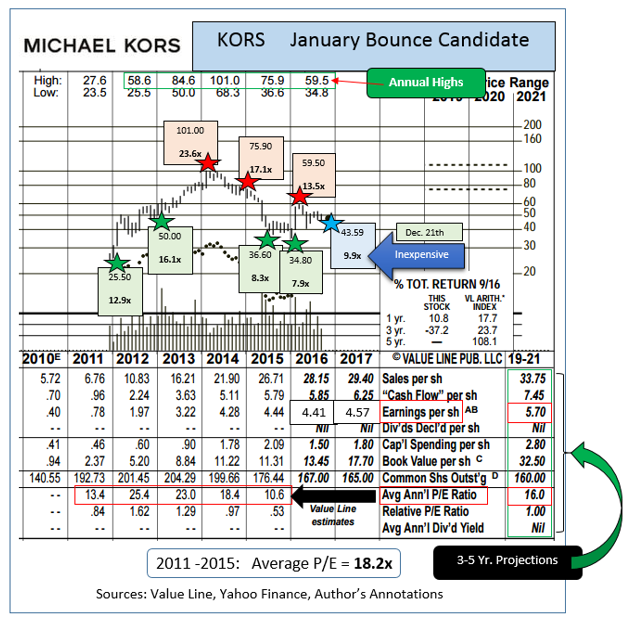 Value Line assumes KORS will eventually settle into a sixteen multiple. They also see EPS growing to $5.70 over the next three to five years. Those projections support a long-term target price above $90.
Selling the Jan. 2019, $50 strike puts for approximately $11 would drop the worst-case, forced purchase commitment level to just $39. Maximum profit would be $1,100 per 100-share option contract sold, should the option expire worthless.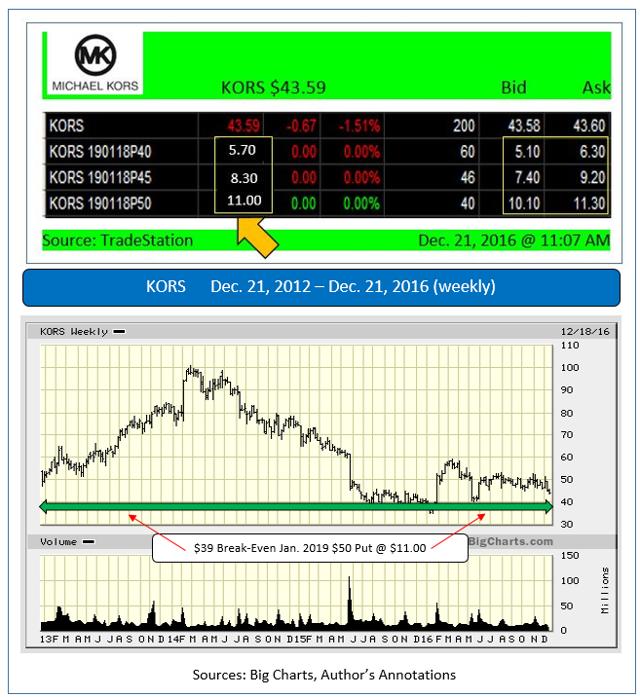 Owning KORS at $39 would have been a winning position over almost 97% of the previous four years.
We think KORS, at Friday's closing price of $43, is a good buy for either a quick trade or long-term ownership. Consider buying the shares, selling some puts, or doing both.
Stericycle Inc.
Medical waste disposal firm Stericycle (NASDAQ:SRCL) is currently trading at $77.46. We highlighted this company in late November (here), when the stock was trading in the $73-$76 range. The price seems to have bottomed, at least temporarily, and we think SRCL is still a good buy.
The company has an adequate balance sheet and a good operating history. SRCL achieved major improvements on most major metrics during the past decade and the shares more than doubled over that period. SRCL's all-time high was near $152 last year.
We wrote:
After a long period of solid growth, 2017 earnings are expected to be slightly down from this year's record level ($4.75 estimate, excluding a $1.60 per share non-recurring loss).

An almost 50% sell-off appears excessive in response to an expected 1-2% drop in EPS. Stericycle closed on Friday at 16.7x its 2017 estimate compared to its usual multiple of around 28x. At SRCL's dead low in February 2009, it sold for 21.1x forward earnings. Buyers at the start of 2010 paid 20x projected profits.

Conversely, the four most obvious "should have sold" moments (red-starred below) each came only when P/Es ranged from 27x to 34x.

Assuming a conservative 20x P/E on next year's estimate supports a one month to 15 month goal of $90-100.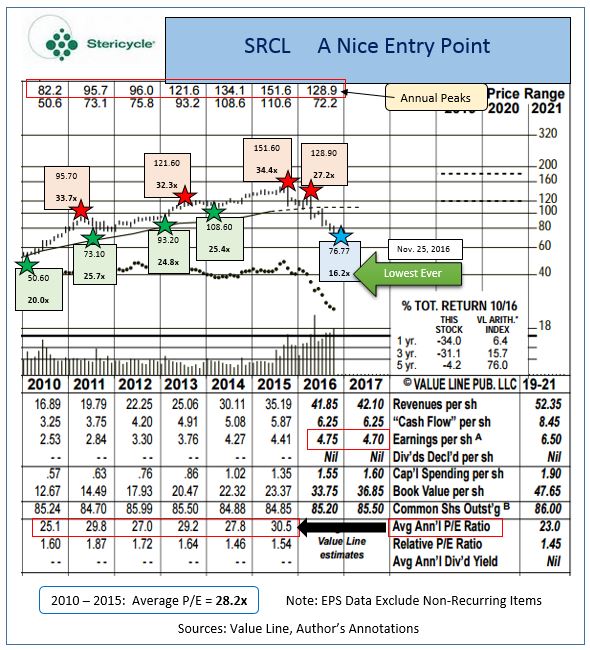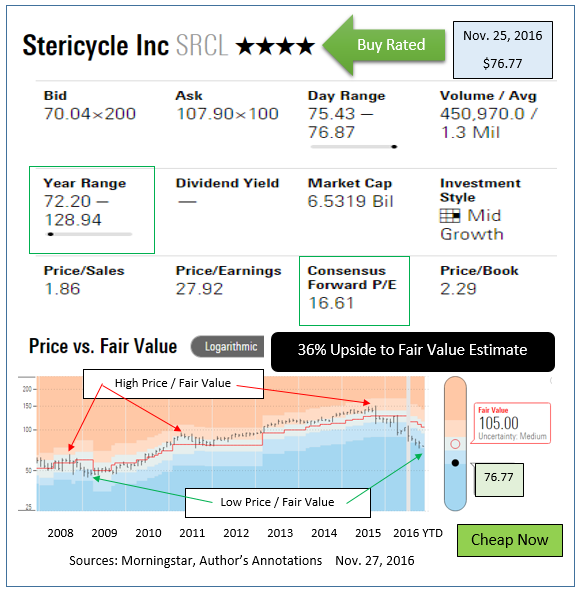 We believe SRCL is a strong candidate to recover in 2017. We would either initiate or add to a position by buying the stock or selling a put such as the January 2018, strike price $85, put for around $16.90. The worst case scenario would be to be forced to buy 100 shares of SRCL for a net price of around $60.56. The best case scenario would be keeping the $1,690 premium for selling the put.
Additional Candidates for the January Effect
Here's a list of stocks, in no particular order, that we think are being punished by year-end factors. We've highlighted many of these before and have full or partial positions already.
As always, we like the approach of selling puts to lower our potential entry points, especially if we already have a partial position and don't want to be over-exposed to any one stock.
Mead Johnson Nutrition (MJN)
McKesson (MCK)
Norwegian Cruise Line Holdings (NCLH)
Novo Nordisk (NVO)
Polaris Industries (NYSE: PII)
Teva Pharmaceuticals (TEVA)
Tractor Supply (TSCO)
Ralph Lauren (NYSE:RL)
Buckle (NYSE:BKE)
Oracle (NYSE:ORCL) ~ We described an option strategy with ORCL as the underlying stock on Friday. (Click here for a trial subscription.)
HollyFrontier (HFC)
Luxottica (LUX)
Diageo (NYSE:DEO)
Urban Outfitters (NASDAQ:URBN)
Phillips-Van Heusen Corporation (NYSE:PVH)
Express Scripts (NASDAQ:ESRX)
Disclosure: I am/we are long NVO, KORS, TEVA, BKE, URBN, MCK, PII, NCLH, SRCL, HFC, LUX, MJN, DEO, RL, PVH, BKE, ESRX, TSCO.
I wrote this article myself, and it expresses my own opinions. I am not receiving compensation for it (other than from Seeking Alpha). I have no business relationship with any company whose stock is mentioned in this article.