Earlier this month, Boeing (NYSE:BA) thrilled its investors by announcing a 30% raise in their quarterly dividend. Moving from $1.09 to $1.42 per share, the dividends were also accompanied with a $14 billion share buyback. Investors celebrated this early Christmas present while Boeing management shuffled news of their production cuts under the rug.
Per Chris Laudani of TheStreet, Boeing has gone from producing 8.3 planes a month to 7 planes a month in the span of a year. Most of this reduction is associated with a decrease in demand for wide body jets. With a current excess in supply of wide body jets as well as low fuel prices, there is not much need for Boeing to continue to produce and market one of their most profitable products.
Despite this, the company remains optimistic. New developments in their 737 MAX and 777-8/9 programs will hopefully pick up the from the reductions in wide body jet production.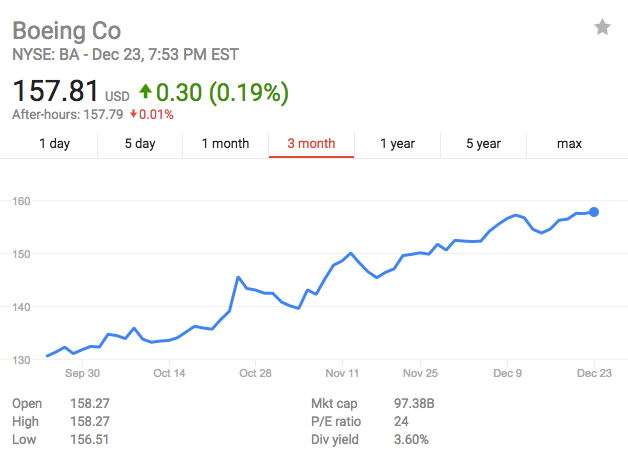 Source: YahooFinance
If we look at the 3 month chart of Boeing's growth, it seems foolish for us to choose not to invest. Since September, Boeing has continuously brought good news to its investors. However, in the big picture, Boeing will not remain this desirable in 2017.
On Christmas morning, Iran's official news agency, IRNA released a report stating that the country will only pay half of market price for 80 new Boeing planes. Initially, the deal, which was approved by the Treasury Department, was worth $16.8 billion. Now Boeing is being forced to consider taking half of that proposed amount. This is especially worrisome as Boeing is currently in the process of pushing business into overseas markets. With this temporary hold on business with Iran, foreign prospects might also slow.
While an $8 billion loss is alarming, investors have to understand that all consumers, even countries, receive discounts from buying in bulk. While 50% off is not the same discount you receive at your local BJ's or Sam's Club, Boeing has a history of offering discounted prices to large consumers. Hopefully this results in a healthy business relationship between Iran and Boeing and helps Boeing get its foot in the door of other foreign markets.
Xiang Wang of Forbes wrote a December 24th article that highlights the possibilities of Boeing entering the Chinese market. China has the potential to be a trillion-dollar market for the airline consumer.
Because of these possibilities, analysts have high aspirations for the future of Boeing. S&P Global Market Intelligence projects a growth rate of 15% for Boeing.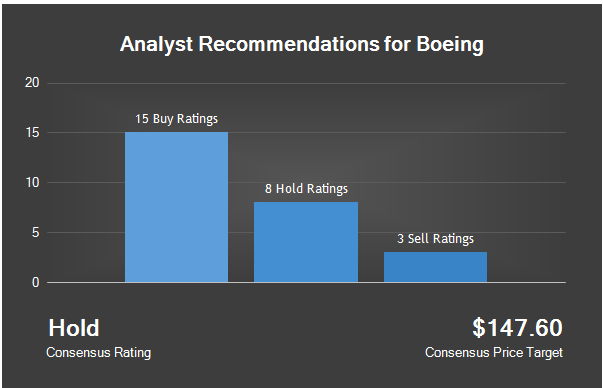 Source: The Cerbat Gem
Currently trading at 157.81, analysts predict a drop of around 10 points in the price of BA. This is despite the fact that Boeing has had an exceptional ending to 2016. Best-represented by the $0.89 beat in EPS from a projected estimate of $2.62. Last year at this time, Boeing reported an EPS of $2.52 and celebrated the end of 2016 with an EPS of $3.51. Earnings estimates right now are ranging from $7-7.25 per share for the next fiscal year.
Although Boeing looks great on paper, the airline producer is going through a brief period of turbulence. With a cloudy future for the U.S. economy, expect Boeing to expand into foreign markets. We will see Boeing adapt in the next quarter in an attempt to counteract their losses in wide body jet supply. Investors will enjoy their future dividend profits but keep an eye on Boeing as they enter a challenging 2017.
Disclosure: I/we have no positions in any stocks mentioned, and no plans to initiate any positions within the next 72 hours.
I wrote this article myself, and it expresses my own opinions. I am not receiving compensation for it (other than from Seeking Alpha). I have no business relationship with any company whose stock is mentioned in this article.