Take a look at the two charts below, which do you like better?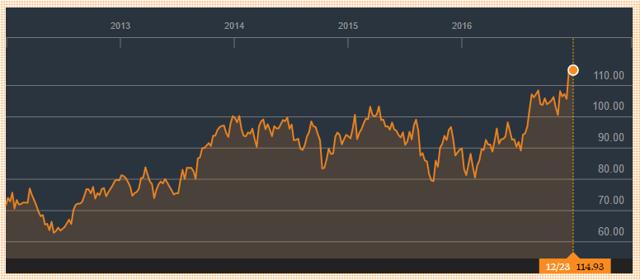 Source: Bloomberg

Source: Bloomberg
Currency Woes Obscure Performance
The first chart of course. The "surprise" is that both are charts of the German industrial conglomerate, Siemens (OTCPK:SIEGY). The first is in Euros and the second in US dollars. The point being the strong US dollar has obscured the performance of the "German GE" over the last five years (and especially in 2016).
Execution of Strategic Imperatives
SIEGY has been quietly executing on its "Vision 2020" plan, reducing costs, positioning itself for a more "digital" world and continuing to invest both internally (R&D up 25% from 2014-2017) and externally (Dresser-Rand, Mentor Graphics, etc.)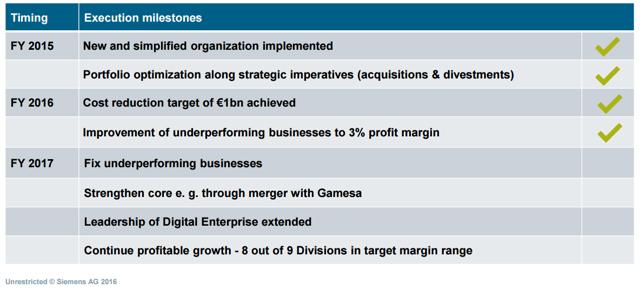 Attractive Potential 12 Month Returns
Despite making an ill-timed (a polite way of saying they overpaid) $7.6 billion acquisition of energy-focused Dresser-Rand in mid-2015, SIEGY is having a strong 2016, growing basic EPS by 30% and increasing profitability forecasts twice in recent months. CEO Joe Kaeser is also painting an optimistic picture of 2017.
Based on SIEGY achieving a non-unrealistic multiple of 16x forward earnings, the stock can reasonably be expected to yield a 20% return (including dividends) in the next year.

Commitment to Growing Dividend
Though obscured by the strong US Dollar, SIEGY is a dedicated dividend grower, having increased its shareholder payments by 33% since 2010 (in Euros). The Company makes one payment per year, with the next dividend of $3.74 (at current exchange rates) scheduled for holders as of January 29, 2017.

External Factors
External factors are generally a plus for SIEGY. On the contracting side, the strong US dollar makes SIEGY more competitive against the likes of General Electric (NYSE:GE). It also stands to benefit in certain cases where countries (e.g. China) may steer business away from US firms in response to tariffs and other changes from the trading status quo that US President-Elect Donald Trump may announce. GE's 2015 acquisition of Alstom also removed competition from the Turbine market, which generally yields higher margins for the remaining (strong) players. SIEGY notes that Fx should have a "Modest negative top line impact". Higher global interest rates present a potential upside for the Company's €12.8 billion underfunded pension liability; the liability is based on the assumption of a 1.7% discount rate, an upward adjustment in the rate could reduce the balance sheet liability by 25%-50% by the end of 2017.
Risks
A global trade war, plummeting Euro and European recession are all risks to SIEGY's future performance. Reduced earnings expectations are always a risk when projecting forward. From a valuation perspective, the failure of SIEGY to achieve a 16x PE due to either a market correction or lack of conviction in the name are risks to SIEGY achieving $140/share (16x $8.75 forecast 2018 EPS)
Price Target
I think SIEGY has a legitimate shot at $140/share by the end of 2017. However, taking execution and market risk into account, my price target is $135/share (with an additional $3.75 coming from the January dividend). Based on the stock price as of this writing, a 16% total return is not an unreasonable expectation.
Summary
SIEGY has a lot of what I look for in an investment. Low PE, growing earnings, robust dividend and catalysts for future upside.
I am long SIEGY and am considering increasing my position.
Disclosure: I am/we are long GE, SIEGY.
I wrote this article myself, and it expresses my own opinions. I am not receiving compensation for it (other than from Seeking Alpha). I have no business relationship with any company whose stock is mentioned in this article.
Editor's Note: This article discusses one or more securities that do not trade on a major U.S. exchange. Please be aware of the risks associated with these stocks.