The Santa Clause Rally delivered this year for a change, and the DJIA is now just a few points off its 20K marker. A Republican sweep for the US election also drove plenty of optimism for capital markets, given the potential reality of lower corporate taxes and more relaxed regulation. The Federal Reserve also finally introduced the long awaited 25bp hike to the FFR, and the committee expects to integrate another 3 rises over the course of 2017. That's just about what drove most of the upside in financials. That being said, let's take a look at Bank of America (NYSE:BAC).
Recent Performance
BAC stock is up approximately 50% quarter over quarter: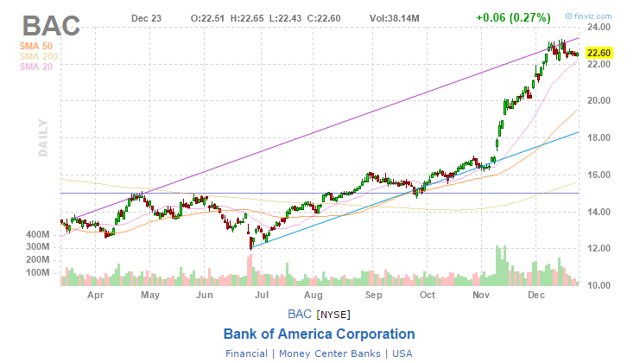 This swing higher is one of the best performances we've seen for the stock since 2013, but unfortunately we don't think it will continue.
Macro Outlook
The incoming US government administration stated they will look to relax tough regulation on the banking industry, except there appears to be fairly limited transparency related to the underlying benefit that it would deliver. In fact, most management teams stated that they would look to maintain business as usual.
Most watchers also viewed the recent rate hikes as a benefit, specifically for its impact to net interest margin ratios and corresponding loan performance looking forward. As the market has shifted to its risk-on state, yields have expanded, only making credit profit potential appear even more alluring. However, as the Fed introduces more incremental rate hikes, the short end of the curve will rise. If we assume the long end of the curve remains the same, the spread will contract overtime. If the market switches back to its historical risk-off theme, which has existed in the last few years, long term bond prices will experience another leg higher - which is, in effect, the worst case scenario for the sector. What's a possible catalyst for this? Near term, more expansive monetary policy from central banks, specifically the ECB and BOJ, or more decelerating economic trends (emerging markets have been a focus).
Lower Profits?
The oil & gas industry was the largest default group throughout 2016, and that is expected to continue for 2017. Bank of America also happens to be the biggest commercial lender for oil & gas companies, with its current balance exceeding 21 billion. While reserves have effectively offset these loan loss provisions for now, the bank is in turn required to shore up more capital overtime. This situation will likely continue to put pressure on earnings power.
Following that, about a quarter of BAC's profit is related to trading activity. Banks usually realize steeply lower trading profits when capital markets experience intense price fluctuations. Given that volatility now stands at a two and half year low, we think that it will turn higher sooner rather than later:

Lastly, as we are running towards the end of this business cycle, capital requirements are tight, especially for SIFIs. Therefore, we shouldn't expect any additional leverage optionality for the company.
Relative Assumptions
The business now trades 0.94x book value and 1.35x tangible book, which is roughly in-line with what most financials are trading for in the sector today. However, we believe these multiples are aggressive for a business that has generated at peak of 6-7% post-crisis ROE: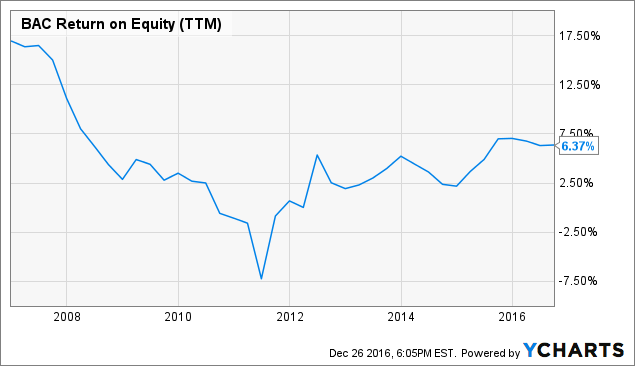 BAC Return on Equity (NYSE:TTM) data by YCharts
Unless management is able to post major operating efficiencies, possibly via cost cuts, its tough to see how they could achieve an implied 10% ROE.
Based on statistical studies, high beta equity securities are chronic underperformers relative to their low beta counterparts. Well, it just so happens that BAC holds the title for the highest beta among the big four: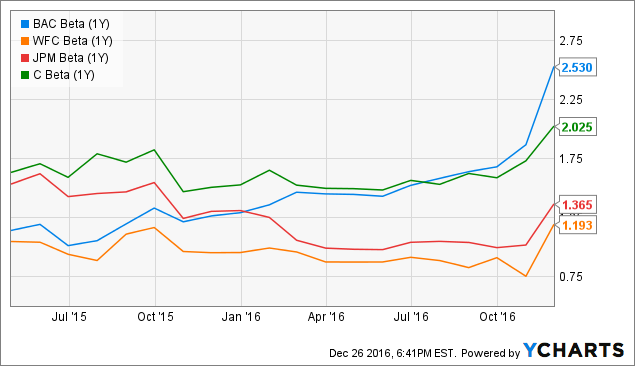 BAC Beta (1Y) data by YCharts
For technicians, most would agree that holding a security with a beta exceeding 2.5 is lunacy. Hypothetically speaking, if the market were to drop 1%, BAC stock should in effect fall a corresponding 2.5%. Given the S&P500 trades at 26x earnings, we would not expect a market meltup from here.
Bottom Line
While BAC appears to be firing on all cyclinders, we view the recent run-up with skepticism. Corporate insiders have been dumping and short interest has increased more than 50% in the last few months. At today's prices, we would rather be sellers than buyers. Thank you for reading and please comment below.
Disclosure: I/we have no positions in any stocks mentioned, and no plans to initiate any positions within the next 72 hours.
I wrote this article myself, and it expresses my own opinions. I am not receiving compensation for it (other than from Seeking Alpha). I have no business relationship with any company whose stock is mentioned in this article.