Looking at longer-term trends, unemployment is close to its historic lows. When looking over the last 65 years, those lows keep getting higher and higher. For unemployment to go down further, it would need to break this 65-year trend. With lack of participation, low productivity and aging demographics, we expect stimulus spending to turn into inflation. Added inflation with a lack of new growth would be negative for markets (NYSEARCA:NYSEARCA:SPY).
Decreasing Maximum Employment Over The Long Term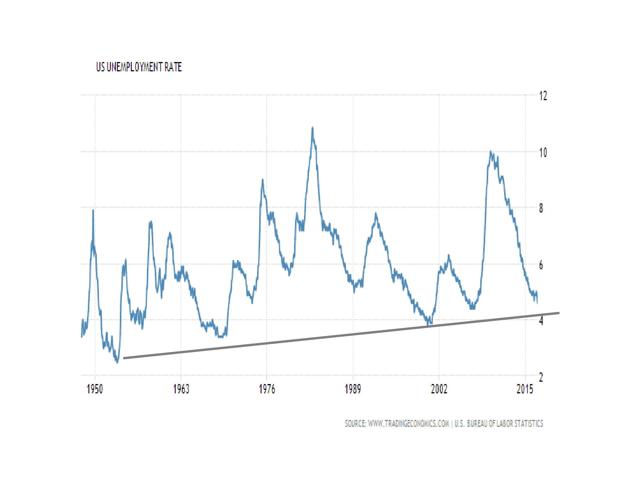 Source: Trading Economics, Line By Elazar Advisors
Above is the US unemployment going back to 1950. You can see over time unemployment has bottomed at higher and higher levels. The maximum capacity of employment has decreased over time.
No Lower Lows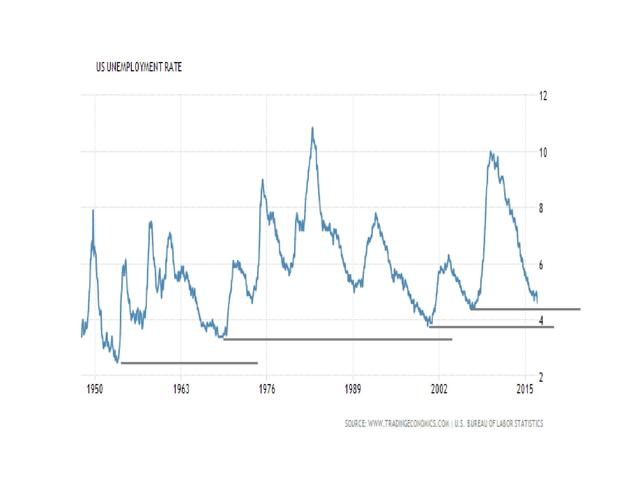 Source: Trading Economics, Lines By Elazar Advisors
Above you see that unemployment has not made decisive lower lows in 65 years when it approaches into the 4-5% range.
Why The Trend
There are major fundamental complaints by the Fed why this max economy has been lackluster. An aging population, declining productivity and lack of investment over time have been slowing the economy's max potential. Add to that a potential trade war in 2017, which would cut the global growth engine, and we could picture the above chart lines turning around and moving back up.
Stimulus Spending Could Spur Inflation More Than Growth
Based on both perspectives of the longer-term trends of unemployment, the economy looks like it is maxed out. 3% GDP isn't so exciting if that's considered max levels, but that's the facts as they stand today.
One reason the Fed raised their hike assumptions for next year at their recent FOMC meeting was because,
"Some of the participants but not all of the participants did incorporate some assumption of a change in fiscal policy."
Those fiscal policies expected from President Elect Donald Trump's administration are expected to be extremely stimulative. They are calling for one trillion dollars in spending.
Fed Chair Yellen said in that same press conference,
"I would say at this point that fiscal policy is not obviously needed to provide stimulus to help us get back to full employment."
Since we are at full employment and that full employment has been moving up over the years (two charts above), any additional stimulus may not drive growth. If there is not much incremental demand left in the economy by pulling people back into the workforce, those freshly printed dollars will likely lead to higher prices. That's inflation.
Stagflation
Spending may bump growth at some point but higher inflation and slow growth is a negative stock market combination. As we've been writing, inflation is the bubble popper because it forces central banks to break the record easing period of the last decade. That is bearish.
Conclusion
Spending in a maxed economy may not drive demand but it can drive prices. That's inflationary. Inflation and slow growth is a negative for markets.
PRO TRADER
Real time, signals, coaching, direction, analysis on the stock market, gold, oil, bonds, currencies, indexes and more.

If our above report was helpful click here for a free trial of Elazar's Pro Trader service on Seeking Alpha.
If you want Elazar's analysis on Seeking Alpha, scroll to the top of the article and hit "Follow." Elazar also writes real-time pieces as news is reported. If you want to be among the first updated check the box for "Real-time alerts on this author" under "Follow."
Disclaimer: All investments have many risks and can lose principal in the short and long term. This article is for information purposes only. By reading this you agree, understand and accept that you take upon yourself all responsibility for all of your investment decisions and to do your own work and hold Elazar Advisors, LLC and their related parties harmless. Any trading strategy can lose money and any investor should understand the risks.