For the past three years, REITs (IYR, VNQ, ICF, RWR) have been moving largely as a function of Treasuries (NYSEARCA:TLT). As bond yields move lower/higher, the high-yielding REITs, with a dividend yield of 4.5% in IYR, turns relatively more/less attractive and hence price moves higher/lower. Indeed, 2016 was no exception, as IYR peaked in July just as the 10-year Treasury yield bottomed, and it tumbled more than 10% off YTD highs into end of November on the heels of 100+bps jump off the lows in 10-year Treasury yield.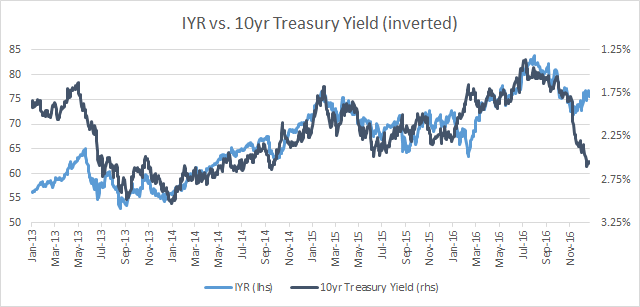 (Source: Yahoo Finance, WingCapital Investments)
Statistically, the two-year rolling correlation on the monthly change between IYR and 10-year Treasury yield has been in deep negative territory since 2013. However, prior to that, note that the correlation had been oscillating between slightly negative to positive.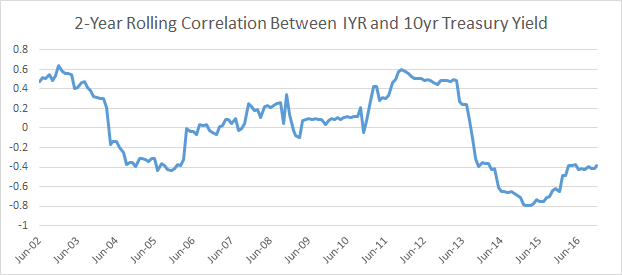 (Source: Yahoo Finance, WingCapital Investments)
Evidently, there was a regime change in 2013 with REITs turning more negatively sensitive to interest rates. One explanation is that the global quantitative easing has led to the plunge in real 10-year Treasury yield below zero by late 2012, and since then, mostly hovering around zero. As a result, the "yield capitulation" phenomenon has caused investors to increasingly treat high-yielding REITs like debt instruments.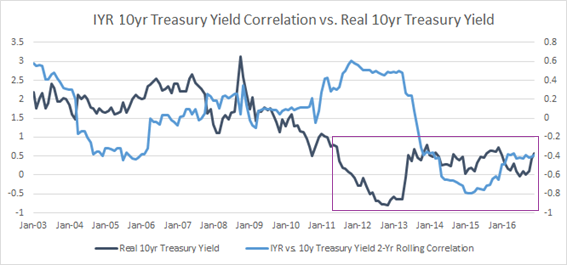 (Source: Treasury.gov, WingCapital Investments)
As real yields begin to normalize higher, we believe the regime will shift once again with the correlation resetting towards zero. Furthermore, we believe the following factors will be supportive of REITs even in an increasing interest rate environment.
1) Strong Dividend Growth
Fundamentals remain solid with trailing one-year dividend payout growing an average of 17% year over year during 2016 in IYR, comparing with 6% the previous year. In addition, IYR's dividend payout growth was 8.7% higher relative to S&P 500 (NYSEARCA:SPY) in 2016, which is the widest since 2005 and 2003, during which strong performance ensued in the following year for IYR.
Average TTM Dividend

YoY Growth %

IYR Forward Chg %

IYR/SPY Forward Chg %

Year

IYR

SPY

IYR

SPY

IYR - SPY

3-Month

6-Month

1-Year

3-Month

6-Month

1-Year

2016

3.28

4.41

17.00%

8.26%

8.74%

?

?

?

?

?

?

2005

2.63

2.03

20.66%

15.18%

5.48%

15.05%

8.50%

32.88%

10.85%

9.07%

15.82%

2003

2.42

1.56

11.09%

6.70%

4.39%

11.54%

3.83%

29.81%

8.99%

-1.20%

16.13%
Regression analysis confirms the IYR's relative dividend growth % vs SPY to be a significant leading indicator of IYR's performance relative to SPY nine months forward. As shown below, the result projects a meaningful outperformance in IYR ahead of us in 2017.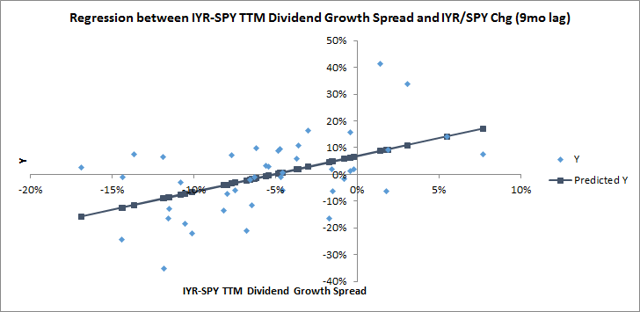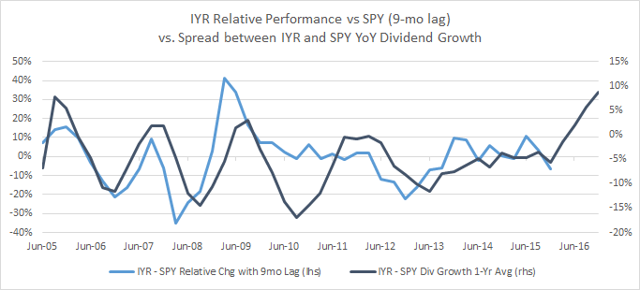 (Source: Yahoo Finance, WingCapital Investments)
2) Higher Inflation Outlook
Empirically, IYR's relative performance to SPY is also highly correlated to inflation rate. Fundamentally, as this article from fellow Seeking Alpha contributor explains:
"Higher inflation via wage growth and cost of materials will only increase replacement cost, thereby driving up hurdles for new construction. Eventually, this will flow through REIT income statements via higher rents, enabling REITs to continue predictable increases in dividends."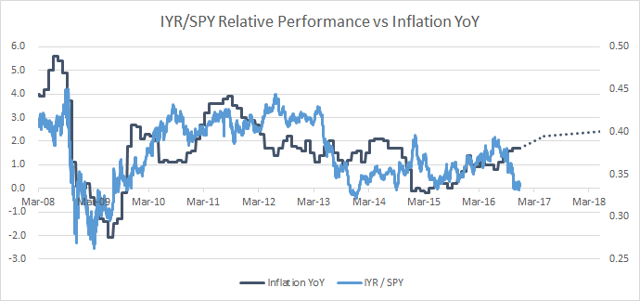 (Source: YCharts.com, WSJ, WingCapital Investments)
Per the WSJ, economists are expecting a 2.2% and 2.4% inflation rate for 2017 and 2018, respectively, which would be a positive for IYR.
3) Increased Investor Demand
As of September 1st, REITs is formally recognized as a stand-alone sector in the Global Industry Classification Standard (GICS), which would likely attract more investor demand in the sector. To quote from ETF Daily News:
"The analysts see "as much as $19 billion in new demand", as funds that are currently not invested in real estate may seek to play the euphoria following this new status. In fact, as per London-based property firm Grosvenor Group, "REITs account for 4.4% of all U.S. equities, but only make up 2.3% of generalist fund managers' portfolios, leaving general equity funds underinvested in real estate by around 50%." These underinvested or non-invested group thus may increase allocation to REIT stocks on more clarity about the sector."
4) Positive Technical Picture
Despite the multi-month drop, the technical picture in IYR remains positive as long-term up channel remains intact. Furthermore, since 2011, every retest of the bottom of the channel has found support and followed with a strong up move towards the top of the channel, which is currently around $87.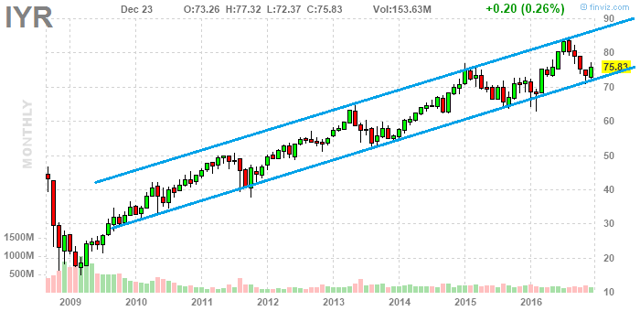 From a fundamental perspective, REITs' outlook is bright as well per this insightful piece from Seeking Alpha: The Trump Effect On Equity REITs
In overall, we believe the multiple supportive factors as illustrated above will offset the temporary headwinds from higher interest rates. We suggest going long IYR with an upside target around $87, about 15% from current price point, with a stop under $70.
Disclosure: I/we have no positions in any stocks mentioned, but may initiate a long position in IYR over the next 72 hours.
I wrote this article myself, and it expresses my own opinions. I am not receiving compensation for it (other than from Seeking Alpha). I have no business relationship with any company whose stock is mentioned in this article.