Facebook (NASDAQ:FB) is trending lower from its 52-week high of $133, but I haven't received any financial data that suggests investors are selling on fundamental weakness. But perhaps industry weakness?
The data from initial ad-agency checks were stable for the current quarter, and sustained growth in adjacent app categories should fuel earnings/sales for the foreseeable quarter despite lingering concerns over analytics changes, regulatory changes, and concerns over the EU tax ruling with regards to Apple (NASDAQ:AAPL).
Yes, these things could impede fundamentals, but the open field opportunities in social networking when including Instagram and expansion of monetization for both FB Messenger and WhatsApp should keep investors excited.
Ad industry decelerating?
From the bird's eye view, there hasn't been a material drop-off in advertising trends in the United States when pertaining to Q4'16. However... the outlook was weak from the major agencies.
US advertising tends to grow at around 4% per annum and has consistently grown at that pace for several years now. The digital ad agencies provided guidance on next-year ad sales that was below historical trends for the United States, and in all likelihood it was what spooked investors out of digital ad plays like Facebook and Google (NASDAQ:GOOG) (NASDAQ:GOOGL).
Quoted from UBS Research:
Magna Global, GroupM and Zenith Optimedia presented their outlook for global & US ad growth in 2017 and beyond (Global YoY growth: +3.6% (Magna), +4.4% (GroupM & Zenith); US: +1.7%, +2.6% and 3.8%, respectively).
The average y/y growth rate estimated by the three major ad agencies was 2.7% for the US, which is below historical trends when excluding 2014 and 2012.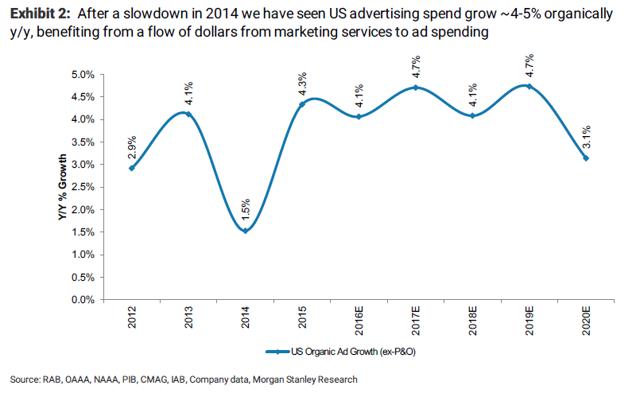 Source: Morgan Stanley
Of course, Facebook's and Google's portfolio of web/app properties contributed to 90% of digital ad spending growth in the United States, according to UBS. So, while Facebook doesn't comprise a meaningful proportion of aggregate advertising, the differences in advertiser attitudes going into the next FY may have sparked concerns over FB's ability to increase ad load or boost ad CPMs.
While aggregate trends are worth noting, the bar has been reduced quite substantially leading into the next fiscal year.
Facebook's total share of US advertising is roughly 6% assuming q/q trends remain continuous for the duration of the year. Morgan Stanley estimates that FB's ad penetration into the United States will reach 8% in FY'17, which is still modest in comparison to the average time spent on core Facebook (roughly 40 to 50 minutes).
To put this in perspective, Facebook's active Internet audience within the United States is roughly 191.3 million, according to the Statista database. The total addressable Internet population is roughly 267 million, according to the World Bank, so Facebook has nearly saturated all broadband households at 71.6% penetration.
The Internet Advertising Bureau cites that the average Internet user spends roughly 2 hours and 52 minutes per day on the Internet. Which means that if there are 172 minutes allotted as average consumption share, Facebook takes up 26% of the average Internet user's time, yet it only accounts for a small fraction (roughly 6% of the total ad spend for the US).
If we account for discrepancies in aggregate usage due to the 29.4% of the population that doesn't use FB, the total time spent on the Internet in the US (roughly 45.9 billion minutes per day) versus Facebook's reported usage of 8.68 billion minutes per day, Facebook has effectively captured 19% of aggregated timeshare within the US. Meaning Facebook is under-monetized in comparison to the industry, as 19% timeshare should at least translate into a higher proportion of advertising revenue for FB even in comparison to other aggregated ad mediums.
Facebook's advertising revenue in the United States is estimated at $11.9 billion to $12 billion for FY'16. The total digital advertising spend in the United States is estimated at $80.17 billion, so Facebook takes 14% of the Internet industry share of ad monetization, and could increase that figure quite significantly given growth in usage/users and consistent increases to ad CPMs. This will likely come at the expense of other ad mediums like TV, print and terrestrial radio.
Final thoughts
Advertisers are shifting ad budgets in favor of measured attribution. While there's been lots of controversy over the effectiveness of online advertising, it's worth noting that Facebook's ad metrics are much better when compared to print media, TV and radio. It's easier to track engagement and conversions of sales, so aggregate trends are still supportive of the FB investor thesis. Of course, the degree to which ad budgets will shift in favor of digital is not yet clear, but given Facebook's ever expanding video presence, I would imagine it is among the best positioned digital/mobile advertising plays.
Furthermore, I take on the view that we're still in the early innings of Facebook's monetization attempts with Instagram, and could see it contributing significantly in the foreseeable five-year window. Facebook is already projected to experience a significant drop-off in revenue CAGR from 50% y/y for FY'16 to perhaps something more modest like 34% to 35%.
I think these estimates are conservative, as the bar is set low. Given the lowered expectations, I believe investors are positioned for a positive earnings-themed year, thus translating into more meaningful shareholder returns. I'm anticipating consensus estimates to increase in response to a sustained pattern of earnings/sales beats for the duration of FY'17.
As such, I continue to reiterate my buy recommendation on Facebook.
Disclosure: I/we have no positions in any stocks mentioned, and no plans to initiate any positions within the next 72 hours.
I wrote this article myself, and it expresses my own opinions. I am not receiving compensation for it (other than from Seeking Alpha). I have no business relationship with any company whose stock is mentioned in this article.