Coffee Remains in a Downtrend
The decline in the Brazilian real, strength in the U.S. dollar and a recent attaché report noting an increase in 2016 Brazilian coffee production have had coffee prices in a tailspin. Record Arabica coffee production is now predicted and Colombia's crop is expected to be unusually high.
What weather variables, if any, could perk up coffee prices in the weeks or months ahead? Over the last year, we were bullish on Robusta coffee, but bearish on Arabica. Robusta are the cheaper blends found in instant coffee with production regions in Vietnam, Indonesia, and northeastern Brazil. All three of these crop regions had production shortfalls this past year, predicted by Climatech and the associated El Nino last year.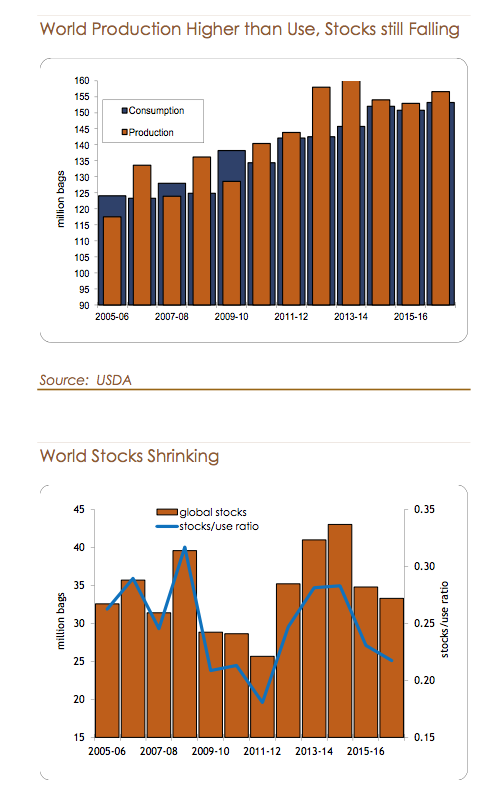 Above charts furnished by J. Ganes Consulting, LLC.
World stocks are shrinking due to increased global demand, but note how this year's coffee crop is the highest it's been in several years. Global production would even be higher if it wasn't for a 20%-plus decrease in lower quality Robusta over the last year. This is why Arabica coffee (N.Y. futures contract and the ETF JO) has lagged significantly behind the surging Robusta contract.
Any Hope for Weather-Related Problems to Arabica?
While the USDA raised its prediction for the 2016-17 crop, the new 2017-18 Brazilian crop is not out of the woods yet. Dryness might begin affecting 30% of both the Robusta and Arabica crops heading into January and February. Combine this with flood concerns for the final harvest of the Vietnam Robusta crop and it is possible that coffee prices could find a bottom later this winter. Most studies we have completed suggest warm and dry weather in northern Brazil over the next month or two. This could set a floor on the price of coffee. Traders might look to enter into a long position in two ETFs -- JO and CAFE -- and risk about 5%-8% over the next two months. However, confidence is only moderate due to the technical aspect of the market.
Other factors are at play in coffee, but if the Arctic Oscillation Index goes negative and the Northern Hemispher winter turns colder and stays that way, this could increase the demand for coffee. Given a short position in this market, coffee could be ripe for some sort of short-covering rally. Robusta coffee traded in London appears to still have the best weather-driven fundamentals.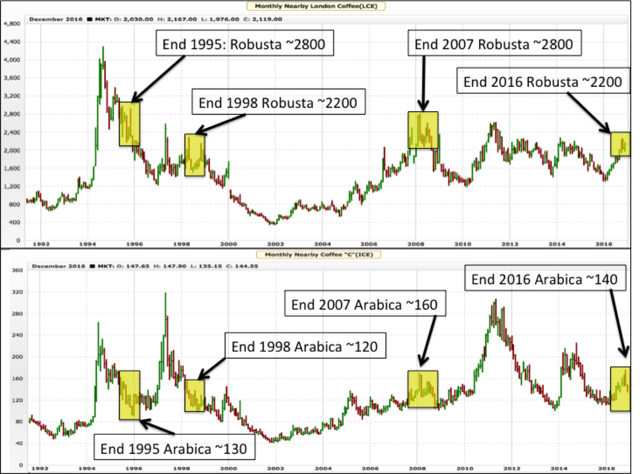 The chart above shows some of the historical larger spreads between Robusta coffee (grown in Vietnam, northeastern Brazil, and Indonesia) vs. Arabica coffee (grown in Colombia, Central America, and primarily Brazil). Continued weather problems for global Robusta crops could mean that the spread between these two different grades of coffee and their futures contracts will continue to widen.
Disclosure: I/we have no positions in any stocks mentioned, and no plans to initiate any positions within the next 72 hours.
I wrote this article myself, and it expresses my own opinions. I am not receiving compensation for it (other than from Seeking Alpha). I have no business relationship with any company whose stock is mentioned in this article.