In an increasingly expensive stock market landscape, it is getting harder to find great businesses that sell at fair valuations. As people pay-up for dividends, brand names, earnings stability etc., it is getting increasingly more difficult to find businesses that sell at reasonable earnings multiples that have good yields and enduring businesses. One exception is the health care sector: due to the recent backlash against the likes of Martin Shkreli and his antics, or Mylan's brazen pricing moves on lifesaving products without a commensurate improvement in their products, the sector has gotten a lot of negative publicity and government scrutiny. As such, most of my recent purchases have been in the pharma sectors in companies such as J&J (NYSE:JNJ) and Bayer (OTCPK:BAYRY) (which I have also written about in SA here and here) and Amgen (NASDAQ:AMGN). While each of these companies have had their own issues from acquisitions to patent expirations, I believe they have been unfairly punished along with the larger sector.
Amgen, as much as J&J and Bayer, is an innovator and has a strong track record of delivering new innovative and lifesaving products. In fact, Amgen's medicines treat serious illnesses that have limited number of treatment options. Amgen's first products, EPOGEN (epoetin alfa) andNEUPOGEN (filgrastim), which researchers discovered in 1983 and 1985, respectively, went on to get FDA approval in 1989 and 1991, each becoming a blockbuster drug and being named product of the year by Fortune magazine. While these products placed Amgen in the forefront of biotechnology and cemented it as one of the leading biotech companies in the world, the patents of these drugs have long since expired. EPOGEN®'s sales in 2005 was $2.5B, representing ~20% of ~$12B of total revenues. Fast forward to 2015, 10 years later, its sales have reduced to $1.9B, making up less than 10% of a much larger revenue base of $21B.
While these patent expirations have cast a pall over the company's stock price in the past, the company has found ways to power through these patent expirations, coming out as a stronger, more diversified company on the other end. It has done so through acquisitions, joint ventures, finding new applications for its drugs, making improvements to their existing drugs as well as discovering brand new drugs. There is a similar patent cliff coming in the company's key products, much as the one it faced with EPGEN® and NEUPOGEN®, yet I would expect the company to power through these expirations much as it has done in the past and be once again rewarded with a higher stock price due to increasing earnings as well as PE multiple expansion. I would argue that the time to buy Amgen is now, rather than waiting for the patent and negative publicity issues to subside, at which point the stock price will reflect the good news.
Valuation:
As shown in Figure 1, after the go-go '90s, where the stock split 2-1 a total of 4 times and 3-1 once (that is a total of 48-1 for those who are counting), the stock essentially went nowhere for over a decade and was nothing but a complete disappointment to its investors. Like most stocks with excessively high PE multiples, investors almost always set themselves up for a stretch of disappointment until the company's sales and profits grow into a more reasonable valuation- at which point the pendulum swings to the other extreme. Once burned, investors are reluctant to give the benefit of the doubt to the same companies they had such high expectations for at one time (much like some of the best known tech companies of the internet bubble).
Figure 1: Amgen's decade of flat stock prices since the '90s

Source: Google Finance.
Case in point is the reaction investors had when Amgen announced a 15% hike to its dividend, putting its yield north of 3% while trading at 12X EPS- mostly a yawn.
In 2000, the stock was riding high based on the success of EPOGEN® and NEOPOGEN®, hitting $78 in 3 rd quarter of 2000, trading at a PE multiple in excess of 70 based on 2000 EPS of $1.05. The company had total sales of $3.2B and $1.34B in Net Profits. Ten years later, the company had grown revenues to $15B, net income to $4.6B with and EPS of $4.79 in 2010. Yet the stock traded at less than $60 per share (for a loss of 20% over a 10-year period despite significant repurchases of stock that reduced share count from ~1.08B to 965M), giving it a valuation of ~12X PE.
Fast forward to today, the stock has declined more than 15% from its peak of $176 set in 2015 (when the stock was trading at a PE of 19 based on their EPS of $9.06) and has been essentially trading sideways for the past 3 years. The $0.28 quarterly dividend company initiated in 2011 has grown to $1.15/quarter, giving the company a yield of more than 3%. Per Zacks, analysts, EPS estimates for 2016 is $11.54, and $12.21 for next year, once again valuing the company at a PE of 12. This is why valuation matters and expectations play such a key role in determining a stock's future returns. A company such as Amgen can grow Revenue and EPS 5X over a 10-year period (an amazing accomplishment by any standard), yet the shareholders lose close to 20% of the value of their investment (before inflation)!
Arguably, today's conditions are the opposite of what existed in 2000. Its low valuation multiples give the stock significant upside potential. Its dividend, even at 3% has a very good coverage ratio- with this year's EPS of $11.5 representing 2.5X the annualized dividend of $4.60. Mind you this is a shareholder friendly company that returns capital to investors not just by its respectable dividend but also by a strong share repurchase program: The company has reduced its diluted shares outstanding by over a third in the past decade. As such, an investor who held shares in the company in 2006 has seen their ownership stake in the company's profits increase by over 50% without purchasing a single additional share.
The bottom line is that, from a financial valuation perspective, I believe AMGN is offering a rare opportunity to buy biotech pioneer and stalwart at discount prices. Which bring us to the other concern that is weighing heavily on Amgen Shareholders: Patent Expirations.
Product Portfolio and Diversification:
One of the inherent risks of investing in Amgen has been its heavy reliance on a few products. Figure 2- Shows the company's heavy reliance on a few products, with its top 2 products accounting for ~50% of the company's revenues.
Figure 2: Amgen Products' Share of Sales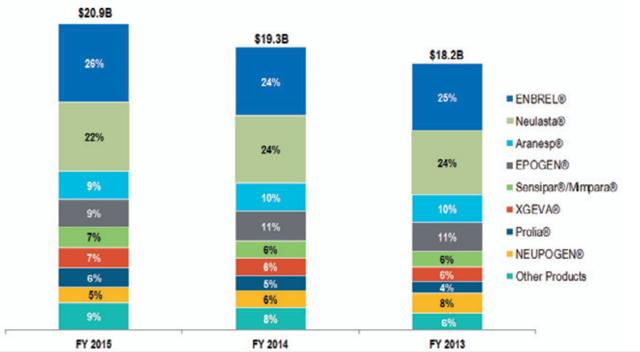 Source: Amgen 2016 Annual Report
While providing great cash flows to fund its R&D efforts and acquisitions, the company's reliance on a few highly profitable products also makes the company vulnerable to patent expirations. Yet the company deserves credit for managing through these product transitions and having a generally productive R&D investment history and mostly successful acquisition track record.
Table 1: Expiration Schedule for Amgen's Key Product Patent Protections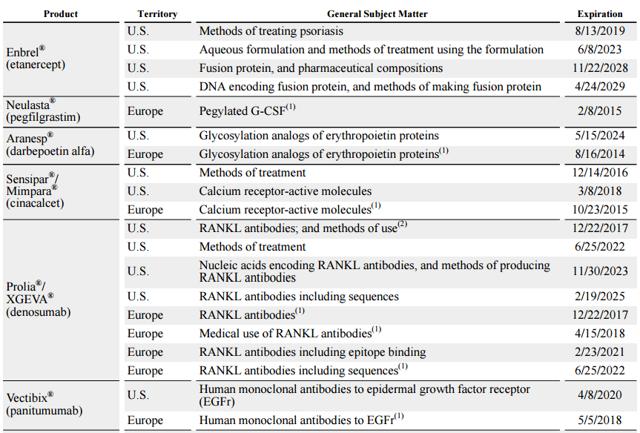 Source: Amgen 2016 Annual Report
While patent expirations allow other companies to produce generic versions of products losing patent protections, it is by no means the only threat to the company's product portfolio. Such lucrative margins are the target of many competent rivals that are constantly innovating themselves and trying to deliver products with better efficacy, fewer side effects or easier delivery methods. Table 2 shows but a small sample of competitors gunning for Amgen's most profitable drugs.
Table 2: Amgen's Competition For Key Products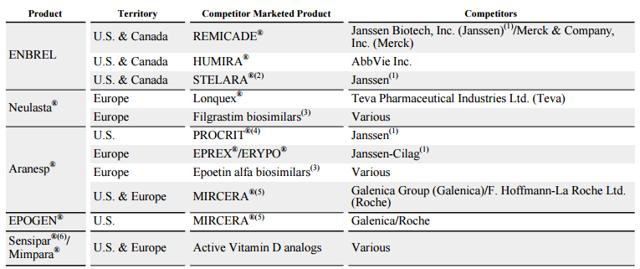 Source: Amgen 2016 Annual Report
Yet these threats are nothing new. Competition and patent expirations are nothing new in the pharma sector. None of the companies that are losing patent protection sit idle. Over the years, they all have developed means to deal with expirations and competitive threats- be it extending patent protection by improving certain aspects of the drugs (such as reducing the number of times a patient must take the drug) to making generics of their own or putting their cash flows to good use to fund R&D efforts that produce new block-buster drugs in an ever-growing health care market.
Amgen has done a great job of all the above. As Chart 1 shows, the two products that put Amgen on the map accounted for over 90% of their sales in 1995. By 2005, the number of products that accounted for 90% of the company's sales had increased to 5. And by 2015, the company's top 5 products accounted for roughly 70% of the company's revenues- still a large concentration but a far cry from the days of 2 products accounting for virtually all of the company's sales 20 years ago.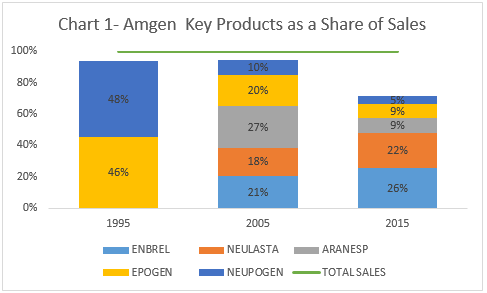 Source: Amgen Annual Reports and Author's Work
As Chart 2 shows, the company has gone from virtually nothing to $20B in revenues and $4B in R&D investments in 20 years. In fact, throughout the past 20 years the company has been plowing back a significant percentage of their sales into R&D. While no one can predict which of their new products will be the next EPOGEN® or NEUPOGEN®, the company's pipeline of products, the diseases its going after and its joint ventures have never been more diverse and richer.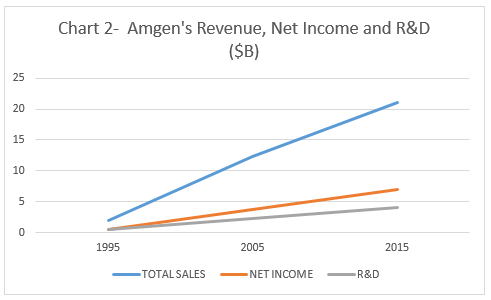 Source: Amgen Annual Reports and Author's Work
The diverse areas of interest for Amgen include: Cardiovascular, Inflammation, Nephrology, Neuroscience, Oncology, Bone Health and Biosimilars with multiple products under each category. The company provides a list of key products and their stage in development in their most recent 10K and a detailed pdf file with products in Phase I, II and III trials. One can hardly do justice to the depth, potential and approval status of each of Amgen's products in its extensive pipeline, but this Forbes article does a great job of giving an overview of the companies upcoming products.
Conclusion:
With a PE of 12, yield of 3.1% and a rich and diverse pipeline, Amgen trades at one of the rare valuations it has provided investors in the past 30 years to buy into this company. While patent expirations, competition and slowing growth are realities of investing in this sector, at current prices Amgen provides a high degree of margin of safety. Yet with its potential for significant PE expansion, earnings growth and sentiment change once the political scrutiny subsides, the shares have an opportunity to set new all-time highs.
Disclosure: I am/we are long AMGN, JNJ, BAYRY.
I wrote this article myself, and it expresses my own opinions. I am not receiving compensation for it (other than from Seeking Alpha). I have no business relationship with any company whose stock is mentioned in this article.