Earlier this year, I wrote two articles on Nike (NYSE:NKE). In my first article, I stated that I thought Nike was a well-run company but not a stock that was undervalued. I concluded that the stock was fairly valued and I initiated a position. My next article on Nike reviewed the quarterly and year-end results of FY 2016 and concluded that a buy opportunity in Nike was present. This article will review some developments in Nike that I find interesting to include its most recent quarterly results, management's failure to discuss the FY 2020 revenue goal, and its current technical picture.
For me the most recent quarterly results from Nike were mostly good but not spectacular. Nike's second quarter FY 2017 results can be found here. Revenues rose 6% in the most recent quarter to $8.2 billion. Nike saw revenue gains in footwear, apparel, and equipment. Earnings increased to $842 million, up 7% quarter over quarter. Gross margins declined 140 basis points to 44.2 percent. On the balance sheet, Nike is still doing well. They have a current ratio of just over 3.
Nike bought back 17 million shares in the most recent quarter. More importantly, Nike has almost $9B left on their four-year share repurchase program.
Nike increased its dividend in November to $0.18 per quarter payable in January 2017. This was the 15th consecutive year of dividend increases. Nike continues to reward its shareholders.
Nike's return on invested capital (ROIC) has consistently increased over the past several years. In 2012, its ROIC was in the low 20s. Now it is in the low 30s. This speaks to how well Nike allocates its capital.
My investment thesis for Nike was centered on Nike's goal of having $50B in revenues for FY 2020. On this front, Nike has work to do as I mentioned in my previous article. Increasing revenues at a 6% clip will not allow Nike to reach its revenue goals. However, Nike management believes that revenue growth will continue in the quarters to come. Nike management expects future gains to come due their continued R&D investments along with their emphasis on "editing to amplify" where Nike is editing out what doesn't work in terms of sales items or operational techniques and amplifies what is working.
According to Mark Parker, Nike's CEO and Chairman, the consumer is not looking for more products, the consumer is looking for more "choice of the products they love." This is where the edit and amplify strategy comes from.
Nike's R&D innovation, which Parker considers to be Nike's top priority, is where future sales growth should come from. Innovations in this area include Air VaporMax in footwear; Therma-Sphere in Running, for apparel; and Nike's first adaptive product called HyperAdapt 1.0. Nike has generations 2 and 3 already in development for HyperAdapt. Nike's ambitious FY 2020 revenue goal depends greatly on these new innovations.
One of the negative comments I have regarding Nike's most recent earnings call is that the FY 2020 revenue goal was not specifically mentioned. I would have liked to hear Nike's take on that goal. However, analysts at Guggenheim still believe that the $50B revenue goal is attainable.
The technical picture of Nike has changed and not necessarily for the better. See Chart 1 below.
Chart 1 - Nike Weekly Chart with 20-Week Exponential Moving Average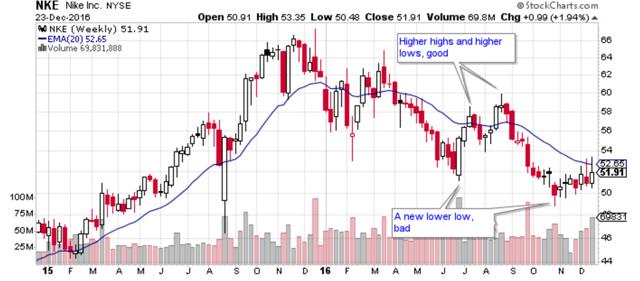 When I wrote about Nike in August, Nike's technical picture was improving. The 20-week exponential moving average was turning higher and Nike was putting in a series of higher highs and higher lows on the weekly chart. That technical set up was one to be excited about. However, Nike's technical picture since August has changed. Now the 20-week moving average is declining and Nike has put in a new weekly low in October. So from a technical perspective, investing in Nike is now more of a challenge and is not something to be excited about.
In summary, Nike has increased its revenues, earnings, and earnings per share during the second quarter of FY 2017. Nike has several innovations that Nike's management expects to contribute to revenue growth in the coming quarters. Nike's dividend was raised and the number of shares outstanding declined by 17M shares. Better still Nike has about $9B left in their four-year share repurchase program, which started in November, 2015.
Those items are all positive but there were some concerns for me during the quarter. While revenues increased they did not take a substantial jump forward to get them on a solid footing to reach the $50B revenue goal by FY 2020. On a technical level, the stock has been damaged some. The 20-week moving average is now declining and Nike is making a series of weekly lower lows and lower highs.
I continue to hold Nike believing that the revenue goal is reachable. Additionally, I appreciate that Nike continues to reward the shareholder through dividend increases and share buybacks. I will continue to monitor Nike and I believe that a patient shareholder will be rewarded.
Disclosure: I am/we are long NKE.
I wrote this article myself, and it expresses my own opinions. I am not receiving compensation for it (other than from Seeking Alpha). I have no business relationship with any company whose stock is mentioned in this article.