(Editor's note: Figures in the piece are YTD nine month figures unless otherwise stated.)
At first glance, things appear rosy for New Senior Investment Group (NYSE:SNR) - at least besides the collapsing share price. Key metrics appear to be turning, as occupancy rates are up, and net operating income margins per bed have increased as well. To provide granular back up for that, thus far in 2016, the company has averaged 10,182 beds occupied, generating $16,927 per bed through the first three quarters of 2016. This compares to $14,451/bed in 2015 on 9,770 beds. Even including other costs of the business (interest expense, general and administrative costs, management fees), earnings per bed are up.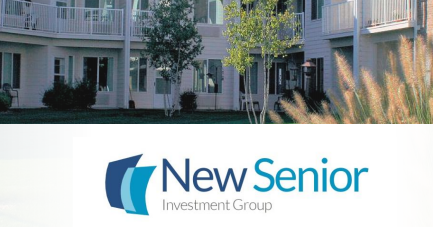 So why the collapsing stock price? Why are so many investors willing to throw away a company that appears to have a 10.5% distribution that is well covered by company-reported cash flows? The reality is that while the market occasionally throws investors a great deal, New Senior Investment Group isn't one of them. For investors looking for stable, high-yield investments, this certainly isn't one of them.
Aggressive Estimates Of Cash Available For Distribution
REIT owners are most familiar with the non-GAAP measure funds from operations (FFO), which is essentially GAAP net income (excluding gains/losses from asset sales) with the add-back of depreciation/amortization charges. This is a metric that has value, but obviously, this does not necessarily signify cash that is actually available for distribution. As anyone with a real estate asset will tell you, there are maintenance costs associated with asset upkeep. Properties degrade, and investments have to be made to keep these assets in check, otherwise their earnings power degrades over time.
In fairness to New Senior, the company does go through the steps to include a calculation for so-called normalized funds available for distribution (FAD), also sometimes reported from other companies as cash available for distribution (CAD). This calculation is basically FFO - maintenance capital expenditures (excluding some other miscellaneous items, like acquisition, integration, and litigation costs). In Q3 of 2016, this calculation just so happened to equal $0.26/share, which is the distribution amount. Coincidence? Unlikely.
My issue here comes down to maintenance capital expenditures. Management has pinned routine capital expenditures at $5.9M YTD in 2016; so we'll call it $2M/quarter run-rate to be generous, or $8M annual. Before anyone jumps on me about triple-net leases, yes, New Senior does have triple-net lease properties, where tenants are responsible for all maintenance, in addition to all other expenses.
However, the company's triple-net lease properties only make up 40.5% of assets. From the company's most recent 10-Q:

As the owner of the managed properties, we are responsible for the properties' operating costs, including repairs, maintenance, capital expenditures, utilities, taxes, insurance and the payroll expense of property-level employees. (Quote from 10-K)
$1,676M of New Senior assets are managed properties that are not operating under triple-net leases, and as such, the company is responsible for maintenance capital expenditures. You're going to have a hard time convincing me that $8M is enough to keep $1,676M of assets in the same condition as the prior year. As food for thought, on a GAAP basis, the company depreciates its buildings at a rate not to exceed 40 years for buildings and three to ten years for other assets, like building improvements. Back-of-the-envelope calculations put depreciation attributable to the managed properties at $50M.
To be fair, most of the company's assets are relatively refreshed and new, and buildings don't necessarily depreciate in a straight line like what is assumed during GAAP. But I would caution investors to keep in mind that management has stated it has funded $15.8M of capital expenditures through 3Q of 2016 in its managed properties segment, or ~$21M annual run-rate. Is management adding beds or engaging in growth spending in its existing managed properties? Not to my knowledge. Could some of this capital spending be misclassified as growth, or is management neglecting investment in order to protect distribution coverage? I can't rule that out.
If you assume $30M as normalized straight line maintenance on this segment of assets (and I feel I am being kind), normalized FAD falls from $66M to $50M. The $64M in dividends paid out this year then goes from marginally covered to woefully under-covered and unsustainable.
Recent Covenant Breach
One of the last things I want to see as an investor is a company breach its debt covenants. This is, for all intents and purposes, a failure of the company to uphold its end of a contract with lenders. While lenders are not necessarily incentivized to take aggressive action after a debt covenant violation, the existence of debt covenants and the possible impact from violations are a firm reminder that creditors hold much more sway than common stockholders. Interestingly enough, New Senior tripped one of these covenants in Q3 2016:
The Company's mortgage notes payable contain various customary financial and other covenants, and in certain cases include a Debt Service Coverage Ratio, Project Yield or Minimum Net Worth and Liquid Assets provision, as defined in the agreements. As of September 30, 2016, the Company was in compliance with all of such covenants except the Project Yield covenant in one financing secured by a leased portfolio, where the Company will be in compliance upon either exercising its cure rights or finalizing an amendment, as described in more detail below.
So what is a project yield covenant? Based on trailing 12-month results, New Senior was not making enough money in relation to the outstanding unpaid balance on its debt. As far as this particular breach goes, the impact will be minimal; at least by what we know from the 10-Q disclosure. Apparently, the lender is allowing modification of the covenant (presumably not without concession, but that is undisclosed), which will allow the company to not have to make a curing payment to pay down the debt to a level that is in compliance.
Tripping this covenant isn't even my main problem. Management's action toward it is. You'll find no disclosure of the actual terms of the project yield covenant in either the company's Form 10 (initial securities registration), 10-K (annual filings), or 10-Q (quarterly filings). As an investor, how do I know the issue has been remedied? What property was involved? What are the terms, such as if the lender has the right to call for immediate repayment? What are the terms of cross-default provisions? Further, without knowing the intricacies of the agreement, how can I model to test whether this is likely to happen again?
At the very least, this issue should have been mentioned on the earnings call or within the supplemental quarterly presentation slides. Surprise - nothing. The only way you would know this even happened is if you went digging through its quarterly filings, and that fact alone is a major red flag to me.
Interest Rate Exposure
This should be well known to most investors, but at the end of Q3 2016, New Senior carried $883.1M of floating rate debt. The company has hedged via $731M of interest rate caps, which covers the entirety of its 1M LIBOR exposure. Importantly, those caps do not kick in until 1M LIBOR reaches 3.3% to 3.8%. Terms of the initial derivative deal were not disclosed, but in my opinion, this was a cheap, band-aid measure, and really isn't even much of a hedge, given that LIBOR is highly unlikely to ever reach that range before the debt begins to mature in late 2020. If you're not willing to pay for protection, you aren't going to get anything worthwhile.
As stated, most of the company's fixed rate debt is tied to 1M LIBOR, which stood at just 0.74% recently. As a result, there is substantial runway where New Senior's interest costs will increase, but will not be hedged (other than potential minimal fair value paper gains on the derivatives). Management has guided its interest rate sensitivity analysis that a 100bps increase in LIBOR would increase annual interest expense by $8.8M - a measure I do agree with. Current forecasts are for 1M LIBOR to increase 50bps next year ($4.4M in additional interest expense) and another 75bps in 2018 ($10M in total additional annual interest expense). New Senior can ill afford higher interest expense, which will further constrain funds available for distribution.
Takeaway
Is the distribution tempting? Certainly is. Is it worth taking a gamble on a company that appears to have a lack of transparency? Is it worth investing in a company that may be aggressively under-reporting (or at the very least, under-investing) maintenance spending, and is set to likely bear substantially higher interest expense over the next two years? To me, no. I would not be surprised to see a distribution cut within the next two years, and I would also not be surprised to see another "woops" situation in relation to debt covenants. Stay far away.
For a deep-dive research on asymmetric risk/reward plays in the Industrial and Basic Materials sectors (particularly small and mid-caps), consider investing alongside me and other subscribers within Industrial Insights. Get cutting-edge information with proven results.
This new offering doesn't mean I will be cutting down on quality or my allocated time towards my free offerings on Seeking Alpha. Follow me (by clicking the "Follow" button at the top of this article next to my name) to receive general stock market research and commentary, especially on under-followed small/mid-caps across a wide variety of sectors and industries.
Disclosure: I/we have no positions in any stocks mentioned, and no plans to initiate any positions within the next 72 hours.
I wrote this article myself, and it expresses my own opinions. I am not receiving compensation for it (other than from Seeking Alpha). I have no business relationship with any company whose stock is mentioned in this article.