MannKind (NASDAQ:MNKD) investors are hoping that 2017 will bring with it a breath of fresh air for the diabetes drug Afrezza. In 2016, MannKind lost its marketing partner and attempted a re-launch of Afrezza itself. The re-launch started in July, and after about 6 months of effort, sales are pretty much where they were when the re-launch started. MannKind was able to settle its dispute with Sanofi (NYSE:SNY) and in return received about 6 to 8 months worth of cash. This essentially means that MannKind has until mid-2017 to bring about a substantial shift in sales.
This past week sales of Afreezza came in at just under 280 scripts. This number is substantially below the sales level that would be needed to generate excitement from the street. It is also substantially below the levels that would impress potential partners over seas. Lastly, the sales levels are substantially below the levels needed to attract quality investors that may be interested in putting a cash infusion into the company. The company is trying to change that narrative with an addition of more sales reps and potential advertising that are indicated to start with the new year.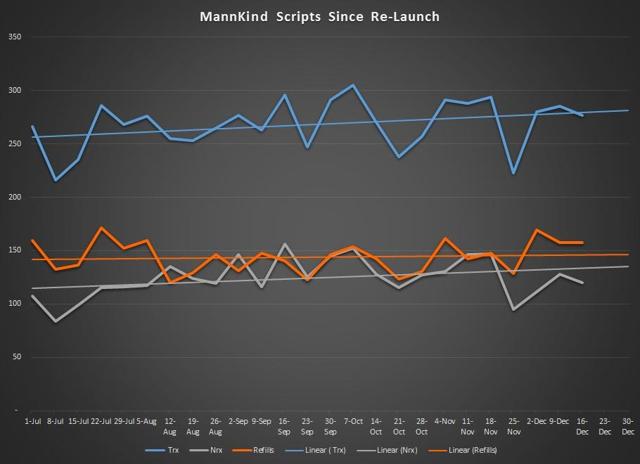 Chart Source - Spencer Osborne
On a quarter-over-quarter basis, sales are pretty much in line with what the company delivered in Q3. Sales in Q4 of 2016 are currently pacing 4% ahead of this same point in Q3. It is possible that sales will hold this modest gain, but when the sales number is just a few hundred scripts per week, a 5% move is not very compelling.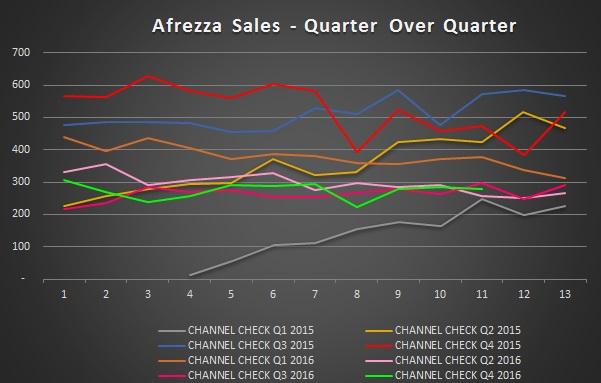 Chart Source - Spencer Osborne
The year-over-year numbers are still seeing challenges, but the data is demonstrating that MannKind is actually having a much more stable sales trajectory than did Sanofi as they were preparing to cease sales of the drug in 2015. Sales in Q4 of 2016 are still 49% lower than what was delivered a year ago, but these comparisons are better than in past weeks and will improve from here on out. The critical element is getting sales to ramp up above Sanofi levels.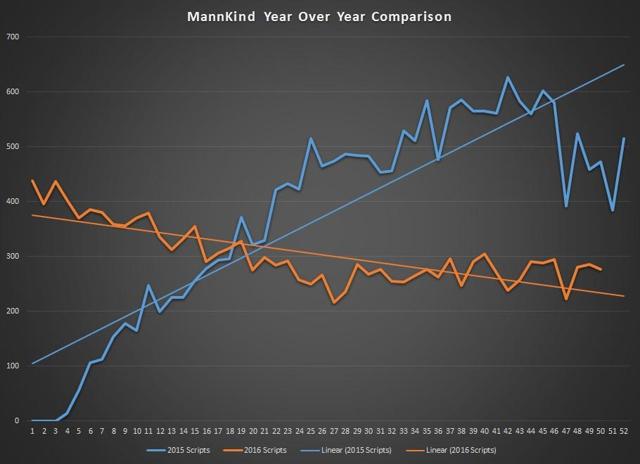 Chart Source - Spencer Osborne
In terms of cash, the data I am presenting assumes that MannKind already has the sums from the Sanofi settlement. I estimate that the company currently has the following:
$53.6 million in cash
$30.1 million in a credit line
The ability to dilute current shareholders to raise cash.
An office building that could be sold to infuse cash
MannKind has a requirement to maintain at least $25 million in cash or from the credit line at the end of any quarter. MannKind will have no trouble maintaining this requirement for Q4, and should be safe in Q1 of 2017. After Q1, the age old cash crunchy that seems to have plagued MannKind will come to a head once again. I have cash burn at over $2 million per week. Adding to the sales force, and advertising will likely increase the burn rate. In my estimation, MannKind has the cash to get through June, but then will need to tap the credit, sell the building, dilute, or find an investor to infuse the needed cash.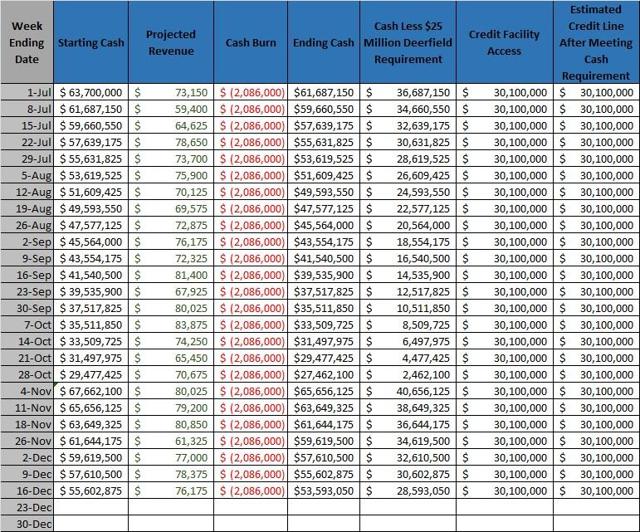 Chart Source - Spencer Osborne
My sales projections of October are tracking pretty closely to what is happening. I have projected that the company will see a small surge in sales with the new year, but want to warn readers that my projections for the first half of 2017 could be too aggressive. I will re-visit these projections at the end of January 2017. Some readers who have been hyper-critical of my projections in the past have not provided estimates for me to track. These readers previously had estimated that sales would be approaching 3,000 scripts per week by now. Actual sales are less than 300 per week.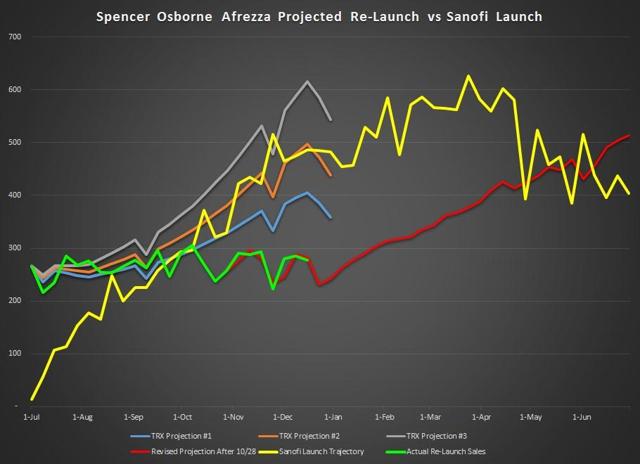 Chart Source - Spencer Osborne
The NASDAQ listing issue remains critical. Being in de-listing status takes away leverage from MannKind in any negotiation. MannKind needs to trade above $1 per share for 10 consecutive days to get into compliance. The window of time in which this needs to happen is just 52 trading days. The company can conduct a dreaded reverse split to correct the compliance issue, but such a move does nothing to correct the underlying issues that currently have the stock trading this poorly. While an extension of the de-listing is possible, the company must be in compliance with the shareholder equity rules to get an extension. MannKind is nowhere near being in compliance with that rule.
I am frequently asked why NASDAQ compliance is a big deal. The answer is simple. MannKind needs investors. Investors want to invest in companies that trade on a major exchange. If MannKind is not on a major exchange, it must then deal with the equivalent of Wall Street loan sharks that command hefty premiums in exchange for the higher risk. The bottom line is that there is nothing good about being outside NASDAQ compliance. In my opinion, the company will be forced into doing a reverse split in early 2017.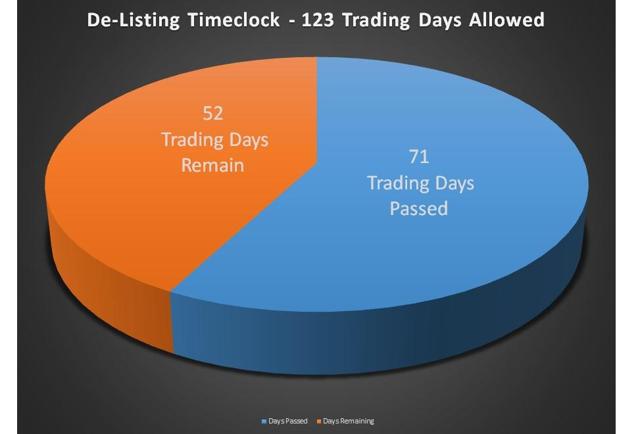 Chart Source - Spencer Osborne
The data above is the data. What I close each article with is my opinion on the data. In my opinion, MannKind is pinning a lot of hope on a modestly bigger sales force that will roll out in 2017. I think the company is pinning a lot of hope on less expensive advertising and non-traditional marketing. If these initiatives fail, the company will lose even more leverage. If these are a success, then the company could be a great turnaround story.
This boils down to assessing what is possible vs. what is probable. It is possible that adding a modest amount of sales force will tip the scales in the favor of MannKind. I do not think it is probable. It is possible that some advertising will change the narrative. I do not think it is probable. It is possible that MannKind has an awesome turnaround story that does not scalp existing shareholders in the process. I do not think it is probable.
MannKind remains a highly speculative play that is currently dominated by traders. It will remain that way until there is compelling news that is strong enough to shift the narrative. Getting scripts over 300 will be a very minor victory, but getting scripts over 1,000, then 2,000, then 3,000 is what it will take to excite the street and demonstrate that possibilities may turn to probabilities. Stay Tuned!
Disclosure: I/we have no positions in any stocks mentioned, and no plans to initiate any positions within the next 72 hours.
I wrote this article myself, and it expresses my own opinions. I am not receiving compensation for it (other than from Seeking Alpha). I have no business relationship with any company whose stock is mentioned in this article.
Editor's Note: This article covers one or more stocks trading at less than $1 per share and/or with less than a $100 million market cap. Please be aware of the risks associated with these stocks.