Over the last few months, long positions in the stock benchmarks have yielded handsome rewards and garnered most of the market's attention within the financial media. But in previous articles, we have outlined some of the ways that the market's current optimism could ultimately backfire if we fail to factor the potential for higher interest rates that could start to unfold within the Fed's stated policy intentions.
We outlined some of the reasons to explain why the Fed might need to raise interest rates faster than even it might currently expect, and the market impact on instruments like the SPDR S&P 500 ETF (NYSEARCA:SPY) could be significant. The risks here are also multiplied by the fact that there is now an opportunity for investors to take profits at the highs, so situations, where investors wait too long to cut back on exposure, can be more costly than what might otherwise would be seen in more normal trading environments.
Chart View: SPDR S&P 500 ETF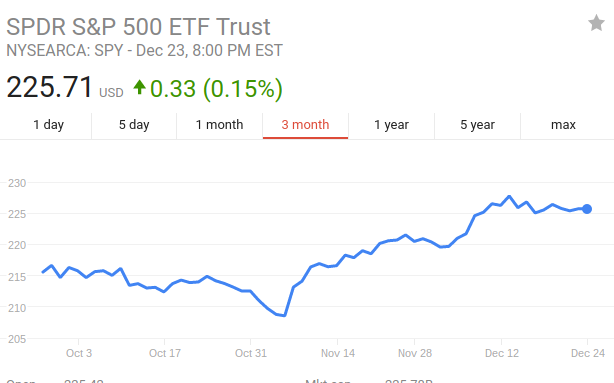 Most of our calls this year have been based on the fact that the Federal Reserve has waited much too long to raise interest rates and certain weakness in the underlying economy could make it difficult to make adjustments in the second half of 2017. If this turns out to be the case, we could see the Fed start to move in a policy direction that is more erratic than markets currently expect. When markets are caught off-guard in these types of situations, instruments like the iPath S&P 500 VIX ST Futures ETN (NYSEARCA:VXX) are then able to rally from the lows.
For most of the last year, analysts were calling for two interest rate increases of 25 basis points in 2017 but when we look at the most recent Fed policy statement, we can see that our interest rate outlook has been confirmed and that stock markets could suffer if there are any further revisions in the hawkish policy stance that is exhibited by the Fed.
Chart View: US ISM Non-Manufacturing PMI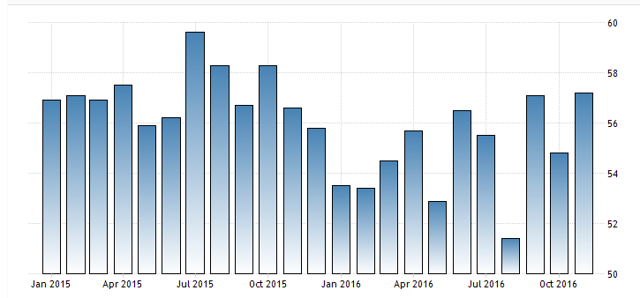 Going forward, it will come down to the macro data to determine whether or not these trends will continue. From a labor perspective, the services sector makes up roughly 70% of the US economy, so it is much better to watch areas like these rather than the unemployment figures that typically make up the headlines. Over the last year, we have seen consistent strength in the ISM non-manufacturing PMI and this likely suggests that the economy is running faster than many alternative measures have suggested. To this, we have the added uncertainty of a 'change' presidency, and Fed Chair Janet Yellen has already suggested that the upcoming administration will, on balance, add unpredictability factors to the economy.
In all, this suggests that investors should be looking for reasons to start trimming back on positions in SPY and any other assets that might be tied to the value of the S&P 500. Recent stock market rallies have been based on optimism, not earnings performances - and macro data still paint a stock-negative picture that does not necessarily support the rallies. If we see the Fed start to suggest that the economy is closer to major inflationary pressures than previously expected, we could see interest rate expectations that change in ways that do not support the broader benchmarks.
Disclosure: I/we have no positions in any stocks mentioned, and no plans to initiate any positions within the next 72 hours.
I wrote this article myself, and it expresses my own opinions. I am not receiving compensation for it (other than from Seeking Alpha). I have no business relationship with any company whose stock is mentioned in this article.