According to Strategy Analytics, Apple (NASDAQ:AAPL) secured a record 91% of profits in the worldwide smartphone market in the third quarter of 2016. That leaves a meager 9% to be shared by all other smartphone OEMs.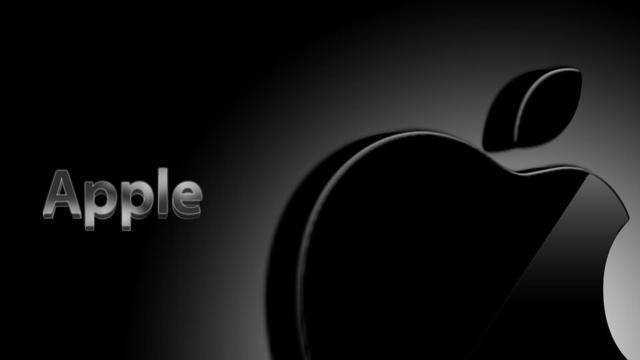 Source: hdwallpaperia.com
In a note to investors, Canaccord Genuity analyst Mike Walker reports that during the second quarter, Apple generated a 38% operating margin on its iPhone sales. (Operating Margin = Operating Earnings / Revenue.) This in contrast to Samsung's (OTC:SSNLF) still respectable 17% operating margin in the same time period.
But even with these stunning operating margins, things could be better for Apple, much better.
iPhone Sales:
First quarter of 2015: 61.2 million
First quarter of 2016: 51.2 million, down 16%
On a conference call with investors CEO Tim Cook said:
"Despite the pause in our growth, the results represent excellent execution by our team in the face of strong macroeconomic headwinds."
Now we can point our fingers at a number of factors which could be slowing sales, like for example "strong macroeconomic headwinds", or we could simply acknowledge that there are real limits to Apple's attainable market share given Apple's tight-fisted control over the Apple ecosystem and specifically iOS.
I think Apple has done a fine job with the walled-garden approach for ecosystem creation, and it has worked exceptionally well. Apple controls exactly what features go into iOS, who touches iOS, and what hardware will run iOS.
But imagine if Apple was to license the to likes of Samsung, Huawei, Oppo, and Xiaomi to build phones based on iOS.
Worldwide Smartphone Sales to End Users by Vendor in 1Q16 (Thousands of Units)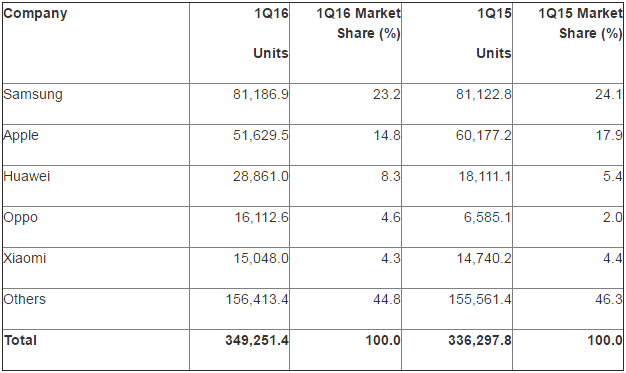 Source: Gartner (May2016)
There were 349 million smartphones sold worldwide in 1Q16. If we subtract out Apple's iPhones, then we have 297 million smartphones to consider. If we conservatively assume Apple could capture half those sales (iOS being installed on half those smartphones) then we are talking about roughly 150 million new Apple ecosystem customers in the first quarter; with continued growth until reaching maybe 50% or better market share.
If we further assume Apple gets a $5 royalty per device, that's an additional $750 million in Apple's pocket in that first quarter. Not bad, but that's just part of the scenario.
It's the ecosystem stupid!
What many of you may not know is that Apple's services business brings in more money than most Fortune 500 companies.
Earlier this year, Apple disclosed that it sold $19.9 billion worth of services to customers in 2015. This number up 10% from a year earlier.
These services include everything from Apple Music subscriptions, iCloud storage plans, iTunes music, Apple Care service plans and paid apps from the app store. Apple even takes a cut off of every purchase you make with Apple Pay.
So the story here isn't making some hundreds of millions on iOS licenses, but rather capturing maybe half of the Android market, effectively tripling Apple's current install base of 518 million to approximatly 1.5 billion devices.
If Apple sold $19.9 billion worth of services to customers in 2015 with something on the order of 518 million devices, Apple could roughly triple that number to a $60 billion services business by tripling the number of devices participating in the iOS ecosystem.
Is it reasonable to assume Apple can win over such a large percentage of otherwise happy Android users? Yes, I believe it is. Android has nothing on Apple when it comes to either ecosystem or security. Apple also offers the ecosystem benefits mentioned above as well as Apple's superb customer service. But more to the point; Samsung, Huawei, Oppo, and Xiaomi can offer much more reasonably priced smartphones than Apple can or wants to. They also have a very strong presence in China.
Apple would likely continue to offer the top-shelf handsets commanding premium pricing, so I wouldn't imagine them getting down into the gutter to slug it out with Huawei et al.
Investor Takeaway:
If Apple licenses iOS to the other large Android OEMs, and can capture half of the Android install base, then Apple stands to grow it's services business from roughly $20 billion today to something on the order of $60 billion annually.
If Apple should announce iOS licensing, I would recomend Apple as a strong buy.
Disclosure: I/we have no positions in any stocks mentioned, and no plans to initiate any positions within the next 72 hours.
I wrote this article myself, and it expresses my own opinions. I am not receiving compensation for it (other than from Seeking Alpha). I have no business relationship with any company whose stock is mentioned in this article.
Additional disclosure: The information contained herein is forward looking and contains significant guess work. This article is intended to give the reader an idea what an iOS licensing deal could do for Apple's bottom-line. Please do your own due diligence before investing.
Editor's Note: This article discusses one or more securities that do not trade on a major U.S. exchange. Please be aware of the risks associated with these stocks.