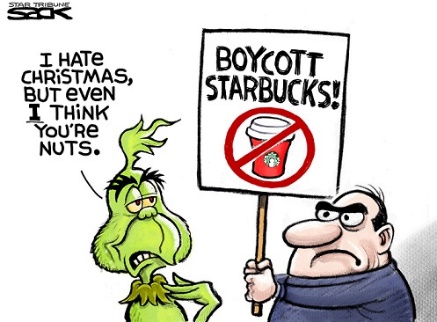 Investing is a tricky business. When you invest in a stock you truly don't know where the stock price might end up. It's quite unsettling. One day the stock price goes up. The next day the price goes down. All you can do is hope that the market agrees with your evaluation of the business after buying or shorting the stock. The world of investing is a battle between you and the volatility of the stock market which is often based on human emotions. A stock's movement is driven entirely on emotional sentiment or "market sentiment" and a company's financial performance.
Financial performance accounts for what the company is realizing in terms of revenue, profit, and cash flow, among other things on the three financial statements. If revenue and earnings show growth, the stock should move higher, right? You see, it's not that simple. There's absolutely no certainty that the company's stock price would increase for this reason. There's a second variable driving price: market sentiment. This explains how people feel about the company. It's the markets opinion of what an investment should be worth.
There's several factors that can influence market sentiment. It could be macro-focused (the economy, global growth), industry-focused (competition, innovation, market share, industry growth) or company-focused (execution of strategy, allocation of capital, management, financial performance). The best performing stocks are those with solid financial performances and positive or improving market sentiment. As for an example, look at Nvidia's (NASDAQ:NVDA) stock. A company that is weighed down by negative sentiment but reports strong financial performances will have the highest upside potential.
Apple's (NASDAQ:AAPL) lack of innovation and growth outside of the iPhone is an example of negative market sentiment that's stopping the company's stock from rising. Apple reports strong financial performances every year but the stock is still unloved. There's concerns that Amazon's (NASDAQ:AMZN) growth is not sustainable and that its valuation (PE ratio) is too high and expensive. Amazon, like many others, have seen they're stocks underperform because of negative sentiment clouding strong financial performances. The same goes for Starbucks (NASDAQ:SBUX) as being viewed as a dead investment even though the company is a free cash flow machine, and most recently reported record annual profits (see Figure 1).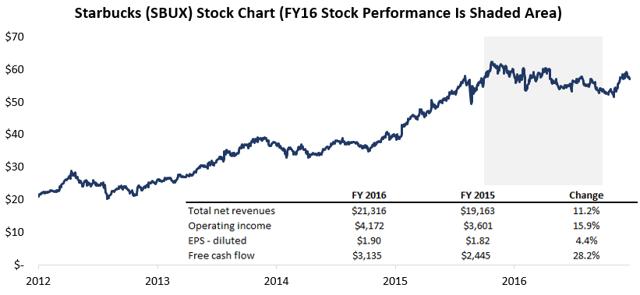 (Fig 1: Starbucks stock chart and financial performance. Shaded area is the company's stock performance from the fiscal 2016 period during September 27, 2015 to October 2, 2016. Data sourced from Yahoo! Finance and Starbucks)
Let's dive into Starbucks's stock and financial performance. Starbucks is selling more high-margin products (espresso-based lattes, cappuccinos, and mochas), launching new ready-to-drink coffee and tea (Teavana) drinks, building new innovative and upscale retail stores (Starbucks Reserve Roastery and Reserve bars), and expanding at-home coffee share and ready-to-drink coffee and tea products into grocery stores. Starbucks expects its channel development segment, which includes consumer packaged goods (an overlooked crown jewel in my opinion), and food service, to generate an incremental $1 billion in revenue and raise operating income by 75% over the next five years. The table below highlights Starbucks's five-year growth targets.
Long-term financial targets (FY17-21)

Comp. growth (per year)

Revenue growth (per year)

EPS growth (per year)

ROIC

Store count

Mid-single digits

10%*

15-20%

>25% (increasing 50-100 bps per year)

~37,000

*Starbucks targets over $35 billion in total revenue and doubling operating income by fiscal 2021
Starbucks CEO Howard Schultz said if the company were a 20-chapter book, "I still think we're in chapter 4 or 5." Starbucks is still in the early stages of growth. It plans to open 12,000 new stores globally by 2021 (see Figure 2). About 2,500 of those stores will be in China (~500 new stores per year). Starbucks's expansion into China has been a great success. China is reporting the highest average unit volume, return on investment, and profitability of any store class since Starbucks opened shop in China 17 years ago. Starbucks is reshaping China's coffee culture. And the recent launch of Starbucks's upscale Teavana brand into China (and Asia-Pacific) further targets the country's traditional tea-drinking culture. Starbucks expects to double China's revenue and triple operating income by 2021.

(Fig 2: Financial targets across regions. Source: Starbucks investor day presentation)
Starbucks has consistently delivered strong financial performances. The long-term outlook is ambitious, but positive. Despite all of this, the stock remains unloved. I believe the negative sentiment is overdone. There's concern about the slowdown in U.S. comps (which the CEO doesn't share). Starbucks's U.S. comps of 4% in the last two quarters compares to 5% or more over the last five years. I think U.S. comps of 4% is still impressive and healthy for a company of Starbucks scale and size. There's talk about the stock being too expensive with a forward price-to-earnings multiple of 23x, but when was Starbucks cheap? Since its IPO, it's extremely rare to find Starbucks trading for less than 20x earnings.
Starbucks is far from a dead investment. Individuals who believe that aren't long-term investors, but short-term investors seeking immediate rewards. They're ignoring Starbucks's long-term growth strategy and are on the losing side of the compounding equation. If Starbucks's underlying fundamentals keep improving, which I believe will, then over time that's what will push the stock price higher. It's in human nature to seek instant rewards and money gains. If the business fails to please Wall Street expectations, the negative sentiment puts downward pressure on the stock, and the investment community considers the stock as dead money.
Peter Bevelin, in his book, Seeking Wisdom writes:
"We give more weight to the present than to the future. We seek pleasure today at a cost of what may be better in the future. We prefer an immediate reward to a delayed but maybe larger reward. We spend today what we should save for tomorrow. This means that we may pay a high price in the future for a small immediate reward. For example, we buy things we can't afford on credit cards."
I think the markets perception of Apple, Amazon, and Starbucks is wrong, but there's nothing I can do about it. Instead I stick to my long-term investing strategy and remind myself that value is created over time. Having an investing strategy and process is so important if you want to achieve your financial goals in life. An investing strategy protects you from making costly mistakes such as selling low when negative sentiment starts to overwhelm your mind. It keeps you patient and disciplined.
Starbucks is in the early innings of development. There's plenty of room for growth and innovation across each business segment. I suggest long-term shareholders to buckle up, stay invested, and enjoy the rollercoaster ride. The market may not agree with your evaluation of Starbucks's business today, but over time, it eventually will, and reward you.
Reading recommendations
Disclosure: I/we have no positions in any stocks mentioned, but may initiate a long position in SBUX over the next 72 hours.
I wrote this article myself, and it expresses my own opinions. I am not receiving compensation for it (other than from Seeking Alpha). I have no business relationship with any company whose stock is mentioned in this article.