Peoples Financial Services Corp. (NASDAQ:PFIS) is coming off an impressive third quarter and has quickly built up its loans and deposits in the first nine months of 2016, which I believe will propel this stock higher in 2017. Peoples is one of a number of small banks that I hope to cover in the coming weeks. Coverage to date has included Sandy Spring Bank (NASDAQ:SASR), up 9.9% in the 15 trading days since my buy recommendation, and Two River Bancorp (NASDAQ:TRCB), down 1% in the five trading days since my thumbs-down recommendation.

About
Peoples Financial Services Corp., located in Scranton, Pennsylvania, is the parent company of Peoples Security Bank & Trust Company, an independent community bank formed as a result of the merger between Peoples Neighborhood Bank and Penn Security Bank & Trust Company on November 30, 2013. The merger created the largest community bank headquartered in Northeastern Pennsylvania. The combined bank maintains twenty-four community offices located throughout Lackawanna, Luzerne, Monroe, Susquehanna, Wayne & Wyoming Counties in Pennsylvania and three offices located in Broome County, New York.
Both banks have a long and distinguished history of providing personalized, community banking to their retail and business customers and will continue to provide customers with the same great community banking service as well as expanded choices in products, services and locations.
The Positives
Comparative Numbers - Year-over-year numbers per their Financial Highlights Report look good for the most part (especially when comparing 2015 to 2016) and continue to trend in the right direction:
Diluted EPS before Amortization

Total Deposits
($000)

Total Net Loans
($000)

Total Assets
($000)

Tangible Book

FY13

1.28

1,379,507

1,169,723

1,688,221

$22.32

FY14

2.52

1,425,558

1,203,042

1,741,669

$23.57

FY15

2.52

1,455,810

1,327,890

1,819,058

$24.29

FY16 YTD

2.13

1,565,810

1,507,039

1,971,239

$25.50
(Table: created by author)
Five Star Superior Rating - In June/2016, the company announced that they received a 5-Star Superior Rating from BauerFinancial, Inc., the nation's leading independent bank and credit union rating and research firm. Fewer than 10% of the nation's banks can claim this distinction. BauerFinancial has been reporting on and analyzing the performance of United States banks and credit unions since 1983.
Expansion - One thing I look for in a well run small bank is their willingness to grow their footprint via organic expansion. I like what I see from Peoples:
- In August/2016, Peoples issued a press release indicating that they opened a new branch in Kingston, PA.
- In their Third Quarter 2016 Earnings report issued in October 2016, they announced that they received regulatory approval to establish branch office in both Bethlehem, PA, and King of Prussia, PA.
- Build out of their Wealth Management Division. In their August/2016 Investor Presentation, Peoples indicated that their Wealth Management Division has been re-branded "Peoples Security Wealth Management Group" with three segments; Wealth Advisors, Trust and Investment Management, and Retirement Plan Services. In December of 2015, they acquired Gilmartin and Associates, Retirement Plan Services. I look for this newly re-branded (and growing) Wealth Management Group to generate some material income in the coming years.
- Peoples also indicated in their August/2016 presentation that they are also looking for growth via inorganic opportunities in that M&A candidates are modeled quarterly and potential branch acquisitions are reviewed as well.
Dividend - Based on the 12/23 closing price of $49.33 and a payout of $1.24/year, Peoples is yielding a decent 2.51%. Historical dividend payout is here: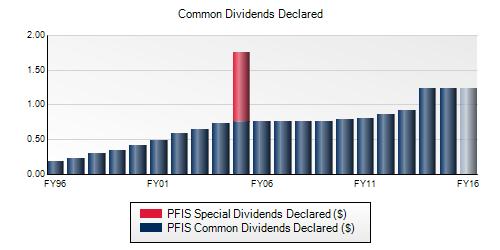 (Graph per company website)
Share Repurchase Program - Peoples adopted a common stock repurchase plan almost three years ago with the latest announcement coming in a February 2016 press release in which the Board of Directors continued the plan by authorizing up to 225,000 shares to be repurchased. Share repurchase plans are not necessarily high on my list when seeking out stocks to own, but if a company has a plan in place, I prefer to see that the outstanding shares are dropping as a result. Per data harvested from the 2015 Annual Report and the Third-Quarter 2016 earnings report referenced earlier, average common shares outstanding have dropped 2.05% in the last seven quarters.
Concerns/Risks
Market Cap - Investopedia defines a small-cap stock as a company with a market capitalization of between $300 million and $2 billion. With a market cap of $365 million, Peoples is on the lower end for small-cap stocks, and in fact was in micro-cap territory before its recent run-up from $40.38 on 11/15/16 to $49.33. Two concerns here:
- For borderline micro-cap stocks like Peoples, daily share volume is a major concern. Peoples' 90- and 10-day average volume is a low 9,948 and 14,950 shares, respectively. Unless you think you're ahead of the curve and have a can't miss stock on your hands, I would typically steer clear of most low-volume stocks. Chances are greater that the bid-ask spread is going to be wide, which can be costly if you're not paying attention. Additionally, if you're ever anxious to liquidate your position, it may not happen as quickly (or at the price) you would like.
- There's little institutional ownership and coverage of this micro-cap stock and most micro-cap stocks in general. The NASDAQ shows institutional ownership of Peoples at 21%. With little visibility and fanfare, it can sometimes take a long time before others take notice and become interested in such stocks.
Valuation - According to gurufocus, most, if not all, of the key ratios individuals look at when analyzing the valuation of a company shows that Peoples may be ahead of itself right now, though I personally believe EPS growth in the coming quarters will justify its current valuations.
Dividend Amount Beyond 2018 - The 2015 Annual Report indicates the current dividend amount is based on a previous merger agreement; "The Penseco merger agreement contemplates that, unless 80 percent of our board of directors determines otherwise, we will pay a quarterly cash dividend in an amount no less than $0.31 per share through 2018, provided that sufficient funds are legally available, and that Peoples and Peoples Bank remain "well-capitalized" in accordance with applicable regulatory guidelines." Though they also indicate that they intend to pay dividends in the future, I can see no guarantee that they will maintain the quarterly amount of $0.31 per share.
Recommendation
Though it may have gotten ahead of itself from a valuation perspective, I like what I see from Peoples Financial Services Corp. In addition, when looking at the outlook for the economy, rising rates, and the possibility of deregulation in the industry - I give a positive recommendation for this speculative, borderline micro-cap bank stock. Look to initiate a position on any pullback/correction Mr. Market provides.
Please let me know if there's a small bank you would like my analysis on and I'll look to do an article on them.
Disclosure: I/we have no positions in any stocks mentioned, and no plans to initiate any positions within the next 72 hours.
I wrote this article myself, and it expresses my own opinions. I am not receiving compensation for it (other than from Seeking Alpha). I have no business relationship with any company whose stock is mentioned in this article.