Thanks to a strong uptick due to OPEC finally coming to an agreement regarding production, stocks like Anadarko Petroleum (NYSE:APC) have thrived in Q4. This should allow for a strong Q4 earnings report - perhaps the strongest in the last twelve to eighteen months. Closing in on nearly $5 billion in asset sales, it has been quite the year for Anadarko as the focus has been on repairing the balance sheet. Now that the lows for crude are behind us, it's time to consider how well positioned this company is for the recovery in crude oil as 2017 gets underway. In my opinion, it's one of the better E&Ps out there.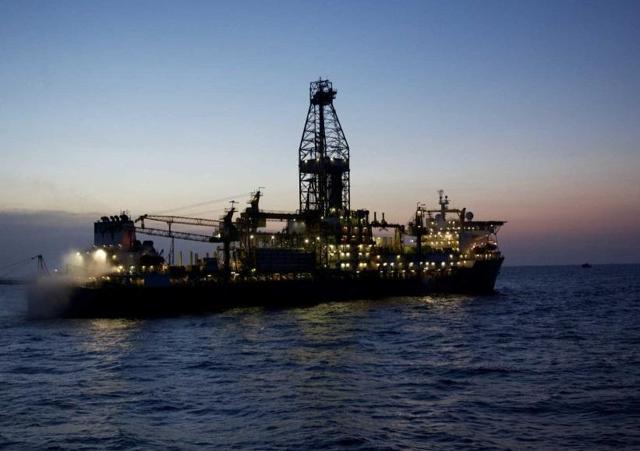 Source: Maritime Herald
Range Bound Days Ahead?
There's been two really interesting market themes this year for crude oil: the post-Doha theme and the post-Vienna theme. The post-Doha world showed us that massive uncertainty was present in the crude oil market and that "lower for longer" was the only guarantee until major producers could come to an agreement. Inventories were still at 5-year highs and rig counts remained suppressed due to prices at or below the OpEx breakeven for many smaller E&Ps.
However, the post-Vienna theme has shown an interesting adaptation on the crude oil market. There's now a defined level of support at $50/barrel that will be one of the toughest levels to break should headwinds in the market swell and push crude down.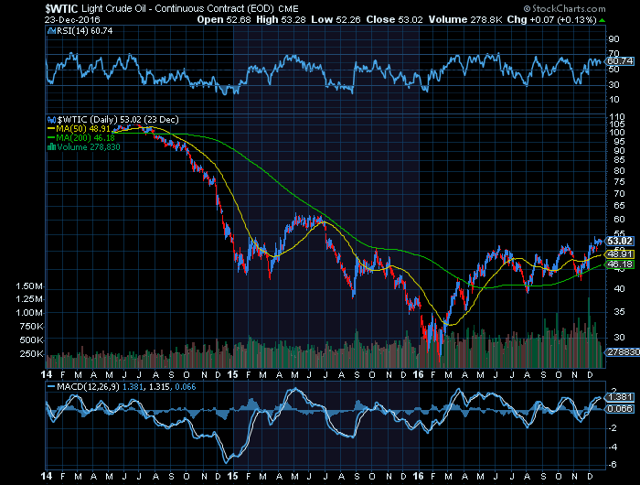 Source: StockCharts
2017 is just a tricky year in terms of expectation management. On the one hand, OPEC and non-OPEC producers that have made agreements regarding scaling back output have to stay true to their word as anything less than what was announced is going to spook the markets. At the same time, keeping an eye on American production is critical. American production has been building in recent months as there isn't cooperation from these producers with OPEC producers.
That development is all the more complicated when we factor in inventories. After reaching peak production earlier this year, inventories began to retract; however, in light of producers taking advantage of the best pricing in months, inventories have built slightly. A retraction of inventories more towards the 5-year average is what will pave the way for stocks like APC to see considerable strength.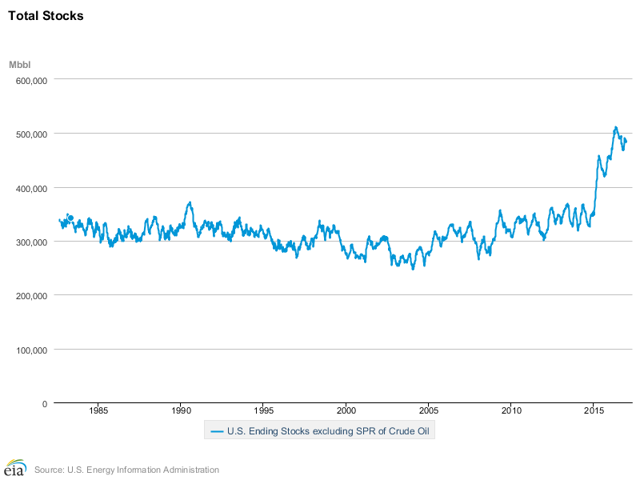 Source: EIA
What Does This All Mean For Anadarko?
Well, truth be told, the market is likely still digesting the asset sale of the Marcellus upstream and midstream assets for $1.2 billion. While this provides much needed liquidity to the company, many analysts have said that the price received for these assets is below market value. Truth be told, we have to give companies like Anadarko the benefit of the doubt here (whether or not this opinion is shared by the broader investment community remains to be seen). Divestment multiples have contracted 1-3x since the start of the downturn, with the latter often being the occurrence. Nearly every E&P in North America is trying to divest assets and even the integrated O&G majors like Exxon Mobil (NYSE:XOM) and Royal Dutch Shell (RDS.A, RDS.B) have divestment programs underway.
Should crude continue its rebound, then Anadarko can start really hammering away at its core goals:
Expand production in the Delaware and DJ Basins (Denver-Julesburg)
Produce free cash flow and strengthen margins
Expand production in Mozambique
It just comes down to crude pricing at the end of the day. When pricing becomes more favorable, cash flow will become robust and growth opportunities can be actually put on the table.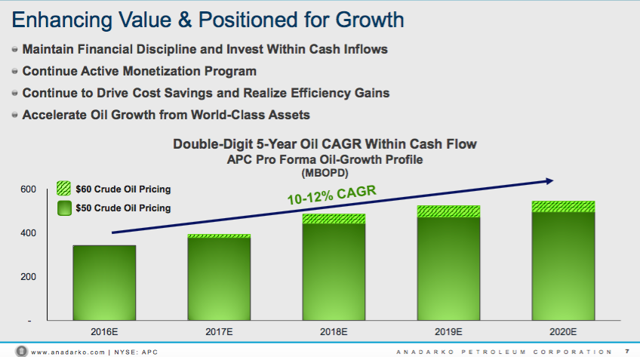 Source: Investor Presentation
In terms of stock performance, APC has doubled on the open market from its bottom in Q1 this year and it's been quite impressive. There is still a fair amount of upside left before I'd start moving away from an operational analysis towards the company's comparable valuation. The stock bottomed just under $35 share and now has traded up to $71 and change. Considering how rapid that pacing has been, as credited to the company's leveraged relationship to crude oil prices, the trailing three-year high just around the $110 mark is likely attainable in the next 12-18 months should fundamentals stay positive.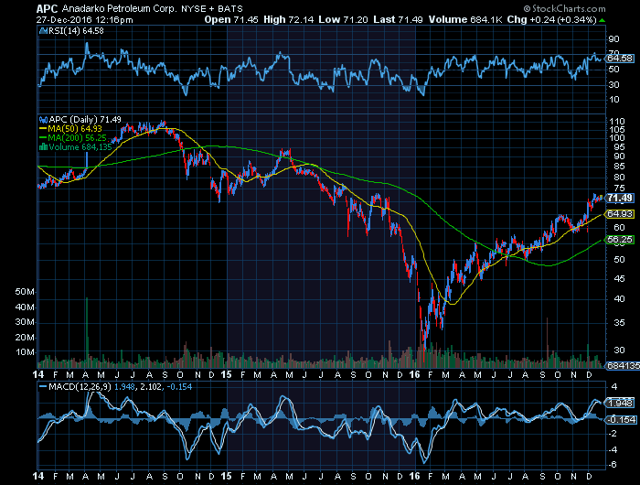 Source: StockCharts
Full disclosure, there are other E&Ps that have more favorable risk/reward scenarios. Anadarko, in my mind, is one of the more stable producers given their level of transparency to shareholders, but certainly stocks like Oasis Petroleum (NYSE:OAS) have the potential to obtain high triple-digit returns in the same time frame; however, that stock also comes with a standard deviation of 64.3%, so good luck investing in that name. Even names like Cabot Oil & Gas (NYSE:COG) have too much risk at this time, and if we learned anything throughout the downturn in crude, it's that you don't lever up past what is necessary or you'll jeopardize your entire operation.
Comparing it to DJ Basin-peer EOG Resources (NYSE:EOG), we see that EOG has a slightly lower volatility by a few percentage points, but it's potential to outperform is significantly less than that of APC as that stock is trading towards its pre-downturn highs already. To me, Anadarko has the quality balance of risk and reward, making it a viable candidate for investment as we enter 2017.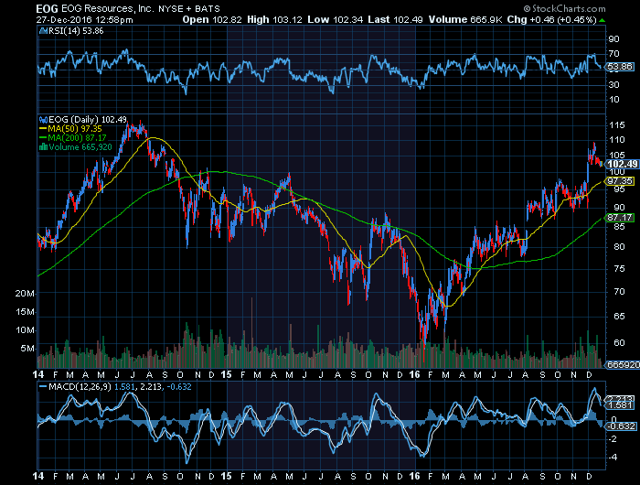 Source: StockCharts
Conclusion
To play a crude oil recovery in 2017, which should experience significantly less volatility than in 2016 based upon the agreements made between producers in Q4, APC is one of my top choices. The company has clear growth opportunities not limited to just North America and has a favorable cost profile such that cash flows are more positive than peers as crude trends toward $60/barrel. Additionally, with a strong risk/reward scenario, this stock is one of the few E&Ps that you don't have to worry about nearly as much as others.
Disclosure: I am/we are long APC.
I wrote this article myself, and it expresses my own opinions. I am not receiving compensation for it (other than from Seeking Alpha). I have no business relationship with any company whose stock is mentioned in this article.