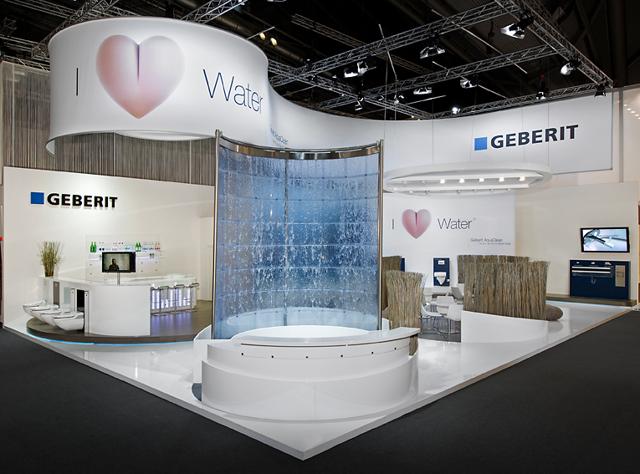 I've covered many water-related stocks in the past as I have a specific interest in the water industry. I have published many on firms in this industry in a specific water series which I've covered on Seeking Alpha over the last 2 years. So far I've covered water utilities all over the world, from Europe to Japan and Brazil to America. As part of these water series, I also cover firms which have a "derived presence" in the water industry, such as the largest toilet manufacturers Toto (OTCPK:TOTDY), Lixil (OTCPK:JSGRY) and Geberit (OTCPK:GBERY) which I've also all covered on Seeking Alpha: see the article on Toto, the article on Lixil Group and the article on Geberit. These are not specific water utilities, but are related to this industry due to their relentless effort to improve water efficiency (for example) and the fact that many of their products are related to water.
In this article I will specifically cover Geberit, which is a multinational group in Switzerland, specialized in manufacturing and supplying sanitary parts and related systems. It is a leader in its field in Europe with a global presence through its subsidiaries. In the last article I wrote on Geberit, I was dubious about taking any position as the firm's share price was treading higher on good, but not excellent business news. Not long thereafter, the share price has been trimming down to only 50% of its 52 week high as can be seen underneath: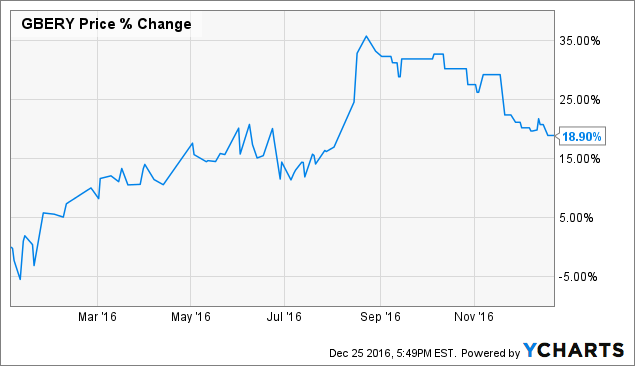 Recently, the firm announced its quarterly results and as the firm recently dropped in share price, I believe it is time for an update.
Geberit: Are We Closing Off 2016 With A Blast?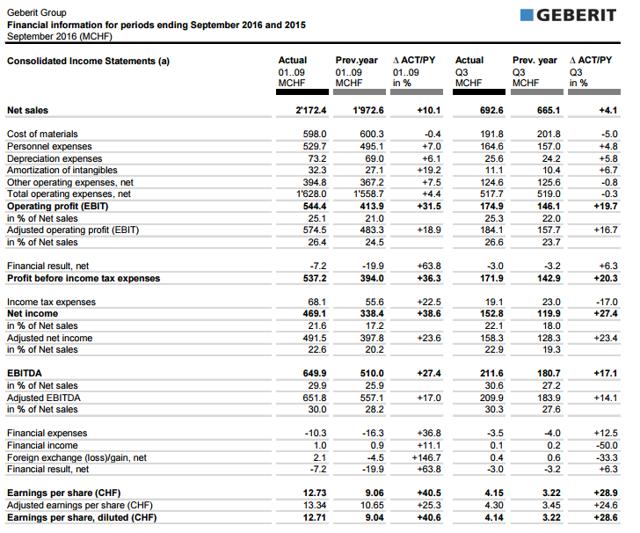 Source: Q3 Results
Analysing the 9 months year to date results: Geberit is making continuous progression. Total revenue increased while cost went down driven by favourable economic results in a few countries in West and Eastern Europe. If sales go up and cost goes down, the firm is capable of generating more net income (depending on the base FX currency) which is a better situation for everyone. Additionally, considering the political uncertainty in Europe, these are good results.
Nevertheless, the results in 2016 are still impacted by the acquisition, divestment and integration costs and income relating to the SANITEC acquisition.
Regarding the year to date results, one specific point to make out is the stellar (even though minimal) increase in Foreign Exchange gain. This is an important notice, as Geberit has been suffering from FX headwinds in the past as they are based in Switzerland (the pegging issue of 2015 for example).
When analyzing quarter over quarter: the results were also impeccable, often with solid double digit figures: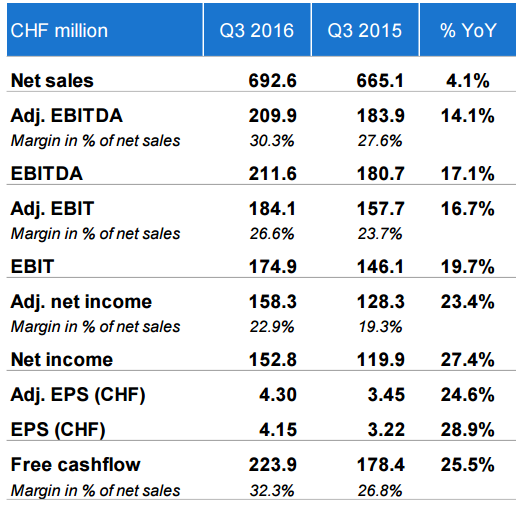 Source: Q3 Investor Presentation
Looking at it from a region perspective: the largest part for Geberit is Europe and posted organic growth of 7.1% in local currencies. Double-digit growth rates were posted in Austria (+12.9%) and Central/Eastern Europe (+10.3%), with all other European markets/countries also recording positive growth: the Benelux Countries by +9.7%, the Nordic Countries by +9.0%, the Iberian Peninsula by +7.8%, Switzerland by +7.7%, France by +6.9% and Germany by +5.1%
Compared to the European markets, sales development for the Middle East/Africa (+1.0%), America (+0.4%) and the Far East/Pacific (+1.0%) remained below average. With political elections coming up all over Europe in 2017, (Netherlands, France and Germany and the initial start of Brexit in March), I'm not anticipating lower growth in construction rates in these countries. What I do expect is heavy currency fluctuations as the outcome of these elections will be most likely an unexpected one.
Furthermore, I believe the Middle East will continue to struggle in 2017 based on current geopolitical tensions.
Moving from geographical segmentation to product segmentation, the main revenue drivers of Geberit see spotless growth: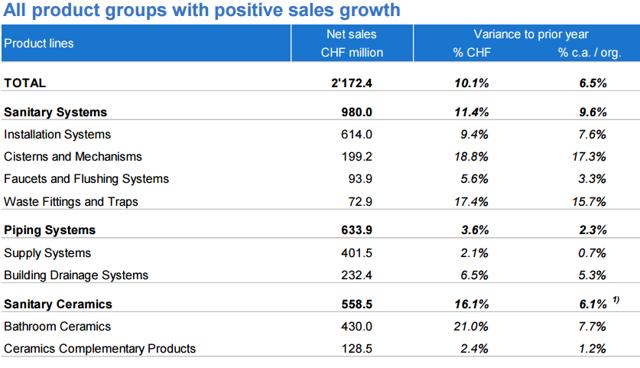 Source: Q3 Investor Presentation
Bathroom ceramics and Installation Systems combined (50% of revenue) saw a double digit growth so far. Especially bathroom ceramics is a good driver due to their high profit margin. Typical products you buy in a large store, not bought second hand or in a penny shop.
Furthermore, the financial strength of their books is increasing while the firm is working on lowering their debt as well as leverage: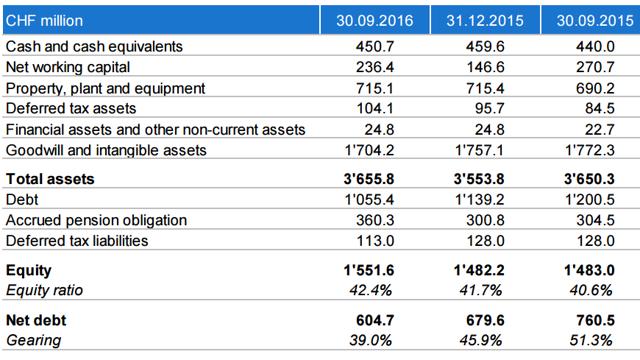 Geberit has been one of the main drivers of CGW (NYSEARCA:CGW), the Guggenheim S&P Global Water Index, which is a water ETF I've covered before on Seeking Alpha.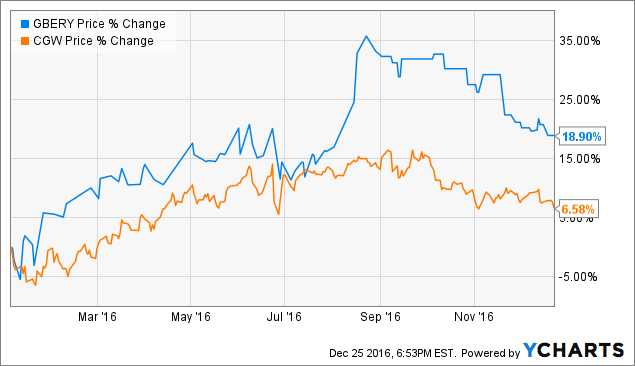 Overall Share Performance Of Geberit And Competitors
Let's have a look on how Geberit performed in comparison to its competitors and a water ETF of which they are one of the largest holdings. I compare it with Toto and Lixil, specifically the latter as the main competitor of Geberit in Europe is Grohe, and that firm is part of Lixil Group as their strategy to incorporate outside their borders (Lixil is Japanese).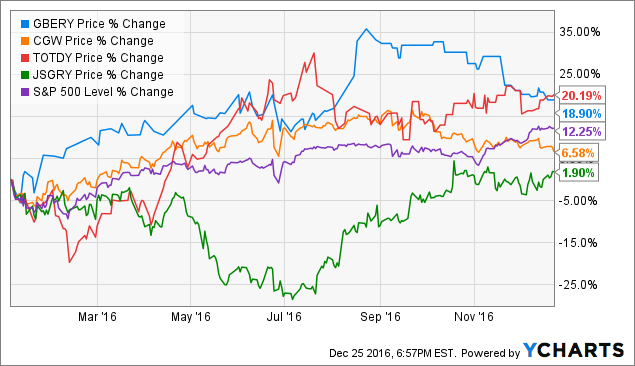 Geberit has performed well in contrast to its competitors as well as the main index. Nevertheless, they do not come in cheap: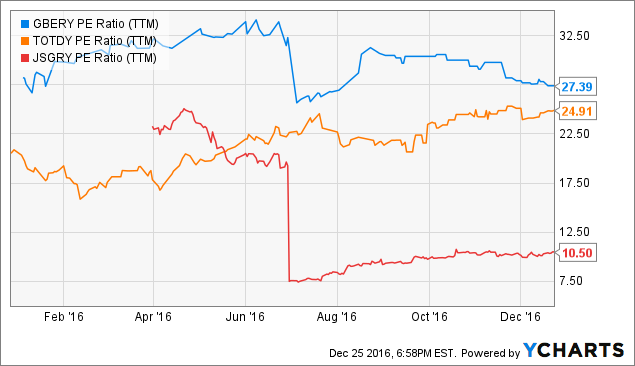 Geberit: Forward Looking Status
The expectations for next years are all positive.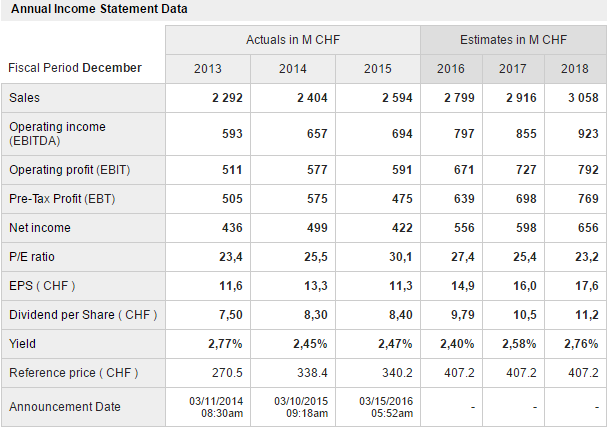 Source: 4traders.com
It's hard to deny that these are good figures. The only thing that should ring alarms is that these are anticipated and expected profitable growth years, if Geberit won't be able to manage these expectations and withstand such pressure and hence presents lower figures as a result, the most likely way for the share price is to go down.
If the expected growth is higher and higher, it's more likely that the firm won't be able to meet its target. The higher you climb, the more likely you'll lose grip and fall. That's pure math. Incorporate the given fact that Geberit is already expensive (when compared to peers) and you find yourself on a slippery slope.
Conclusion
Geberit as well as its competitors remains on my radar. Where I see other water utilities in Europe suffer (like Veolia, other Seeking Alpha users requested me to provide an update on this one in the future), the potential doesn't necessarily decline. Geberit is currently in a phase where unnecessary fat is being trimmed. They are clearly trying to get rid of debt by taking advantage of reeling in more money due to less costs and more revenue.
Nevertheless, I believe the firm is clearly expensive when compared with others. Even though the firm slumped from a 36% gain to 18%, the 50% slump is not good enough to consider a position, especially as the forward looking scenario is already quite positive and sudden shocks can only diminish this upwards potential. Geberit is a good company, at a not so fair price. But just because this is such a good company, it's simply a waiting game for when this firm provides itself at a more valuable price.
Disclaimer
I currently do not hold any position in Geberit. This article provides opinions and information, but does not contain recommendations or personal investment advice to any specific person for any particular purpose. Do your own research or obtain suitable personal advice. You are responsible for your own investment decisions. This information is not a recommendation or solicitation to buy or sell securities, nor am I a registered investment advisor.
Disclosure: I/we have no positions in any stocks mentioned, and no plans to initiate any positions within the next 72 hours.
I wrote this article myself, and it expresses my own opinions. I am not receiving compensation for it (other than from Seeking Alpha). I have no business relationship with any company whose stock is mentioned in this article.
Editor's Note: This article covers one or more stocks trading at less than $1 per share and/or with less than a $100 million market cap. Please be aware of the risks associated with these stocks.