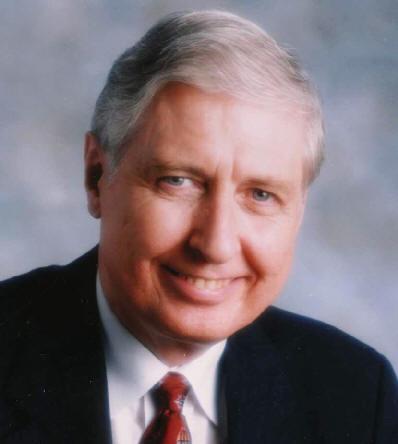 I've written before on the Permanent Portfolio Permanent Portfolio (MUTF:PRPFX), a mutual fund which was originally meant to follow Harry Browne's Permanent Portfolio strategy. I was critical of that particular fund since it was weighted more towards inflationary times but not as much towards other periods. Today I'll look at the Global X Permanent ETF (NYSEARCA:PERM) by GlobalX Funds and see if it is suitable for employing the PP strategy.
First let's have a quick recap of the original PP concept. The portfolio is split equally with 25% stocks, 25% long term bonds, 25% cash, and 25% gold. Rebalancing is done annually or if any one asset increases dramatically. The returns have basically slightly underperformed the stock market in the long run, but with less volatility overall. The idea was the lower volatility would lead to an investor NOT getting caught up in panic selling during a downturn.
PRPFX is the mutual fund that most closely followed the PP strategy, but Global X Funds launched the ETF PERM, in February 2012 which attempts to use the PP strategy as well. Below is a comparison of the returns of each fund, starting at PERM's launch.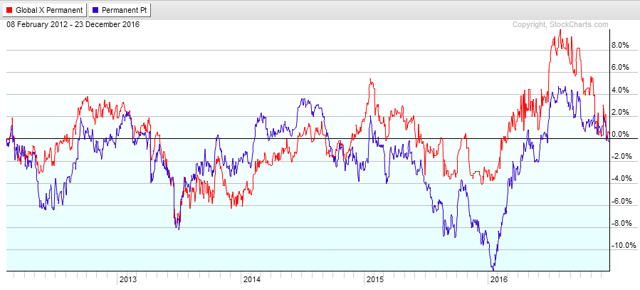 Here are my major issues with PERM. Firstly, the allocation to stocks isn't one simple index fund as Harry Browne originally recommended. Within the equities portion there are two Vanguard ETFs, VB and VEU, followed by 75 individual stocks. The stocks(as well as all the holdings for PERM) come from the Solactive Permanent Index, which seems a little random, and is definitely not in line with the original PP design. See below, taken from website: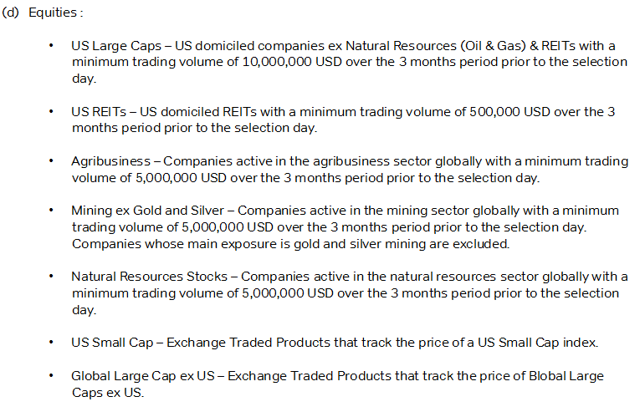 Below are the top ten individual stock holdings.
| | |
| --- | --- |
| Companies | % of Holdings |
| Glencore PLC (OTCPK:GLCNF) | 0.576 |
| Prologis Inc (NYSE:PLD) | 0.56 |
| AvalonBay Communities Inc (NYSE:AVB) | 0.518 |
| Equity Residential (NYSE:EQR) | 0.494 |
| American Tower Corp (NYSE:AMT) | 0.493 |
| Equinix Inc (NASDAQ:EQIX) | 0.481 |
| Public Storage (NYSE:PSA) | 0.471 |
| Crown Castle Inc (NYSE:CCI) | 0.470 |
| Welltower Inc (NYSE:HCN) | 0.465 |
| Deere & Co (NYSE:DE) | 0.450 |
One simple, low-cost ETF for the equities exposure is all that's needed.
So here is the initial way to get the PP strategy with low-cost ETFs, and then it will be altered a little later.
| | | | |
| --- | --- | --- | --- |
| ETF | Expense Ratio | Total Assets | SEC Yield |
| Schwab U.S. Large-Cap ETF (NYSEARCA:SCHX) (Stocks) | 0.03% | 5.72 billion | 1.96% |
| SPDR Barclays Long Term Treasury ETF (TLO) (Long Term Govt Bonds) | 0.10% | 435.59 million | 2.40% |
| Schwab Short-Term U.S. Treasury ETF (SCHO) (Cash/T Bills) | 0.08% | 1.36 billion | 0.92% |
| iShares Gold Trust ETF (NYSEARCA:IAU) ((Gold)) | 0.25% | 7.12 billion | n/a |
Total ER-0.44
These choices give the lowest expenses for each asset class, totaling 44 basis points which is 14 basis points lower than PERM. The gold ETF, IAU, is the only fund that can't be traded commission-free with a Schwab account. As a matter of fact only one ETF currently available has commission-free trading, and that is the ETFS Physical Swiss Gold Trust ETF (SGOL) with a Schwab account.
If the PP is an investor's main strategy for the long run, in behooves them to find out how to make the most cost efficient contributions possible. So below is what i believe to be the ideal way to structure the PP strategy with ETFs:
25% Stocks-SCHX
25% Long Term Govt Bonds-TLO
25% Cash-SCHO
25% Gold-SGOL
Total expense ratio-0.64%
To get the most cost efficiency from this, it will be necessary to open a Schwab brokerage account. Fortunately all four of these funds can be traded commission-free with a Schwab account. The only issue now is that SGOL has higher expenses than IAU, 14 basis points higher to be exact, and this is the trade off that comes with being able to trade SGOL commission-free. I think that the commission-free trading is more important if the investor is continuously buying these ETFs as part of a long-term strategy. IAU would only be more appropriate if you were making a one time trade with a larger sum of money. In that case, the lower expense ratio would matter more since the commission fee would only happen just the one time.
-Improving Yield
I'd like to focus quickly on the average yield of the three income-producing assets. The average yield using the previously listed ETFs is 1.76%. So I'll swap the ETF for the stock portion in order to get a slight bump in yield by using the Schwab U.S. Dividend Equity ETF (SCHD) instead of SCHX. Don't get me wrong, I love the extremely low expense ratio of SCHX at only 3 basis points, but at only four basis points higher, SCHD gives us a higher yield from large, high quality companies. The current SEC yield for SCHD is 3.07%, which brings the average yield of all the funds to 2.14%. Most PP proponents focus mostly on the allocation but it seems that little emphasis is put on compounding, which is something I often focus on. SCHD has not been in exact lock step with the S&P 500, but it is close enough to satisfy me, especially since I focus more on cash flow than capital appreciation. Below is a chart measuring SCHD versus the SPDR S&P 500 Trust ETF (SPY) since SCHD's launching.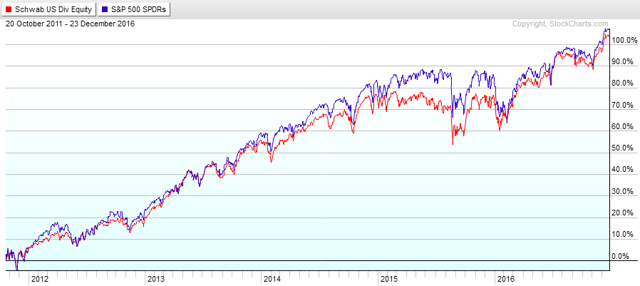 So here are the final ETF choices for optimizing the PP strategy.
25% Stocks-SCHD
25% Long Term Govt Bonds-TLO
25% Cash-SCHO
25% Gold-SGOL
Total expense ratio-0.64%
Average Yield-2.14
Other choices for gold
Some might be content with using SGOL for the entire gold component, but there are also a few different ways an investor could approach their exposure to gold within the PP strategy. The reason I'll discuss these alternatives is that many PP adherents believe in having at least a portion of your gold held in the form of physical bullion, directly owned.
Strategy 1. Buy physical gold for some or all of the 25% allocation
The investor could simply save money for the specific purpose of buying gold once they have enough. The legitimacy of this strategy depends mostly on the income level of the investor. If you can easily afford to buy at least one ounce at a time, it's less of an issue. If however, you have to save up for many months to afford one ounce of gold, you run into a potential problem. That problem is if you are saving cash until you can buy one ounce, but right before you reach your goal, gold makes a big move upward and you have to save even longer while you miss out on the bullish move. The next two strategies are aimed at solving this problem.
Strategy 2. Use the VanEck Merk Gold Trust ETF (NYSEARCA:OUNZ) to accumulate gold
OUNZ, was launched a couple of years ago as a means of getting immediate exposure to gold via the ETF and then taking delivery at some point in the future, if you choose. The catch with the delivery option is that you'll need to accumulate at least 40 ounces worth of shares before you can redeem, and then you delivery fees amount to $1200 if you want one ounce coins. Fees listed below, image taken from Merk website.

Again, this would take a very long time for the person who can't afford to buy more than an ounce at a time.
Strategy 3. Use OWNx or Hard Assets Alliance to accumulate gold
These two companies let you purchase precious metals, and you are charged a storage fee for the company storing the metals in a non bank vault for you. Their delivery minimums are lower than OUNZ, but they come with storage fees which OUNZ doesn't have. These aren't publicly traded ETFs, but you can sell any metals you've previously purchased and stored, which gives it basic trading capability that a PP investor can use.
Is rebalancing really necessary?
Let's now talk about the rebalancing strategy recommended with the PP. I think that some changes need to be made in order to lessen the capital gains taxes along the way. Browne recommended rebalancing annually or if any one asset rises higher than 35% of the portfolio or if it drops lower than 15% of the portfolio. There are two problems with rebalancing in this way.
Firstly, selling the security for more than you paid triggers the capital gains tax of course, which will eat away at your returns. Second, and just as important, selling any of the three assets that pay interest or dividends will interrupt the compounding. Letting these assets snowball with compound interest can only happen if you leave it alone, so selling off every year in the rebalancing could make a difference in the very long run.
The solution to these problems is to never sell any income producing asset when rebalancing, and instead add more specifically to the lower percentage assets. I think it's more important to not hinder the compounding assets(gold not being one of these) and maybe not stay at a perfect 25/25/25/25 allocation at all times.
Conclusion
The permanent portfolio strategy can be achieved by using the suggested ETFs in a Schwab account. Doing it this way is superior to relying on PERM as a means of implementing the PP strategy. One of the main intentions Harry Browne had with this concept was to lessen the volatility, which in turn would lessen the chance of investors selling during a bear market. I personally view the PP as four buckets, with three of them being compounding machines and the fourth as a large portfolio insurance policy in case of severe inflation/economic catastrophe. Yes, the strategy should work during all economic seasons, but I purposefully emphasize the compounding aspect, which can be interrupted if you sell when rebalancing.
Disclosure: I/we have no positions in any stocks mentioned, and no plans to initiate any positions within the next 72 hours.
I wrote this article myself, and it expresses my own opinions. I am not receiving compensation for it (other than from Seeking Alpha). I have no business relationship with any company whose stock is mentioned in this article.