It's been over a year since I wrote my first Seeking Alpha article and it was overvaluation piece on Eli Lilly. Since then, the stock is down 12.64%. I continue to believe LLY is strongly overvalued and my target remains the same at $44.46, down 39.75% from current share-price of $73.79.
Investors were crushed last month when Eli Lilly and Company (NYSE:LLY) announced the failure of its late stage trial in Alzheimer's.
Alzheimer's drug trials has one of the highest failure rates of any disease area, with 99.6%, compared with 41.9% for all diseases in phase 3 trials.
If Solanezumab was a success, it would have been a multibillion dollar blockbuster for Eli Lilly as they would have been the first one to enter the $5 billion market which is expected to double by 2021. At this time, there is no drug that can cure Alzheimer's. But, there are drugs that can reduce the severity of its symptoms, including Pfizer's Aricept, Allergan's Namenda and Novartis's Exelon.
A company taking on the high risk to find a cure to stop or even slow down the underlying progression of the 6th leading cause of death in the U.S. will obviously get a high reward. That company won't be Eli Lilly.
Indianapolis-based drug maker expects to record a fourth-quarter charge of $150 million (pre-tax), or $0.09 a share (after-tax). In the previous article on LLY, I conducted 5-10 years financial analysis. This time, I will conduct short-term financial analysis and few ratio analysis.
Last quarter, Lilly's revenue increased only 4.68% year-over-year, while its net-income decreased 2.71%. The year before (from Q3 2014 to Q3 2015), revenue increased only 1.72% while net-income increased whopping 59.75%.
In the past year (as of Sept. 30), Lilly's net-income margin was 11.73% while the industry average and median was 18% and 13.07%, respectively*. Lilly's margin was 20.3% three years ago. Gilead Sciences (GILD)'s outlier of 47.75% and Amgen (NASDAQ:AMGN)'s outlier of 33.63% is pulling the mean higher.
Lilly's EBITDA rarely changed over the past year. The year before, however, it increased 33.55%. The company's EBITDA margin currently stands at 24.3%, way below industry's average and median of 36.8% and 32.4%, respectively*. It was 30.3% three years ago.
It's R&D spending as a percentage of its sales has barely changed over the years, but it's highest in the industry. In 2015, it was 24.03% while industry average was 19.8%.
As you probably know, pharmaceutical companies can survive and grow by constantly developing new drugs. While Eli Lilly's R&D spending as a percentage of their revenue is higher than the industry, I don't believe that's an indication its stock will outperform even if it means increasing pipeline for the company.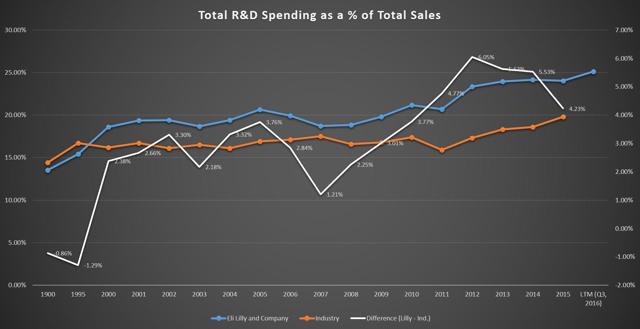 Source: Capital IR, Statista
Notice in the picture above, Lilly's spending relative to the industry (while line) started decreasing in 2005 and hit bottom in 2007, same time when its stock started declining and got cut in half in over a year (recession). Same pattern has been taking place since 2012, as the industry increases its spending faster than the company.
As to the pipeline, Lilly is expected to lose few leading product exclusivities next year.
During the third-quarter, Lilly got 12.3% ($588 million) of its sales from the drug Cialis, which is set to lose its patent protection in November 2017.
Strattera - accounting for 3.8% ($199 million) of third-quarter sales - is set to lose its patent protection in May 2017.
Effient - accounting for 2.5% ($128 million) - is set to lose its patent protection in April 2017.
All these three drugs account for 18.6%, or $915 million of third-quarter sales of $5.2 billion.
Besides Cialis, another leading drug Alimta - accounting for 11% ($570 million) of third-quarter sales - will lose its patent protection this month in major markets (Europe and Japan) and in the U.S. next year. Cialis and Alimta - both subject to license agreement with others (GlaxoSmithKline and Princeton University) - were Lilly's second and third largest revenue generators in the third-quarter.
Eli Lilly will be in a good shape from its growing drugs, such as Trulicity, Cyramza and Jardiance, but not good enough to stop the bleeding in its share price over the next two years (I had three year target from the last year's article).
Trulicity and Jardiance - both diabetes drug - started gaining market share as they were approved in the major markets between 2014 and 2015. In fourth-quarter of 2014, both drugs accounted for 0.3% of the quarterly revenue. Last quarter, they accounted for 5.6% ($291 million), with 4.7% from Trulicity.
If both drugs combined continues growing at this pace, they can hit $756 million in quarterly sales by the end of 2018, majority from Eli Lilly's GLP-1 Trulicity. The forecast is according to the linear regression model.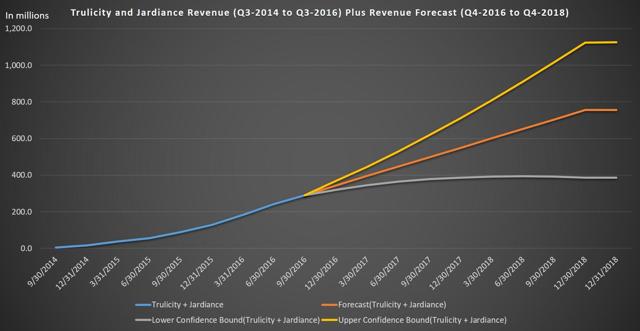 Source: Bloomberg Terminal
That is considering there's no increased competition at all. The biggest competitor to Eli Lilly in the diabetes market is Novo Nordisk (NYSE:NVO)'s top-selling Victoza GLP-1 analogue. Novo recently filed for regulatory approval of its once-weekly GLP-1 semaglutide, after it successfully completed its clinical trials. They have another drug filed for approval and another in phase 3 trial phase.
As to the Cyramza, some indications have launched and submitted for approval in major markets and some are still in Phase 3 trials. In the third-quarter of 2014, the cancer drug accounted for mere 0.6% of its quarterly sales. Last quarter, it accounted for 3.1% ($159 million).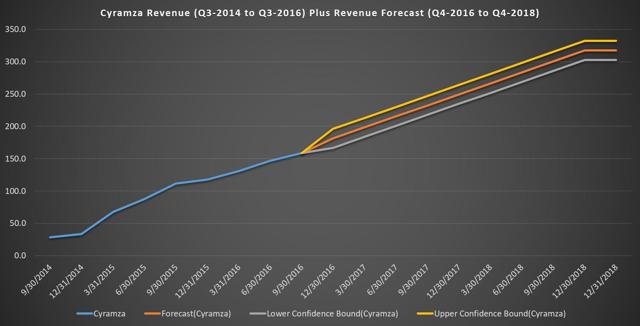 Souce: Bloomberg Terminal
If Cyramza continues growing at this pace, they can hit $318 million in quarterly sales by the end of 2018. It is likely to grow faster than the forecast as more indications start to launch in key markets.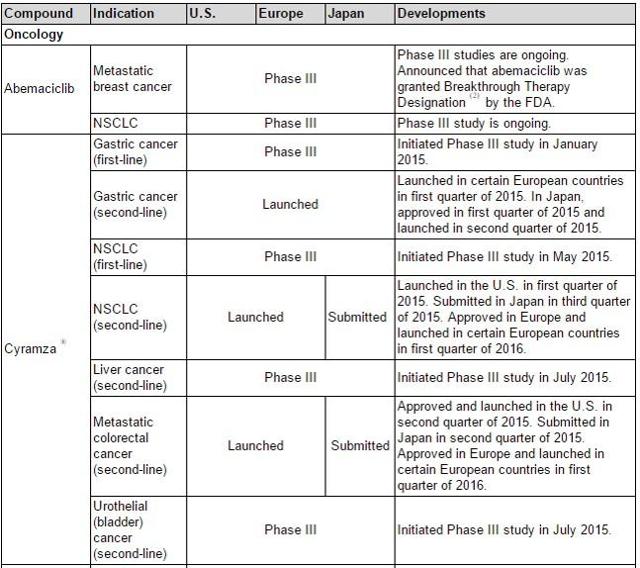 Source: 10-K
While Lilly is strengthening its pipeline in the diabetes space, it is not stronger than the other companies. Nova Nordisk gets over 80% of its revenue from the diabetes market.
While they will generate more sales from Trulicity, Jardiance and Cyramza in the coming years, I believe more investors will be focused on its loss of exclusivities. Cialis, Strattera, Effient and Alimta - all due to lose their compound protections this month and next year- will cause patent cliffs. All these four drugs accounted for 29.6%, or almost $1.5 billion of its third-quarter sales.
The negativity weights more than the positivity, which should be enough to continue to weight on its stock price. There's also the issue of the U.S. dollar.
Last quarter, Lilly got 45.3% of its sales from aboard. Since the U.S. election in November, the greenback has strengthened as expectations that Trump's administration would significantly boost spending, lift inflation and faster pace of rising interest rates.
In the third-quarter, foreign exchange rate actually had a postive impact on revenue, with 1% additional growth (slide 16). However, FX had a negative impact on gross margin, which decreased 1.4% as result of the effect of FX on international inventories sold.
Last quarter, the average price of the dollar index was $95.77. This quarter (up to December 23), was $99.64. This should weight on Lilly's earnings.
Year-to-date (as of Sept. 30), on the other hand, FX shaved 1% growth off the revenue. The average dollar index price YTD as of September 30 was $95.90. Now, YTD as of December 23 is $96.78. The FX should have more negative effect on Eli Lilly's earnings next year. Unless the dollar starts weakening.
I'm not ready to detail how Trump's potential repeal/replacement of Affordable Care Act (ACA) will affect the pharmaceutical industry, as there are not enough specific details on Trump's plan on ACA, tax plan and more.
Continued stiff competition, upcoming patent cliffs and worsening financials should continue to push the stock price down, as they will weight on investors' mind next year. My target price will continue to be the same as in the previous article at this time. I believe the share-price is worth $44.46, down 39.75% from current price of $73.79. I continue to expect EPS to contract, which should weight on its stock price.
* = includes 11 companies: Bristol-Myers Squibb Company (NYSE:BMY), Merck & Co., Inc. (NYSE:MRK), Pfizer Inc. (NYSE:PFE), AstraZeneca PLC (NYSE:AZN), Teva Pharmaceutical Industries Limited (NASDAQ:TEVA), Amgen Inc. (NASDAQ:), Sanofi (NYSE:SAN), GlaxoSmithKline plc (NYSE:GSK), Johnson & Johnson (NYSE:JNJ), and Gilead Sciences Inc. (NASDAQ:GILD).
Disclosure: I/we have no positions in any stocks mentioned, and no plans to initiate any positions within the next 72 hours. I wrote this article myself, and it expresses my own opinions. I am not receiving compensation for it (other than from Seeking Alpha). I have no business relationship with any company whose stock is mentioned in this article.
Additional disclosure: All information I used here such as margins, EBITDA, R&D, etc are found from Eli Lilly and Company's official investor relations site, Statista, Bloomberg terminal and Capital IQ. The pictures you see here are my own, except for the last picture showing the Cyramza Compound and Indications.