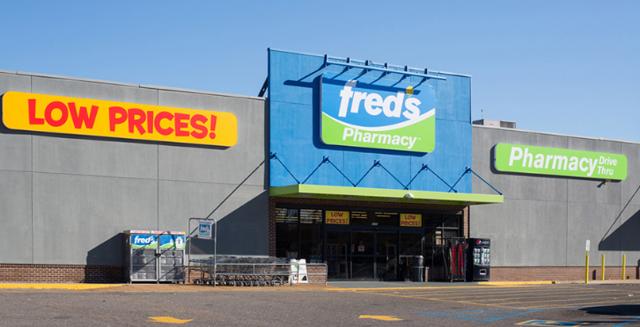 Shares of Fred's (NASDAQ:FRED) have doubled since the recent blockbuster announcement of the purchase of almost 900 Rite Aid stores for $950M. Fred's isn't exactly what I'd call a model retailer and the addition of stores from a chain that has struggled for a long while doesn't seem like the savior investors think it will be. Is Fred's twice as valuable as it was two weeks ago? I think the answer to that is a definitive "no" and that as a result, Fred's is now very expensive indeed.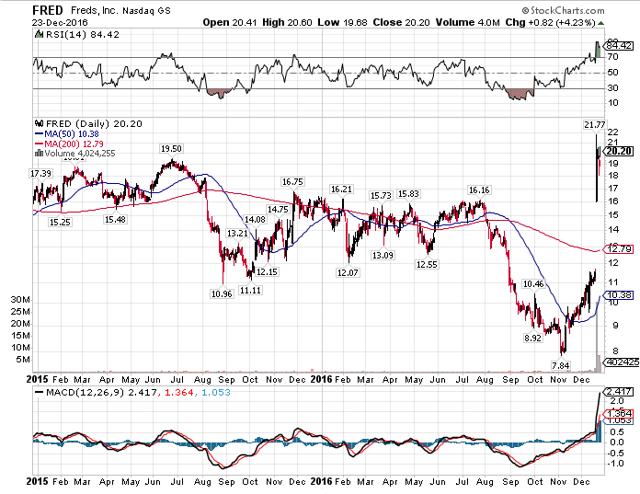 At present, Fred's operates 647 general stores as well as 371 full-service pharmacies so adding 865 Rite Aid stores is certainly huge. Fred's will indeed roughly double in size but I think investors are making a mistake in terms of what this means for profitability. Adding revenue doesn't make a company more valuable. Fred's needs to grow profits in order to earn its $20+ valuation.
The problem is that Fred's is chronically unprofitable and Rite Aid - even after its epic turnaround in the past couple of years - is barely profitable. Yes, there may be some synergies at the corporate SG&A level but that's it. I don't see how there could be enough savings such that this merger makes Fred's twice as valuable as it was. In addition, FRED's model doesn't have much in the way of support costs anyway - the bulk of its spending is on store operations. And given that store costs can only be trimmed so much without impacting the customer experience, the opportunity for synergies there is limited to say the least. Further, as labor costs continue to rise, it will only make the consolidated company's margins worse than they already are.
Investors would do well to remember that the pharmacy business is cutthroat and extremely low margins. It is no accident that Target got out of its pharmacy business altogether recently. Producing revenue for the sake of producing revenue doesn't do anyone any good and to be honest, I'm not really sure why investors are so excited about this deal. Fred's will lose lots of money in 2016 and it will lose lots of money in 2017 and to be honest I'm not sure the razor-thin profitability of the Rite Aid stores is enough to offset the nonexistent profitability of the Fred's stores.
Even if it is enough looking all the way out to 2018 - analysts have Fred at -29 cents next year - why would anyone buy a stock that has already accrued two years' worth of gains without the transaction even closing yet? That's the thing here. Investors have bid the stock up so furiously that even the most steadfast bull must recognize that upside from here is limited.
Fred's - before the announcement - was trading under $8 just a month ago. The reason, of course, is because Fred's is a structurally unprofitable business and $8 was probably a fairly generous valuation for a company that never makes any money. With the addition of some stores that ostensibly make at least a little money - management said the stores are generally representative of the chain as a whole - Fred's may get closer to break even in 2018 and beyond. But is that a reason to double the stock's value? Is that cause to spend $20 per share? Honestly, I don't get it because there is simply no way there is enough synergy between the two businesses to make enough of a difference to fix what is a structurally unprofitable business model on both sides.
I don't doubt the announcement is good news for Fred's because Rite Aid's stores are more profitable than its own. However, Fred's is just getting deeper into a terrible business where it is incredibly difficult to make money and for that reason I don't think there's any way it could ever grow into a $20 stock price, let alone any time in the near future. Fred's looks like a short here because the euphoria from the Rite Aid deal is absolutely ludicrous. This business will continue to lose money for the foreseeable future and being the third largest drug store chain in the country isn't going to fix that.
Disclosure: I am/we are short FRED.
I wrote this article myself, and it expresses my own opinions. I am not receiving compensation for it (other than from Seeking Alpha). I have no business relationship with any company whose stock is mentioned in this article.