Last week, I had the pleasure to read a very interesting article on Self Storage REITs written by Hoya Capital Real Estate. The author provides a great overview of the Self Storage market and briefly presents the four main REITs which operate in this sub-market.
As the author points out: Self Storage REITs have historically often traded at a sizable premium to other REIT sectors. This is because of the generally strong investment characteristics of these facilities and their past outperformance over other property types. The economics of the business have in the past been attractive as a result of the high demand for storage, but limited supply as well as the reduced cyclicality of the business. After all, people will need and want to store stuff regardless of the economic conditions. In fact, during a recession it may be cheaper to downsize the current large residence for a household or the office space for a business and rent some storage space for the extra stuff. The demand is hence relatively inflexible, giving storage owners superior pricing power.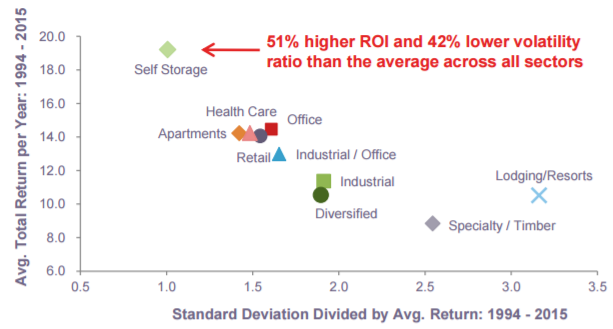 This has resulted in an outstanding performance: Self Storage REITs have generated an annual 18% return from 1994 until 2016; while the broad REIT index returned materially less; particularly on a risk-adjusted basis. The performance represents a 51% higher ROI and 42% lower volatility ratio than the average across all property sectors.
However, despite this exceptional historical track record, Self Storage REITs recently suffered from the broad sell-off in the REIT space; bringing valuations back down to more reasonable levels.
Looking at the valuations of the 5 main Self Storage REITs; I was immediately surprised by the seemingly high valuation differential between the different REITs.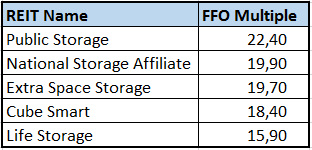 While most Self Storage REITs trade at a FFO multiple close to 20, Life Storage (NYSE:LSI) has a multiple below 16. So I asked myself: Is this high relative undervaluation deserved or is it an anomaly of the markets?
I came to the conclusion that the discount to peers is at least partly unjustified and that consequently Life Storage is currently undervalued relative to its industry.
I would understand that Life Storage deserves a smaller multiple if its past performance was inferior to peers and its prospects were less attractive. I don't however see any material variance: Life Storage has performed very well from all perspectives.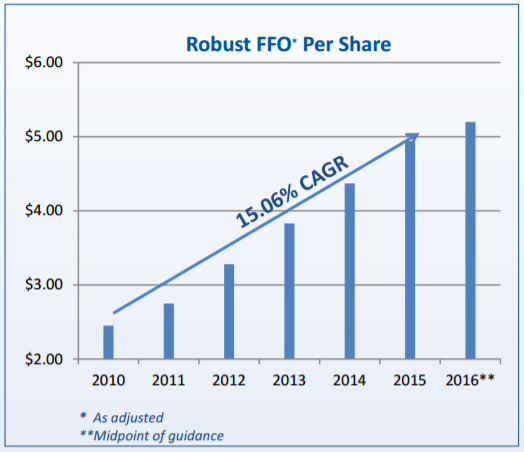 FFO per share has more than doubled since 2010 and grown at a compounded annual growth rate of 15.06%. This high growth has been very consistent and competitive with other REITs.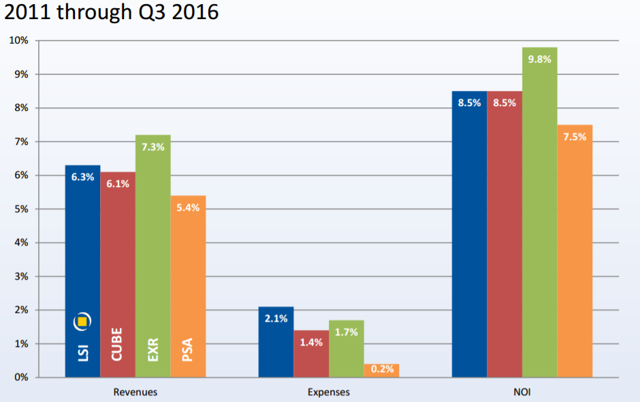 The average same store performance of Life Storage facilities is coming right on top of its peer group. Only Extra Space Storage (NYSE:EXR) outperformed Life Storage on this basis from 2011 through Q3 2016.
Looking back even further in the past, it can also be noted that LSI facilities have consistently grown their NOI at competitive rates. The below bar chart provided by Extra Space Storage demonstrates the average growth of same store performance over the last 43 quarters (More than 10 years).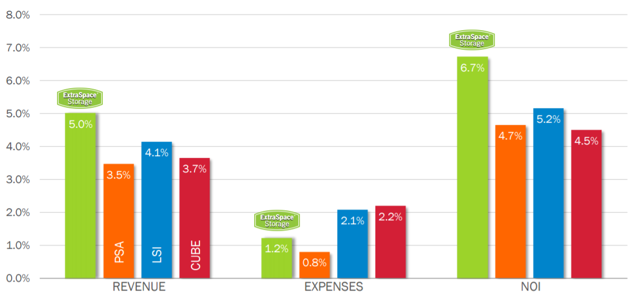 Life Storage is again outperforming Cube Smart (NYSE:CUBE) as well as Public Storage (NYSE:PSA) on this basis.
In addition to achieving very respectable internal NOI growth, LSI has also proved its capabilities in generating strong external growth by opportunistically expanding its portfolio.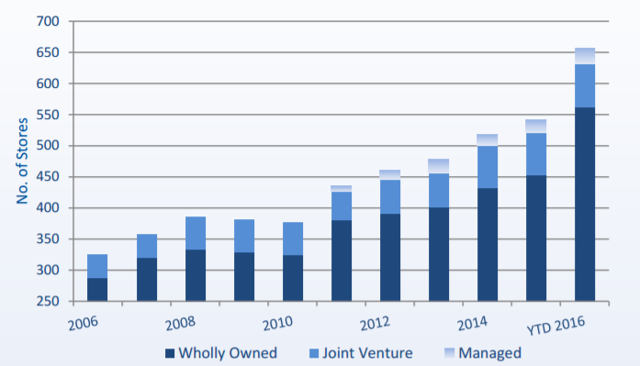 From 2006 until today, the store count has expanded from about 320 to over 650. This year alone LSI has acquired over $1.8 Billion in new properties. This growth is expected to continue far into the future as the self storage is notably fragmented with REITs owning less than 15% of the market today.
So shortly put, the track record of growth is truly impressive. LSI has managed to grow its FFO at more than 15% a year for the last 5 years and prospects remain attractive. In fact, it could be argued that since LSI is one of the smallest self storage REITs, it may have the capacity to grow at a faster rate going forward as it keeps on expanding its portfolio, improves the efficiency of its stores, and builds its brand name. Larger players such as Public Storage and Extra Space may have less opportunities to increase rental rates, occupancies and their overall portfolio.
At today's market price, shares are close to the 52-week lows and priced to return 4.6% in dividends alone.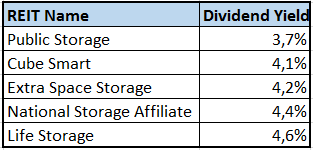 Note that this is the highest dividend yield available in the Self Storage REIT space and only accounts to about 71% of the FFO. Dividends per share have doubled since 2012 and we can reasonably expect to see this strong growth continue going forward.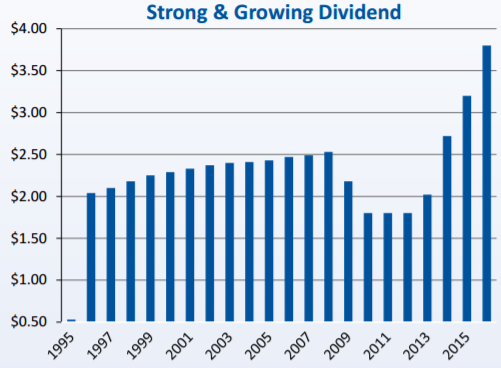 Even by expecting a much slower growth rate of 5% in the next years, we already get close to a very attractive 10% total return at today's valuation (Assuming the multiple remains identical).
Final Thoughts
I believe that Life Storage has a compelling valuation today when looking at its very successful past record of fast growth. The recent sell-off hit Life Storage particularly hard and I expect the market to eventually correct the price upward to better reflect these above average attributes.
Life Storage has a good portfolio, a conservative balance sheet, an impressive track record, and plenty of options to generate future growth.
While it is clear that all 5 self storage REITs have performed very well, it remains less clear to me why LSI would deserve such a high discount to its peers. Certainly, there may be reasons explaining this lower valuation to a certain extent: it is a smaller REIT, it has less brand equity, and potentially a lower quality portfolio than the larger REITs. However, on the other hand, it may have better growth prospects going forward as it improves those factors and it has proven to be very capable in the past.
In fact, I would not be surprised if a larger Self Storage REIT such as Public Storage or Extra Space made an offer to completely buy out Life Storage in the near future.
The current multiple of 15.9 times FFO is very reasonable and provides room for multiple expansion as the REIT delivers on its future growth expectations. LSI is on top of my watch-list.
If you enjoyed this article, scroll up and click on the "Follow" button next to my name to not miss my future articles on other attractive REIT opportunities.
Disclosure: This article is for informational purposes only. It is not a recommendation to buy or sell any security and is strictly the opinion of the writer. Readers are expected to conduct their own due diligence or seek advice from a qualified professional.
Disclosure: I/we have no positions in any stocks mentioned, but may initiate a long position in LSI over the next 72 hours.
I wrote this article myself, and it expresses my own opinions. I am not receiving compensation for it (other than from Seeking Alpha). I have no business relationship with any company whose stock is mentioned in this article.