Cullen/Frost Bankers Inc. (NYSE:CFR) has underperformed other banks since Trump's victory, rising 17% vs. 27% for the KRE ETF. Given the bank's oil exposure and the fact that Trump is pretty oil friendly, this might seem surprising.
However, I think the stock will still lag. Like many U.S. bank stocks right now, it is quite fully priced. Its prevailing tax rate is already quite low, so there is less elasticity to tax cuts, and while the oil outlook is more stable, lingering effects of the oil price collapse nearly a year ago don't auger for overall investment in energy-exposed regions such as Texas.
During the oil price slump, CFR was one of the banks to write heavy provisions. However, the loan loss provision charge has already normalized, which removes a favorable base effect from its numbers. Here's the progression of pre-tax profit over the last five quarters: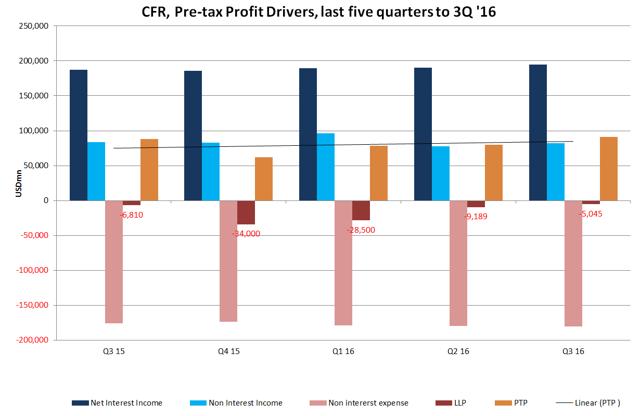 Although management were fairly sanguine about the outlook for Texas on the Q3 results call, it is difficult to argue that everything outside of energy at CFR has been doing particularly well (energy exposure in the loan book is ~12% of total loans). Revenue looks stable, but has not been growing with any dynamism.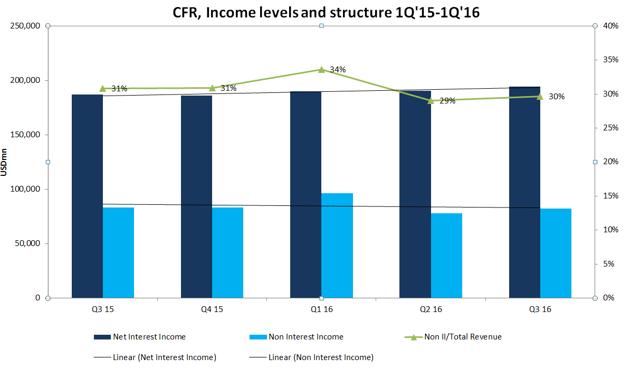 The market is likely to believe non-oil dynamism only when it sees it. The revenue picture reflects the balance sheet pattern: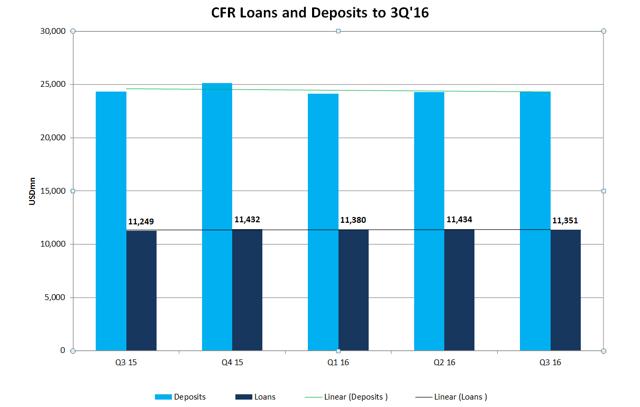 While energy headwinds should abate, CFR management was quite cautious about the pace of future loan growth on the Q3 call due to the ripple effects that an energy investment recession can have in a region where energy is a large part of the economy.
The general thesis I have emphasized on loan growth is that I think Trump looks very bank friendly. My view is that his economic team sees an opportunity to re-leverage the U.S. household, which is important to Trump since this should generate a feel good factor to substitute for the new jobs that Trump promised to deliver on the campaign. As these new jobs were said to be in manufacturing and to a large extent no longer exist, Trump won't be able to deliver. It seems to me that the idea is to have a grass roots lending driven mini boom, which will be inflationary and thus support the deficit expansion implicit in Trump's spending ideas, while giving some positive growth multiplier effects on the ground.
So with most bank stocks in the US you get an improved loan volume outlook, which is good for the margin outlook too (though loan/asset mix and likely rate hikes). In the case of CFR, the question for investors to ask is whether they want to engage with a bank that faces some lingering regional headwinds and might be vulnerable to renewed weakness in oil, which could be a function of a major step down in Chinese growth. Such a step-down in China seems inevitable at some point in the medium term and quite likely in 2017.
A saving grace for CFR is its strong capital position with a Basel III ratio of 12.4%. The dividend, currently around $2.2 a share, is well supported. But plenty of regionals have good capital and strong capital return credentials.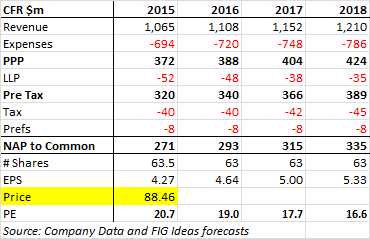 CFR is "okay" on value. However, I'd argue that there is nothing compelling in paying nearly 18x for 2017 EPS.
Conclusion
If anyone can tell me why to own CFR here, I'll gladly listen. Until I know more, I would switch this stock into another regional bank.
Disclosure: I/we have no positions in any stocks mentioned, and no plans to initiate any positions within the next 72 hours.
I wrote this article myself, and it expresses my own opinions. I am not receiving compensation for it (other than from Seeking Alpha). I have no business relationship with any company whose stock is mentioned in this article.