Gold price peaked five years ago at the $1,900 level. Since that time, gold is down more than 40%. So, the question is, is gold's golden days over? Well, the answer is, and will always be, hell NO.
In this article, I will give my reasons for why I believe gold (NYSEARCA:GLD) is poised to a significant upside in the future. I will also share the worst-case price for gold.
Higher fiscal stimulus
A higher spending by the government increases money supply and thus increases inflation. And as we know, gold is historically viewed as a hedge for inflation. Although this relationship broke three years ago, when inflation continued higher and gold turned lower, I still believe that the relation is still in place of over the long term.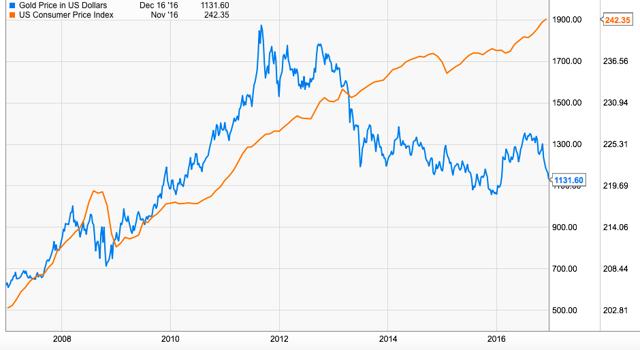 My reasons for this belief is that over the course of these three years, investors found many other alternatives to gold. Controlled inflation, accompanied with the "Quantitative Easing" program and low interest rate policies made bonds, stocks and ETFs a more attractive investment than gold, thus breaking the link temporarily with inflation.
The TIPS also suffered the same problem of higher returns of alternative investments. Actually, gold and TIPS managed to move very closely, and each can be used as a leading indicator towards the other since 2008. Take a look.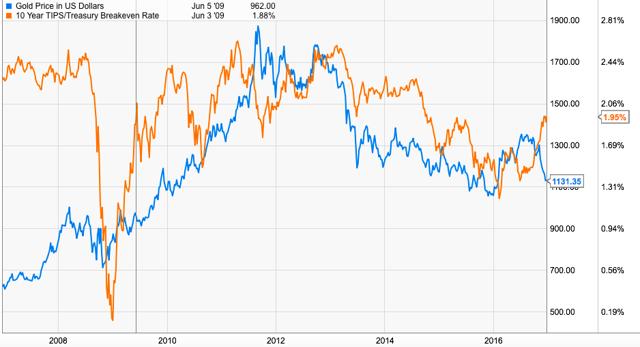 For example, the surge in TIPS's rate could have been used as signal for a higher gold price in 2009. And in late 2011, the TIPS's peak could have been used as a warning selling signal for gold's price.
But since May 2016, the connection between the two reversed. TIPS rate increased while gold price decreased more than $200. However, I believe that the short-term gap between the two will narrow over time. After all, both share the same characteristic as inflation-hedgers.
Returning to fiscal stimulus, you can see how the relation between government spending as a percentage of GDP and gold is very close.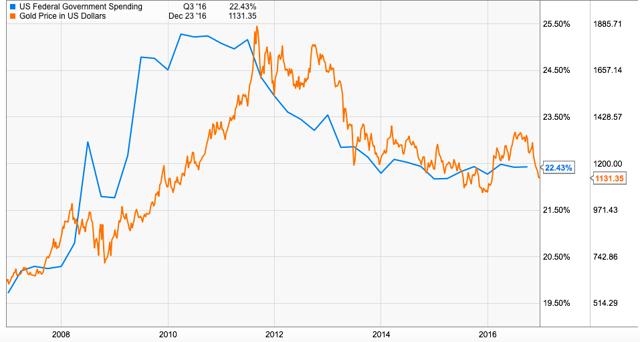 When the expected fiscal stimulus of President-elect Trump kicks in, gold will be poised to a significant upside.
Limited upside of other alternative investments
As I said before, the easy returns made through investing in the stock and bond market in the last few years caused gold to lose its shine among investors.
But now, the stock market is over-stretched and the upside is limited. The current PE ratio for the S&P 500 (NYSEARCA:SPY) is at the highest level since late 2009 and the stock-buyback spree which was a major force behind the S&P 500 rally is starting to slow its momentum (buyback rates are at the lowest since 2011).
In addition, the bond market proved its peaking point, with the end of the previous era of ultra-low interest rates.
Also, don't forget that the end of "QE" and ultra-low rate policy by the Fed will speed down the rallies.
When the mall parking is full, you need to park your car near the street sidelines.
Central banks' policy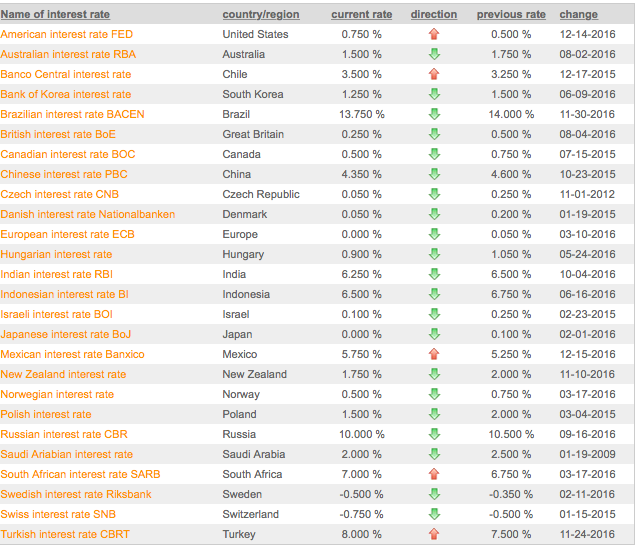 Beside the BRICS countries, most major central banks are following low interest rate policies.
My thoughts about economics are derived from the Austrian School of Economics. The school's business cycle theory states that artificially low interest rates and substantial increase in money supply create mal-investments in the global economy, which will be followed by a bust in these investments eventually. Take a look at the fearful increase in money supply in the last few years.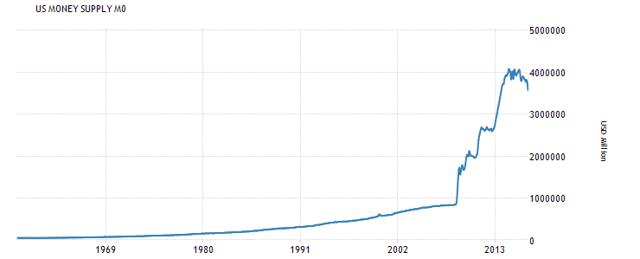 India's unstable currency and Bitcoin's surge
Since the first week of the third quarter this year, gold price was down ~20%. What was the cause of that? I believe that the decrease of gold demand from India played a major role. In Q3 2016, demand for gold in India decreased 28% when compared to last year's third quarter.
But one month ago, India's PM Narendra Modi took a surprising decision to pull out 86% of the currency in circulation in India, in a move to fight corruption. This decision pushed tens of thousands of Indians to take the streets to protest. CNBC analysts said that the latest surge in Bitcoin price to more than $900 can be a result of India's latest currency shake out.
But most Indians don't even know that Bitcoin exists. So, what is their alternative for parking their money? It's gold.
Is a stronger dollar a risk for buying gold?
Well, I think that will have a limited effect. Here's why.
Since mid-2011, when gold price was at its peak and the dollar was at its trough, the dollar rallied 35% while gold price decreased 40%. So, you can say that the relation between the two is somehow linear, right?
Let's do some math.
In mid-2000s, where the effective federal funds rate was at its highest in the 20th century at 6.86% and the Asian financial crisis just ended, the AMEX Dollar Index surged to the 117 level. So, we can clearly say that this might be the highest achievable point for the dollar in the medium term, right?
After all, we are still sitting at the 0.75% EFFR, and expecting to move slowly from here (read my article about that, in which I'm expecting another QE round). The index is currently sitting at its highest level in the last 13 years. Take a look.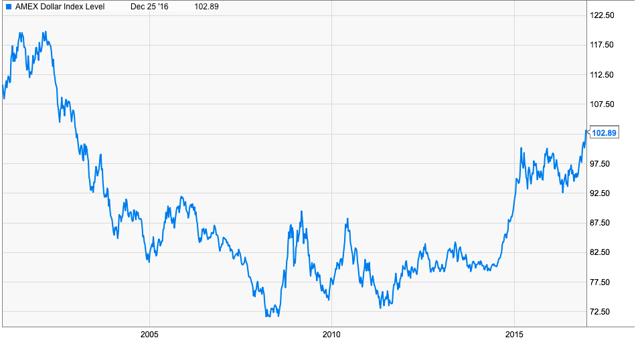 The current level is at ~103. This means that for the index to reach the century's peak, it needs a 13.5% surge from this point, which translates to a 13.5-16% decline in gold price from these levels.
Concluding, the downside for the gold is very limited. At worst-case scenario, where the dollar level reached that of year 2000's peak, the gold price will go down to $950/ounce (assuming 16% decline).
However, the upside is highly rewarding. The commodity suffered from higher returns of alternatives, but these days are limited for this. In addition, central banks policies will result in higher mal-investments, which will go bust eventually. The latest turmoil in India will restore India's lost demand for gold, which will support the gold price. Last but not least, the expected fiscal stimulus of future President Donald Trump will also cause gold price to surge.
My recommendation is to either wait for a lower entry point for gold, or buy at this point, but don't be shocked if gold broke the $1,000/ounce level. Instead, buy more gold and sleep tight.
Disclosure: I am/we are long GLD.
I wrote this article myself, and it expresses my own opinions. I am not receiving compensation for it (other than from Seeking Alpha). I have no business relationship with any company whose stock is mentioned in this article.