This article would like to discuss the importance of the recent approval of SPINRAZA and how it might affect Ionis Pharmaceuticals (NASDAQ:IONS) stock valuation in light of an increasing pressure from competitors in the same disease market and adverse effects related to the use of oligonucleotides. Antisense oligonucleotides is an amazing therapeutic approach that creates a competitive advantage for Ionis where others struggle.
There is currently no treatment for SMA; SPINRAZA will be first-to-market and have a significant impact on patients with SMA. Foremost orphan drug status, which is associated with commercial drivers such as premium pricing, faster uptake and lower marketing costs. No doubts that Biogen will benefit from these drivers and from improved convenience with 6-monthly dosing with 12 mg SPINRAZA [ref].
But, what is next for Ionis? keep relying on upfront, milestone and royalties while the R&D expenses are soaring? is Ionis financially and technically strong enough to improve raising concerns about safety and neurotoxicity?
In my opinion IONS is bearish as its current market price is 28% higher than its target price and clinical studies will face several pitfalls related to delivery and specificity. IONS will underperform the market with a high risk from adverse effects, toxicity and competitors producing low-cost molecules, launching more affordable and less toxic drugs.
Biogen, Ionis Pharmaceuticals and SPINRAZA
Ionis Pharmaceuticals, Inc. announced on December 23, 2016, that the FDA has approved SPINRAZATM (Nusineren; ISIS-SMNRx), an intrathecal formulation of an antisense oligonucleotide designed to alter splicing of SMN2 mRNA, under Priority Review for the treatment of SMA in pediatric and adult patients.
SPINRAZA is the first and only treatment approved in the U.S. for SMA, a leading genetic cause of death in infants and toddlers that is marked by progressive, debilitating muscle weakness. SPINRAZA was discovered and developed by Ionis Pharmaceuticals and Biogen (NASDAQ: BIIB), and licensed to Biogen who is responsible for future development, manufacturing, and commercialization of SPINRAZA [ref].
In January 2012, Biogen and Ionis entered an exclusive, worldwide option and collaboration agreement for nusinersen. Ionis was responsible for development up to the completion of phase II/III registrational trials, with Biogen to provide trial design and regulatory submission advice; Biogen exercises global development, regulatory and commercialization responsibilities. In August 2016, Biogen exercised its option to develop and commercialize nusinersen globally following interim analysis of the first phase III data. Ionis Pharmaceuticals is eligible to receive tiered royalties on any potential sales of nusineren up to a percentage in the mid-teens, in addition to up to $150 million in milestone payments based on regulatory approvals [ref].
Spinal Muscle Atrophy and SPINRAZA
Spinal Muscle Atrophy (SMA) is a leading genetic cause of death in infants and toddlers that is marked by progressive, debilitating muscle weakness. SPINRAZA displaces hnRNP proteins from the ISS-N1 site on the SMN2 pre-mRNA, facilitating accurate splicing of SMN2 transcripts and resulting in increased production of full-length SMN protein [Ref].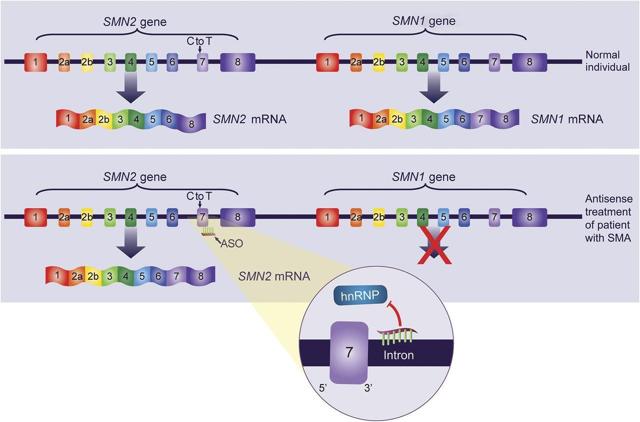 A two-fold increase of SMN protein levels has the potential to provide meaningful clinical benefit to SMA patients. SPINRAZA increases SMN protein levels of 120 and 160% from baseline in 6 and 9 mg cohorts, respectively [Ref].
SPINRAZA significantly improved the achievement of motor milestones in the phase III ENDEAR trial in infants with SMA, and significantly improved Expanded Hammersmith Functional Motor Scale (HFMSE) scores in children with SMA in the phase III CHERISH trial.
Mean change in HFMSE score from baseline to day 260 was 3.8 (n = 22) for all and 4.4 (n = 17) for patients with baseline score of >/=10 and </= 54 at enrollment, in an open-label extension study [ref].
Survival motor neuron (SMN) protein levels increased by approximately 160% compared with baseline at approximately 9 to 14 months after a single dose of 9 mg nusinersen in a phase I trial in children with SMA [Ref].
Children aged 2 to 10 years who did not have severe scoliosis or baseline HFMSE scores at the extreme low or high ends of the scale achieved a mean 5-point increase in muscle function score [ref]
Infants with SMA receiving 12 mg nusinersen achieved a mean change from baseline of 8.3 points in the Children's Hospital of Philadelphia infant test of neuromuscular disorders ((CHOP INTEND)) scores by month 3 in a phase II trial; further data from the 12-mg dose cohort showed an increase of 17 points in at 15 months and a mean change of 22.7 points at 27 months [data presented at JPMorgan Healthcare Conference on January 11, 2016].
Orphan Drug status and Fast Track designation for SMA in US that provides exclusivity for 7 and 10 years in the US and EU, respectively.
Patent protection until 2030 in the US and at least 2026 in the EU [ref]
SPINRAZA Adverse Effects
Beside its medical benefit SPINRAZA has been associated with a number of adverse effects as neurotox data in pre-clinical primate studies, thrombocytopenia, bleeding complications, renal toxicity, headache, post-lumbar puncture syndrome, back pain, pyrexia, constipation, nausea, vomiting, upper respiratory infection, puncture site pain and pharyngitis streptococcal [ref]. Another weakness is the intrathecal administration that remains though an invasive procedure.
Competitors
Biogen will face a serious threat from competitors as Roche is advancing its clinical studies for neuroprotective small molecules. Olesoxime, RG7800 and RG7916 are under development following the acquisition of Trophos and collaboration with PTC Therapeutics (NASDAQ: PTCT).
Roche informed the SMA community at this year's SMA Europe meeting in Madrid, that the feedback from the regulators (EMA & FDA) regarding the development of Olesoxime had been disappointing [ref]. As a result of this advice, Roche will be conducting a Phase 3 study in people with SMA Type 2 and Type 3. The additional study is the only possible way to generate the clinical evidence requested by regulatory authorities in order to establish the benefit/ risk profile of Olesoxime and support regulatory submissions. A Phase 3 study is planned to start in 2017 and filing for Olesoxime is now anticipated in 2020.
Like nusinersen, RG7916 is a splice modifier whereby it prevents the splicing of exon 7 and allowing the production of full length SMN protein. The dosing of RG7916 is oral daily administration whereas nusinersen is an intrathecal injection every 2-6 months.
RG7916 is under clinical studies in a two part trial named SUNFISH. The first part of the study will evaluate safety and tolerability through escalating doses of RG7916. After dose selection, the study will transition into the pivotal second part evaluating the efficacy of RG7916. Initiation of the pivotal second part of the study is expected to begin in 2017. A similarly designed two-part study to evaluate RG7916 in Type I SMA patients is expected to begin in the coming months.
SMA Market
The incidence of SMA is about 1 case in 10,000 live births with ~400 new cases in 2015 in USA [ref] and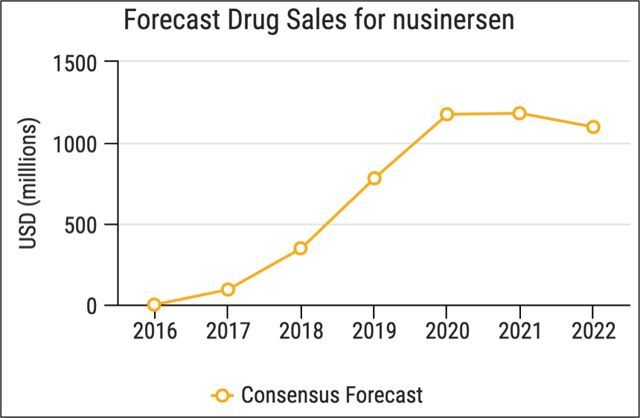 approximately 30,000 to 35,000 patients in the US, Europe and Japan. Further the life expectancy of the most common SMA form, SMA type I, is only 2 years. Nusinersen filed with FDA and EMA for SMA based on positive interim analysis of ENDEAR trial.
IONS Price Movement
The current market price is $55.22 on December 27, 2016 (market cap $6.93B, -30% from December 2015) with a +7% in pre-market lost some strength after few hours to +3% with vol/avg 2.07M/2.04M. EPS was $(0.60), $(0.52), $(0.47) and $0.06 in the last four quarters beating negatively analysts estimates.
There has been a downtrend in the summer of 2016 ending with -7% in December, with the biotech sector -13% and S&P500 +7%.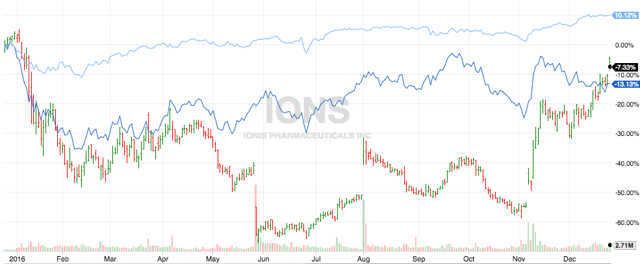 Ionis' EBITDA/Share was somewhat positive $0.16 in September 2016 breaking a negative trend, but with an EV/EBITDA of -40.23 far below comparables.
EV of $5.4B hinders a high Debt/Equity Ratio of 3.5 with a decline in debt securities in the last year as reported in the last 10-Q, and an increasing cash and equivalents and short term investments. At September 30, 2016, IONS had cash, cash equivalents and short-term investments of $687.8M.
The current ratio, a liquidity ratio that measures a company's ability to pay short-term and long-term obligations, is 6.83 far below comparables and industry average. Net cash/share, the percentage of a firm's share price that is immediately accessible for spending on activities such as R&D, purchasing assets, paying down debt, buying back shares and making dividends payments to shareholders, is $-0.06 much lower than similar comparables.
Considering price momentum and stock valuation at $42.78, it is my opinion IONS will underperform the market with a high risk from adverse effects, toxicity and competitors launching more affordable, less toxic and low cost molecules.
Conclusion
Ionis' elevated market valuation, high debts, decreasing current asset and cash flow from operations delineate a mediocre performance and indicate a low intrinsic valuation with a target price at $42. Limited target market and increasing pressure from competitors will overshadow first-to-market advantage of nusinersen.
Disclosure: I/we have no positions in any stocks mentioned, and no plans to initiate any positions within the next 72 hours.
I wrote this article myself, and it expresses my own opinions. I am not receiving compensation for it. I have no business relationship with any company whose stock is mentioned in this article.
Additional disclosure: The opinions expressed herein by the author are his alone, and do not reflect the opinions of QStat Consulting or any employee thereof. QStat Consulting is not responsible for the accuracy of any of the information supplied by the author of this article.