Apple Inc. (NASDAQ: AAPL) is in talks with the Indian government to manufacture its products in the country. A senior Indian government official with direct knowledge of the matter was quoted by Business Standard as saying,
"Apple wants to emulate its China model in India. The company wants financial incentives, which the concerned government departments are looking into."
Even though the company's plans to make headway into the world's fastest growing smartphone market are stuck, I will provide strong reasons in favor of manufacturing in India.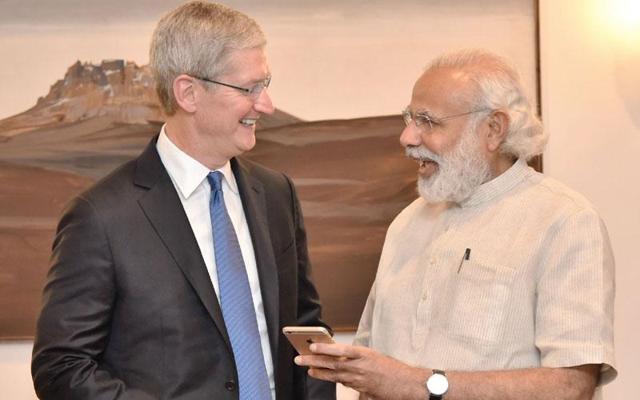 Source: IndianExpress
India is too big a market to ignore, and Apple took its time to realize that. The Tim Cook-led company is beginning to take it seriously now as growth slows in several parts of the world. On December 2, leading Indian national daily Economic Times reported that the iPhone maker will set up a dedicated distribution center through its logistics partner to gain greater control over the supply chain and to ensure that they are adequately able to meet the high demand.
Tim Cook had earlier said that he is confident of turning India into the next China for Apple, and there is a lot of headroom to grow.
Under the leadership of Prime Minister Narendra Modi, India has been approaching foreign companies to invest and make their products in India. The "Make In India" campaign is aimed at creating a sustainable growth model for the entire nation, which would create thousands of jobs and lift the nation economically. Getting Apple enrolled would be a huge success for the Indian government, and will force other product makers to think on similar lines.
The government knows it, and it is working towards making India a business-friendly nation. It is improving (simplifying) its tax structure for the corporate sector, creating a conducive environment to do sustainable business, and relaxing restrictions for foreign-owned single-brands such as Apple. Earlier, the Indian government had imposed the 30 percent local sourcing norms which delayed Apple's plans of opening retail stores in India. Apple has no fully-owned retail stores in India and sells through a small network of distributors. In June, the government loosened the FDI restrictions saying that companies do not have to procure any material from the Indian vendors for the first three years.
Apart from this, Apple would also benefit significantly if it were to manufacture its products in India where it holds less than 5 percent share in the smartphone market.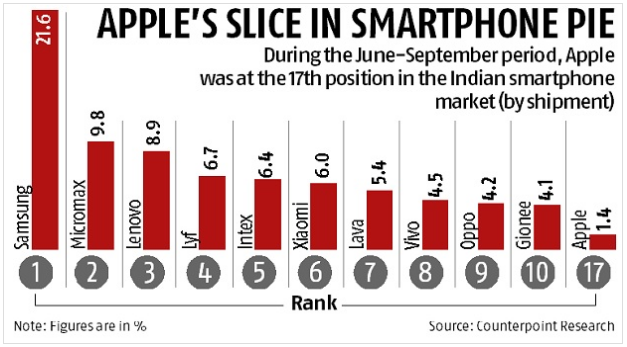 According to a Deutsche Bank (NYSE: DB) report, India is among the most expensive places to buy an iPhone, with prices higher by 31 percent than the U.S. A lot of factors contribute to this "excess" which can be avoided by local manufacturing.
The multiple tax system is one of the biggest factors in lifting the price. By manufacturing in India, the company can easily do away with the customs duty and pass on the benefit of lower prices to the consumers. It has been reported that Apple paid 11.43 percent in customs duty for iPhone 6s and 28.85 percent for the accessories.

According to the latest report in India's leading national daily Hindustan Times,

"If a handset manufacturer assembles phones locally, then it just pays a 1% duty, instead of the 12.5% on a phone that is imported. There is also a duty differential on battery, adapter, and headsets. If a handset-maker purchases all these from domestic companies, it pays only 2%, instead of 12.5% when imported."

Samsung has been assembling the phones in India for some time now.
Apple also has to pay the distributors and the dealers who sell its products, and therefore, the pricing is done to absorb this as well.
The strengthening of the U.S. dollar is also affecting the revenue of the company. The company repeatedly highlighted this in the annual report for the period ending September 24.
With a direct presence in a booming economy like India, Apple is bound to be highly successful. There are a couple of reasons behind this, which I will discuss below.
Dual-SIM iPhones Can Be Hugely Positive For Apple
Indians love smartphones with dual-SIM capability. Nearly 90 percent of India's installed smartphone user base is dual-SIM enabled. Apple's fierce competitor Samsung (GREY: OTC:SSNLF) realized this very early and has ruled the Indian market for several years now. In fact, Samsung vehemently leads the smartphone market with >20 percent share.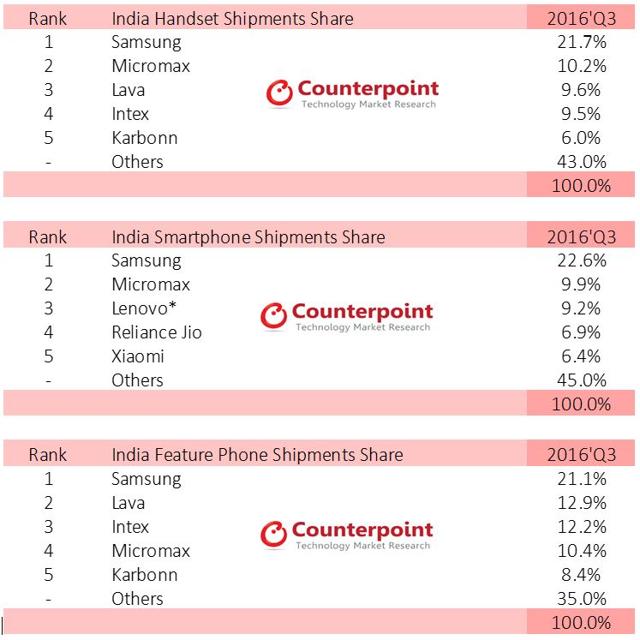 Source: Counterpoint Research Market Monitor Q3 2016
But, Apple might sport dual-SIM functionality in the future iPhones as is being indicated by the recent patent filing with the United States Patent and Trademark Office (USPTO). According to BGR,
"The details mentioned on the patent talk about the system, apparatus and the means for controlling access to different antennas with devices featuring multiple SIMs. The description also illustrates the use of two SIM cards and how the priority of SIM card is determined. For instance, if one SIM card is being used for making a phone call, it gets priority over the second SIM which is used for mobile data."
A similar report has also emerged from China.
Besides iPhones, Apple Stands To Gain Heavily From Services
With less expensive iPhones featuring dual-SIM capability, Apple would be bound to make a serious dent in the Indian smartphone market. A lot of players will see their market share topple as Apple becomes appreciably cheaper for the competitive (and even better) functionality.
But, this is not just it. A whitepaper released by Bangalore-based management consulting group Zinnov concluded that 93% of the total time spent by users on their mobiles phones is on apps. A section of the paper reads,
"The time spent by users on the mobile internet has grown by 94% over the last two years. This has resulted in an increase in their mobile usage & mobile online spend by 113%."
This is of significant importance to Apple's Services segment which includes Internet Services, iCloud, AppleCare, and ApplePay. The company's services segment has been witnessing great traction among the users. For 2016, the company reported a 22 percent increase in services revenue over 2015 and contributed 11 percent to the net sales. It had grown by 10 percent in 2015 over 2014.

So, the company can significantly capitalize on the Indian consumers' willingness to spend more time on apps with its extremely rich AppStore.
But, Will This All Be So Easy For Apple?
Frankly, no. Roughly a year ago, Apple CEO Tim Cook said that the real reason why the company's products are made in China is the skills. And a majority of Indian workers are not used to the kind of precision and detail that go into the making of an iPhone. A similar sentiment was earlier echoed by Aruna Sundararajan, Secretary, Ministry of Electronics & IT, Government of India when she said that,
"There was plenty of work ahead on fronts such as tariff regime, skill development, design knowledge and the creation of strong infrastructure to aid the formation of electronics manufacturing clusters. The government would have to work with local industry and several partners to achieve this. India can potentially be a world leader in mobile phone manufacturing ecosystem and this has to be done in a phased manner."
India is now sending 100 design engineers to Taiwan to acquire knowledge about product design and customer needs. The government is also ready to provide the infrastructure, but it will take its time. Apple will have to dedicate significant resources in India in the near-term for achieving long-lasting success.
Apple's manufacturer Foxconn already has a well-established smartphone manufacturing facility in Andhra Pradesh with a capacity of 1 million handsets per month. But, with soaring demand from domestic and foreign players, the company is considering ramping up its operations in different parts of India. In May this year, Foxconn announced that it is interested in a 1,200-acre area of land in Maharashtra after considering a few other Indian states. A report from 9to5mac.com reveals, "The manufacturing plant built on this land plot is said to focus purely on iPhone manufacturing and will cost about $10 billion. From the time the deal is inked, it should take about 18 months to make the manufacturing plot operational."
On the condition of anonymity, an industry expert told HT that, " Apple might want MSIPS to continue, freight subsidy as the country has logistical issues, a continuation of differential duty on mobile handsets and components manufacturing even when the GST regime comes in." MSIPS, or Modified Special Incentive Package Scheme (MSIPS), provides capital subsidy of 20% in special economic zones (SEZs) and 25% in non-SEZs. Firstly, the government would not let these economic benefits continue indefinitely for only one company.
Secondly, there are several states in India which can offer the logistics demanded in a large-scale operation such as iPhone manufacturing. Gujarat and Andhra Pradesh are two vibrant examples. Foxconn's Head of India Josh Foulger clears the air surrounding India's logistical issues saying that,
"India, from a manufacturing standpoint, has a logistic advantage, not just for India but for the Middle East and Africa. The ASP of products is very similar. If you look at making India a manufacturing destination for 800 million phones, it looks very attractive. India's cost is competitive. It takes time but if managed well, it can bring results."
Third, having different duties on mobile handsets and components defeats the entire purpose of having a Goods and Services Tax (NYSEMKT:GST). The introduction of GST is to make the tax structure simpler and attract foreign investments. Therefore, if this is a demand from Apple, it will probably be rejected by the government.
Conclusion
Apple cannot risk ignoring India any longer. The company is in talks with the government to seek incentives for manufacturing in India. Local manufacturing of iPhones will make them even more popular among the masses as the cost benefits are likely to be transferred to the consumers. India is currently among the most expensive destinations to buy an iPhone from.
Apple's recent patent filings detailing dual-SIM features also hint at a potential rollout of a future iPhone featuring this capability. Dual-SIM smartphones are a big hit in India, and Apple is bound to strongly benefit from any such offering at a competitive price.
The Indian consumers' craze for apps will also boost the company's services segment, however, a less expensive iPhone is required to achieve that. This is another benefit that can be attained by local manufacturing.
The onus is also on Narendra Modi-government to enroll Apple for the Make In India campaign. Getting Apple onboard will be a huge success for the government, and it will force other makers to think on similar lines. The government has to provide the necessary incentives, adequate infrastructure, lower tariffs, and a conducive business environment if it has to attract a technology giant like Apple.
The technology company will receive strong support and significant incentives from the Indian government but definitely not everything it asks for. It may be shrewdly attempting to extract as much juice as possible from the Indian government's desperation to make the Make in India campaign a success. While doing so, it must not forget the long-term growth opportunities that a rapidly-growing economy like India presents.
Both the parties stand to gain from local production, but will they agree?
Note: I cover several stocks in different sectors as well as S&P 500, crude oil, gold and silver, U.S. dollar, etc. So, if you liked this update, and would like to read more of such informative articles, please consider hitting the "Follow" button above. Thank you for reading!
Disclosure: I/we have no positions in any stocks mentioned, and no plans to initiate any positions within the next 72 hours.
I wrote this article myself, and it expresses my own opinions. I am not receiving compensation for it (other than from Seeking Alpha). I have no business relationship with any company whose stock is mentioned in this article.
Editor's Note: This article discusses one or more securities that do not trade on a major U.S. exchange. Please be aware of the risks associated with these stocks.