There have been no new independent storage vendors since NetApp (NASDAQ:NTAP) was founded in 1992. Now NTAP has $5b in revenue and is profitable. Most new IPOs have either been gobbled up or are out of business. Check this out, it's a chart of Violin Memory (NYSE:VMEM). I'm sure EMC has post-it notes valued more than VMEM's market cap. Fusion-io was acquired by SanDisk and Nimble Storage's (NYSE:NMBL) shares are in single digits; its IPO price was $21.
There are many people betting against Pure Storage (NYSE:PSTG). The odds are against PSTG. The short interest is around 40% of float, which is very high.
Why new entrants have struggled
Fusion-io couldn't crack $400 million in annual revenue and was serving a specific niche, specifically server-side flash. Fusion-io served a small TAM, had a small customer base, and was unable to differentiate itself.
VMEM could not compete with other all-flash array vendors. EMC and NTAP have massive resources at their disposal, and their solutions are more mature.
NMBL is at an interesting inflection point. It is now at $100m in revenue per quarter, but is showing worsening operating leverage. The pressure is on NMBL to become profitable.
The storage market is in a lot of pain
To begin, we'd like to be clear that storage may never grow again. The table below is sourced from IDC and illustrates the overall storage market decline of 3% in the third quarter of 2016 (YoY):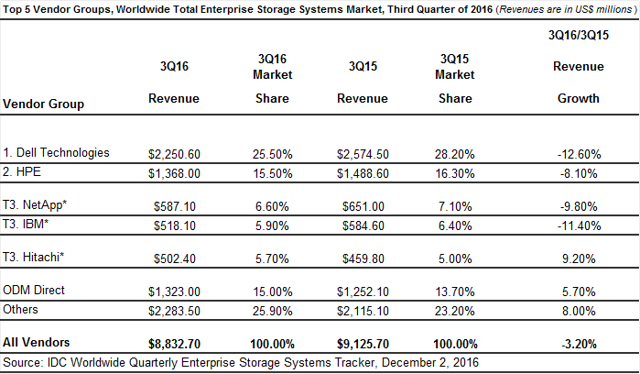 There are many reasons for the decline in storage. The key reasons include:
Converged Infrastructure and Hyper Converged Infrastructure, HCI: This is where compute, storage and virtualisation come together in one single box. HCI leans more towards a software-based architecture.
Cloud Computing: Infrastructure companies such as AWS (NASDAQ:AMZN) are allowing some customers to offload data storage to AWS rather than invest in their data centre.
Will Pure Storage be the next victim of a competitive storage market?
It now has been 24 years since the last independent profitable storage company was born, NTAP. The storage market is in decline, and the short interest on PSTG is at 40%. The odds are against PSTG. Even though the overall storage pie is over $40B, there isn't much room for new players. Many storage hopefuls will go out of business.
To consider if PSTG will be successful, we need to spend more time on the competitive dynamics and less time on the financials. Reviewing financial models is just the start. For PSTG to become an independent and profitable company, it will need to crush the competition.
This is how we believe things will play out:
PSTG M10 launch is really going to hurt NMBL. NMBL has historically been very successful in its core commercial business. The M10 will see PSTG play lower into the market and run up against NMBL more often. This is bad news for NMBL.
PSTG's launch of FlashBlade will compete head to head with EMC Isilon and NTAP. PSTG is now entering a new market, the NAS market, where NTAP and EMC Isilon have been very strong in.
All the marketing hype from PSTG regarding NVMe could create uncertainty amongst other vendors and become an opportunity for PSTG. PSTG is already guaranteeing an upgrade path to NVMe.
Hyper Converged Infrastructure vendors such as Nutanix (NASDAQ:NTNX) are disrupting the storage industry. Early use cases appear to be regional office/VDI. The early use cases are more likely to hurt NMBL which has more of a commercial focus than an enterprise focus.
NMBL is most likely to be hurt by cloud computing. This is due to its commercial focus.
PSTG is better positioned due to its focus on the enterprise. Its expanded product portfolio will address additional use cases such as unstructured and semi-structured data. This will partially immunize the company from the industry threats mentioned earlier.
The storage market is too competitive to support new entrants unless they can truly disrupt the competition and industry. For the reasons explained above, we believe PSTG is doing just this and is hurting NMBL, EMC and NTAP. NMBL is growing, but is facing intense competition as described earlier and we don't believe it will become profitable and independent. NMBL will struggle.
We believe PSTG is strengthening its competitive position and is consistently rolling out new products such as M10 and FlashBlade to provide a consistent increase in its TAM. This continuous strengthening of its competitive position and innovation gives PSTG a real chance to succeed. Success means independent and profitable.
Financial model and fundamentals
The below table looks at the financial model of NTAP, PSTG and NMBL. Interestingly, the market is extremely skeptical on the prospects of PSTG and NMBL, and price to revenue multiples are in line with NTAP. PSTG is growing the fastest and is starting to reduce its negative free cash flow margin and is trading at a modest premium to NTAP. NMBL is struggling to reign in losses.
| | | | | | |
| --- | --- | --- | --- | --- | --- |
| Company | Gross Margins (recent quarter) | Free Cash Flow Margin (Fiscal 2017 est) | Annual Revenue (Fiscal 2017 est) $m | Revenue Growth (Recent Quarter) | Enterprise Value/Revenue (Fiscal 2017 estimates) |
| PSTG | 65% | -8% | 725 | 50% | 2.1 times |
| NMBL | 66% | -17% | 398 | 26% | 1.5 times |
| NTAP | 62% | 16% | 5,430 | -6% | 1.6 times |
We expect PSTG to continue to grow and scale the business and become free cash flow positive at the end of calendar 2017. NMBL will continue to struggle and is unlikely to reach sufficient scale to become free cash flow positive.
Key Risks
The three biggest risks to PSTG include:
Hyper Converged Infrastructure.
Customers offloading data storage to the cloud (AWS).
Competition from the incumbent vendors.
Summary
Recent storage IPOs have struggled and investors have had poor experiences and mixed results. The article explained why PSTG will continue to disrupt the storage market. Additional product launches will hurt NMBL, NTAP and EMC. The launch of the M10 and FlashBlade will increase the TAM, add competition for NMBL, and add additional use cases.
Pure Storage's focus on the enterprise, partnership with Cisco (NASDAQ:CSCO) through FlashStack, and entry into the scale out NAS market will allow PSTG to manage the key risks and succeed. We consider an investment in PSTG as higher risk as the company is not yet free cash flow positive. We recommend buying PSTG in two installments, half now at current levels, and half in 12 months once it becomes free cash flow positive.
Disclosure: I am/we are long PSTG.
I wrote this article myself, and it expresses my own opinions. I am not receiving compensation for it (other than from Seeking Alpha). I have no business relationship with any company whose stock is mentioned in this article.