We said last week that temperature forecasts for the start of January look to be colder than normal, and HDD forecasts are coming in higher than the norm. Despite the outlook, many still decided to go short natural gas (NYSEARCA:UNG). What happened over the weekend was that temperature forecasts for 12/30 week was revised higher resulting in a lower storage draw, but the weeks following 12/30 showed even colder temperature forecasts with our storage draw estimates now showing two weeks of back to back -200 Bcf+ draws.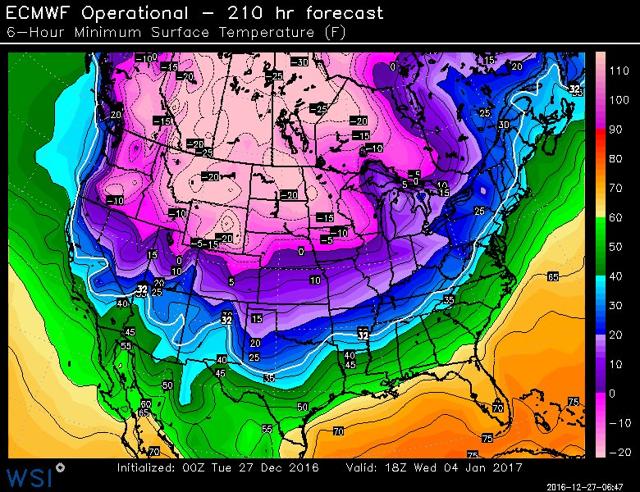 Source: Michael Ventrice
The scary thing about January so far is not that it's starting off colder than normal. It's that the forecasters are calling for the cold temperatures to last "much longer" than what we saw in December.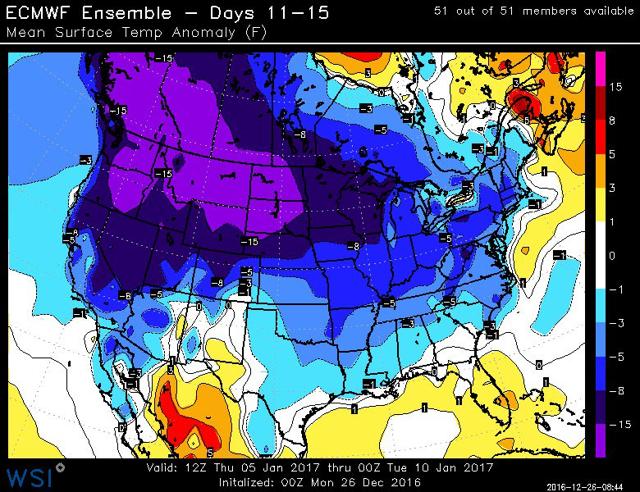 Source: Michael Ventrice
This forecast is now showing the Arctic air to move towards the east and the 1/13 week is expected to see a massive storage draw. Just a few days ago, many thought the arctic air would stay west, and that has swiftly changed.
With natural gas prices hovering around $3.76/MMBtu, and the 11-15-day forecast only showing cold throughout the west, we think once the models change to show cold risk creeping into the East, natural gas prices will make a move for $4/MMBtu. The timing could be as early as next week when all the traders are back from the holidays.
Weather models however continue to remain volatile, but the trend has been toward much colder temp forecasts. We post our findings first thing to premium subscribers, so if you enjoy our natural gas daily updates, we think you will enjoy the premium service even more. You can sign up here.
8-14-Day Outlook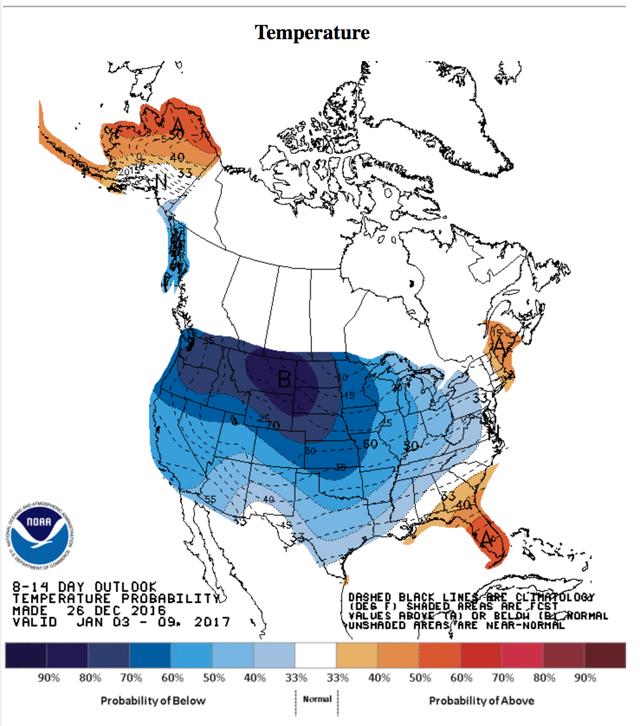 Disclosure: I/we have no positions in any stocks mentioned, and no plans to initiate any positions within the next 72 hours.
I wrote this article myself, and it expresses my own opinions. I am not receiving compensation for it (other than from Seeking Alpha). I have no business relationship with any company whose stock is mentioned in this article.