In the middle of December, Oil Major BP plc (NYSE:BP) partnered with up-and-coming energy firm Kosmos Energy Ltd (NYSE:KOS) to develop what could be a truly massive amount of gas resources located off the coast of Senegal and Mauritania. Possibly alongside some liquids potential as well. Since the Jubilee Field in Ghana reached first-oil back in 2010, West Africa has increasingly been seen as a prime exploration opportunity for the oil & gas sector. One that was stymied by the recent industry downturn.
Now that the macro environment is starting to move in the favor of upstream players BP plc decided to make its move by teaming up with a relatively unknown but very capable Kosmos Energy. Over in Ghana Kosmos Energy is also participating in the development of several oil & gas fields, including the Jubilee Field mentioned above.
The details
In return for a 62% stake in Mauritania's C6, C8, C12, and C13 offshore exploration blocks and a 32.49% interest in Senegal's offshore Saint Louis Offshore Profond and Cayar Offshore Profond exploration blocks, BP is giving Kosmos Energy $916 million. Kosmos Energy will retain a 28% interest in the Mauritania blocks and a 32.51% stake in the Senegal blocks.
Part of the deal also includes BP and Kosmos teaming up to develop areas of mutual interest in both those countries and Gambia. Kosmos will act as the operator of the exploration process while BP would become operator during the development phase if a project does get sanctioned.
Below is a table of what the ownership structure for those two blocks will look like once the deal closes, from Kosmos Energy's press release. Timis Corporation is a privately held firm and Petrosen, SMHPM, are both state-owned entities.
Effective Working Interest
Pre-Transaction
Post-Transaction

Mauritania (Blocks C6, C8, C12, and C13)

BP
0%
62%
Kosmos Energy
90%
28%
Mauritania's National Oil Company - SMHPM
10%
10%

Senegal (Saint Louis Offshore Profond and Cayar Offshore Profond Blocks)

BP
0%
32.49%1
Kosmos Energy
60%
32.51%1
Timis Corporation
30%
25%1
Senegal's National Oil Company - Petrosen
10%
10%
(1)After exercise of an option to acquire an additional 5 percent participating interest from Timis Corporation in consideration for a future carry on a well in Senegal.
The $916 million deal works like this. BP is giving Kosmos Energy $162 million in cash straight away, a $221 million carry on drilling and appraisal expenditures, and a $533 million carry on development costs for the Tortue prospect (which I'll get into below).
As an added bonus, Kosmos is also eligible to receive a contingent bonus of $2/barrel for each barrel of liquids discovered for up to 1 billion barrels. That bonus will be structured like a production royalty and is dependent on future crude prices and the quality of the discovery.
Why buy
What BP is buying into is Kosmos Energy's series of major natural gas discoveries in both countries, a play that is referred to as the Greater Tortue area. BP is taking over as operator of the development side of the story but Kosmos Energy remains operator of the exploration phase, which includes three additional exploration wells in 2017.
The Tortue Field within the Greater Tortue area is estimated to house 15 trillion cubic feet of natural gas resources, with the entire area potentially holding up 50 Tcf of gas resources and 1 billion barrels of liquids resources. Located across the Mauritania/Senegal offshore border, the Tortue field is situated at the center of the fairway of Kosmos' exploration endeavor.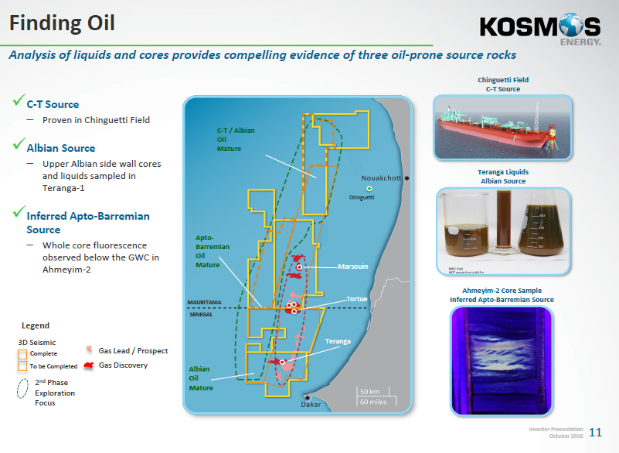 Source: Kosmos Energy Ltd October 2016 Presentation
Up in Mauritania there is the Marsouin find and down in Senegal there is the Teranga prospect, both of which could be developed alongside the Tortue Field.
The plan is to build an LNG facility in a centralized location relative to the natural gas finds just off the coast of West Africa. Natural gas would be sourced from those fields through a network of subsea pipelines and transported to a FLNG, floating liquefied natural gas, vessel which would process the gas. As natural gas is cooled to negative 260 degrees Fahrenheit it becomes a liquid, taking up 1/600th of the volume as its gaseous form.
LNG from the facility would be exported to major markets all around the world, which is where BP's experience really comes in handy. Some of the natural gas produced from the upstream side of the equation would also go to domestic customers in both Mauritania and Senegal, specifically power plants near Nouakchott and Dakar. On January 4, Kosmos Energy is due to hold a conference call to discuss the plan further.
Below is a look at the initial development design.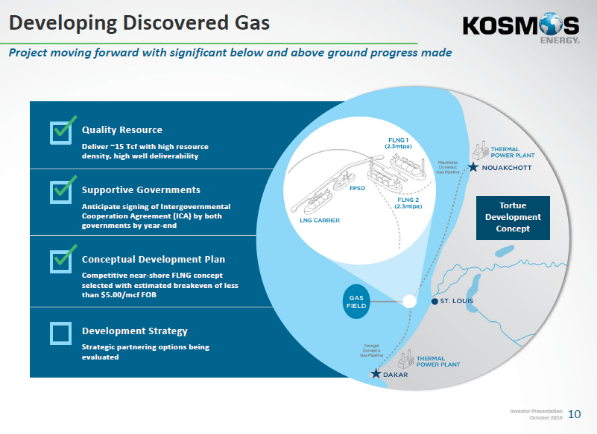 Source: Kosmos Energy Ltd Presentation
Final thoughts
There still remains room for a ton of exploration upside as the second exploration fairway, depicted by the green dotted line in the map above, to the west of the initial discoveries remains a lucrative mystery. This is where Kosmos Energy and BP plc expect to find liquids resources, on top of further natural gas discoveries in both fairways. Appraisal activity could and most likely should uncover additional resources, especially if the partnership is able to narrow the range of the size of the current prospects.
Investors should keep in mind that this is a project that is set to get sanctioned in 2018, after some additional exploratory & appraisal drilling and the completion of the FEED (front end engineering and design) process. That means it would come online in the early 2020s as the expected glut of LNG is fading away (many LNG projects where approved and are set to come online over the next few years on the expectations of strong growth in global natural gas demand, which is strong but will take time to absorb additional supply) making it a very worthwhile project.
BP plc was right to team up with Kosmos Energy Ltd. This new venture provides a source of growth beyond its current plan to add 800,000 BOE/d to its production base by 2020. For a company as massive as BP plc it is worth looking at all of the pieces that make up the firm's long term trajectory. It's discoveries like the Greater Tortue in West Africa that will power the global energy supply over the coming decades, and BP plc and Kosmos Energy Ltd will be there raking in the profits.
To read more about BP plc's upstream division take a look at its massive Caspian Sea endeavors or the huge tight gas development BP plc will soon bring online in Oman.
Disclosure: I/we have no positions in any stocks mentioned, and no plans to initiate any positions within the next 72 hours.
I wrote this article myself, and it expresses my own opinions. I am not receiving compensation for it (other than from Seeking Alpha). I have no business relationship with any company whose stock is mentioned in this article.