Introduction
Chipotle Mexican Grill (NYSE:CMG) has been a pioneer in the fast-casual subset of the restaurant industry. Its business concept is built around the idea of "Food With Integrity," which focuses on more natural ingredients.
It has become popular with consumers likely due to the fact that it offers a tasty filling and relatively healthy meal for a very affordable price. Chipotle has also done very well at managing long lines over the years with its simple menu and quick service.
There are things to like on the business side too. In terms of individual restaurants, Chipotle's are as good as they get. Here are a few highlights:
1. Store-level operating margins and return on capital: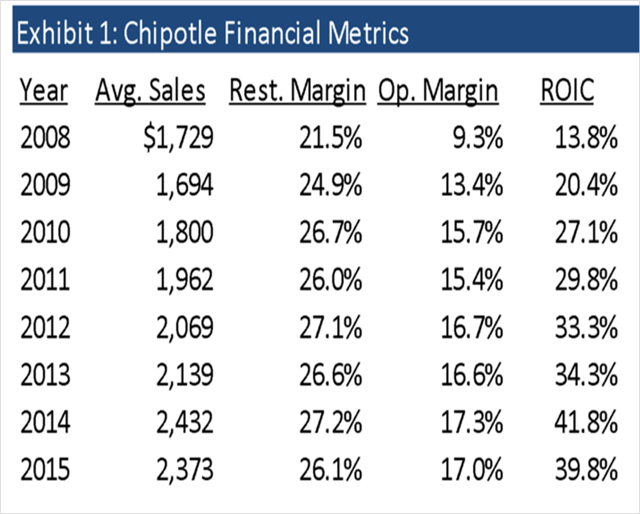 Source: Valueinvestorsclub.com
Here is an informative article on Value Investors Club that goes into much more detail on unit economics than I will. On a per-store basis, in 2014, Chipotle brought in about twice the profits that a typical McDonald's (NYSE:MCD) brought in.
2. Self-funded unit expansion: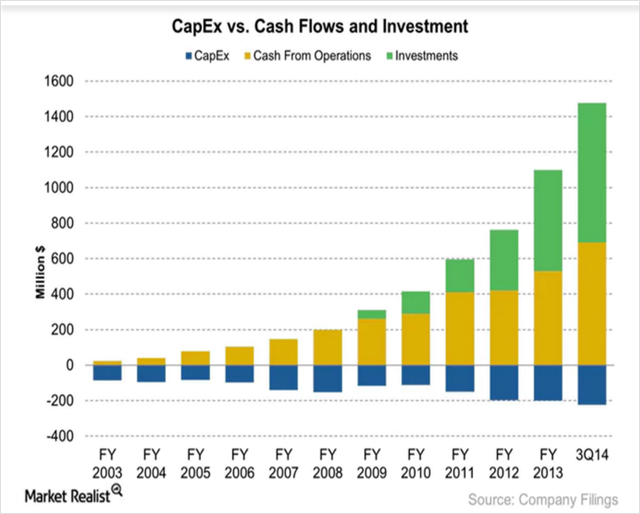 Source: Market Realist
Here is a look at a more in-depth view of Chipotle. Note how the unit economics are so profitable that Chipotle can fund new stores through its operating cash flow rather than issuing debt.
3. Growth across the board:
| | | | | | | | | |
| --- | --- | --- | --- | --- | --- | --- | --- | --- |
| y/y change in: | 2008 | 2009 | 2010 | 2011 | 2012 | 2013 | 2014 | 2015 |
| Comp store sales | 5.8% | 2.2% | 9.4% | 11.2% | 7.1% | 5.9% | 16.8% | 0.2% |
| Total revenue | 22.7% | 14.0% | 20.9% | 23.6% | 20.3% | 17.7% | 27.8% | 9.6% |
| Operating income | 17.7% | 45.7% | 33.9% | 18.7% | 26.5% | 16.7% | 30.2% | 9.5% |
Source: S&P Capital IQ, Author's work
Comparable restaurant (store) sales growth, along with margins, is what should matter over time. Store openings can always increase revenue, but there is a limit on how many stores a company can open. With that being said, CMG's run of comparable restaurant sales and operating income growth, although broken here in 2016, was very impressive.
Recent Problems
Things began to change in the summer of 2015. In a span of about five months, there were three E. coli, two norovirus, and one salmonella outbreak. The outbreaks were not limited to a single store, or even, a single state. Some of the states included were Oregon, Washington, California, Minnesota, and Massachusetts. As you can see from the geographic dispersion, the outbreaks were fairly widespread.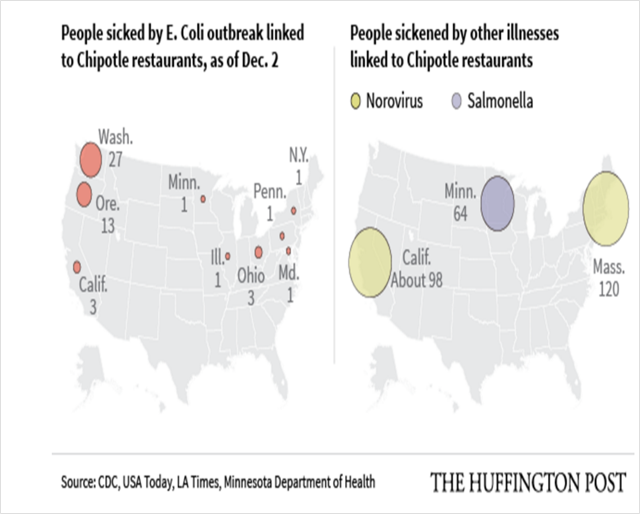 The negative publicity caused by the outbreaks negatively affected the company's reputation and caused comp. sales to decrease significantly. The stock began to suffer. After trading at $700-750 in the late summer of 2015, Chipotle was down to near $400 at the start of 2016. Although CMG has continued a slight downtrend, for the most part, its price has stabilized.
Today, Chipotle trades around $390 per share. We can come up with two contrasting viewpoints of the current situation:
1. Although comp. sales and earnings are down significantly, the company is increasing spending to bring back customer traffic (which seems to be working), thus the current earnings are not indicative of CMG's true earning power. While the food safety issues have become apparent and have had a meaningful impact on the business, many restaurant chains have endured food scares like this, and I'm confident CMG will recover. With that being said, and with a strong brand like Chipotle trading at multi-year lows in terms of sales multiples, the stock represents a compelling long-term opportunity.
2. The recovery for Chipotle is taking much longer than expected. Not only did the outbreaks reveal poor quality control, but also poor management. Customer traffic is down significantly, and we will not be returning to "pre-crisis" numbers any time soon. Because of this, the stock is currently expensive and not a good investment.
I have heard both types of viewpoints and, meanwhile, the stock price hasn't moved much. I think both views are valid arguments, however, I think the best answer lies somewhere in the middle.
Discussion About Valuation: Is It Cheap?
If we look back over the past five years, Chipotle's stock looks cheap (in some ways). Morningstar pegs its five-year average price to sales multiple at about 4.5 while CMG stands at around 3 today. That is the lowest in around six years.
Not so fast, I say. When determining if a stock is cheap, we need to look forward. We also need to consider other ratios. A stock with low trailing ratios may not be cheap if its forward ratios are higher. Because it is hard to forecast a recovery (and usually hard to forecast, in general), it is helpful in this case to turn to the company CEO Steve Ells. On the most recent conference call, Mr. Ells expressed confidence that CMG can earn $10 per share in FY 2017.
Now I'm not taking this as fact because he's the CEO, but if I'm going to use forecasts to assess valuation, he's probably pretty credible. Using his earnings per share figure, that puts CMG's forward P/E ratio at 39. I don't have data on the historical forward P/E, but given that CMG has often traded with a trailing P/E of around 50 and, operating income has grown on average close to 20%, I will assume this is pretty much normal. It is far from cheap though.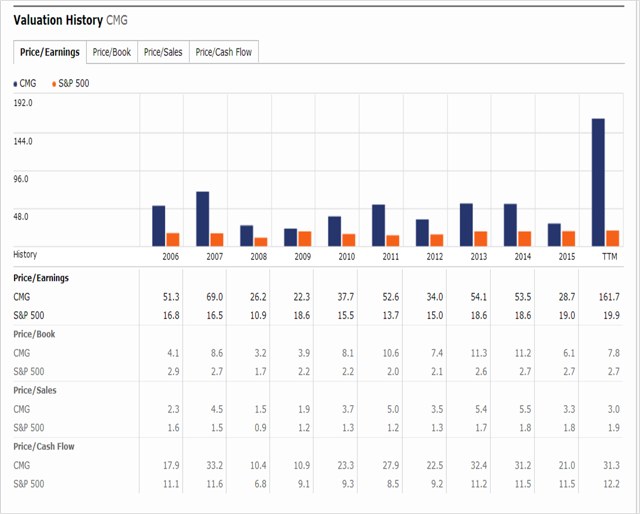 Source: Morningstar
The only way you could think CMG is cheap is if next year's earnings are artificially deflated, and this is up for debate.
In one respect, some of the factors that will weigh on Chipotle's margins are unusual in nature. After all, management acknowledged overstaffing in terms of labor because it wants to ensure a great customer experience right now and at all costs. This makes sense. In addition, costs related to ensuring food safety are obviously going to be up given the recent events. And lastly, promotions and discounts have also played a larger role for Chipotle. These aren't normal things in the long run.
However, that doesn't mean they will just suddenly come to a stop. It makes sense that Chipotle will gradually return to a normal cost structure. Even looking to next year, Chipotle is considering running a national advertising campaign, whereas traditionally it has relied on word-of-mouth.
Comp. sales are expected to improve next year, but that doesn't ensure a return to "normal" profit margins. In fact, I think it is wise to consider the possibility that the path back to 10% net margins may take a few years. So, while forward earnings may be held down by temporary factors to some degree, I don't believe it is enough to make the stock cheap.
Chipotle Still Looks Good In The Long Run
On the other hand, the unit economics are still there in the long term. I don't doubt that eventually Chipotle will recover to its excellent operating performance. Strong companies have a way of coming back from tough times at a level even better than before. When a company goes through a crisis like this, it forces management to reassess the company. And while this is both time and money consuming, in the short term, if it is done right, management should be able to spot inefficiencies they were previously unaware of.
On the most recent conference call, Mr. Ells talked about areas where he could save on costs moving forward. As an example, Chipotle has a new model for its store where it will cost $760K to build a new store. This is down from its current level of $800K (see on page 8 of call transcript). As things are expected to improve from here, and given the reasonable current valuation, it's hard to argue that CMG is a good short.
What Does All This Mean?
When the stock was trading at $500, $600, and $700, I would never have thought that at $390 per share, I wouldn't be snapping up CMG stock.
My long-term belief in the company hasn't changed. The last year has just reminded me that some events significantly affect the intrinsic value of a company. That doesn't mean any lost value is gone permanently, but that the company has to work to gain it back over time. I am not looking to buy a company simply because its price drops (for the reasoning listed above). I am looking to buy an above-average company (I think Chipotle has demonstrated this over time) when the market doubts its premium valuation. Because no matter what happens, I am confident that Chipotle is still better than your average company.
Conclusion
I think it is easy to get confused with CMG right now. While the price has dropped, Chipotle seems to have retained its premium valuation. I have been confused too, because you'd think a near 50% drop in a company like Chipotle would mean a strong buy for sure.
I wrote my first article on Seeking Alpha about Whole Foods (WFM) and how it was now "fairly-priced". I was still new to the site and stuck to the notion that I had to provide either a buy/sell recommendation with every article I wrote (so I argued WFM was a buy). I learned that both, in writing and investing, recommending that watching closely but doing nothing may very well be the best approach.
That is what I will be doing with Chipotle's stock, and I think it would benefit you to do the same.
Disclosure: I/we have no positions in any stocks mentioned, and no plans to initiate any positions within the next 72 hours.
I wrote this article myself, and it expresses my own opinions. I am not receiving compensation for it (other than from Seeking Alpha). I have no business relationship with any company whose stock is mentioned in this article.