Chesapeake Energy (NYSE:CHK) is going into 2017 on a high and it is likely that the company will be able to sustain its momentum in the New Year. Driven by strong natural gas prices and low costs, Chesapeake Energy will continue to improve its bottom line performance on the back of a strong bump in the revenue.
In this article, we will take a look at the reasons why Chesapeake is a good bet next year and how much upside investors can expect.
Chesapeake will benefit from low costs and stronger pricing
Chesapeake Energy is aggressively focused on reducing its cost base. In order to achieve lower costs, Chesapeake has been drilling longer laterals as compared to the industry average, which allows it to extract more oil and gas from its wells at a lower cost base. For instance, the company has been testing supersized wells that go on for miles below the ground. According to a WSJ report:
"Prop-a-geddon is an experiment to create supersize oil and gas wells that the company estimates can extract fossil fuels for roughly 75% less than typical wells, thanks to potentially greater economies of scale."
This is a smart move on Chesapeake's part since the company has already found success by using longer laterals while drilling its wells. As shown in the chart below, as the length of the lateral has increased, Chesapeake's costs have declined: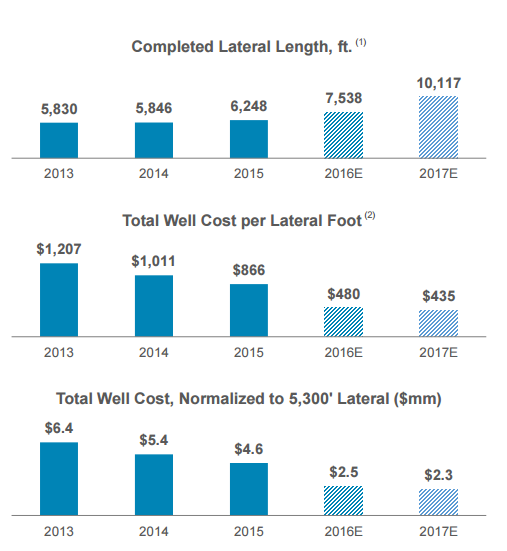 Source: Chesapeake Energy
Thus, as shown in the chart above, the increase in the lateral length in the South Texas area has allowed Chesapeake to bring down its total well costs quite significantly. Now, due to low well costs, Chesapeake Energy's break-even costs at its core assets are quite low. For instance, in the South Texas area, Chesapeake Energy has been able to lower its break-even costs to just $39 per barrel of oil.
Similarly, in the Marcellus and Utica shale areas, Chesapeake's break-even price is just $2.00/MMBtu and $2.15/MMBtu of natural gas. Additionally, in the Utica, Chesapeake's break-even cost of producing oil is only $37/barrel. More importantly, as the chart above shows us, Chesapeake's well costs are expected to decline further in 2017, which will allow the company to take better advantage of the rise in natural gas prices.
The good part is that in 2017, natural gas prices can be expected to rise further on the back of improving demand-supply dynamics in the industry. In fact, according to the EIA, the price of natural gas will average $3.27/MMBtu next year as compared to an average of $2.49/MMBtu this year. This represents an increase of 31% as compared to the average natural gas price seen in 2016.
Moreover, the level of natural gas pricing forecasted by the EIA for 2017 is well ahead of the break-even costs at Chesapeake's assets. Thus, it won't be surprising if the company is able to enhance its earnings and revenue going into 2017, which will lead to an upside in its stock price.
How Chesapeake's stock price will be impacted going forward
Due to its low-cost assets and higher natural gas prices next year, Chesapeake will witness an improvement in its bottom line. In fact, in 2017, Chesapeake is expected to turn in a profit of $0.80 per share as compared to a loss of $0.06 per share this year. More importantly, the growth in the bottom line is also expected to continue into 2018, with Chesapeake expected to report earnings of $1.20 per share.
Now, Chesapeake Energy has a forward P/E ratio of 9.30. At this forward price to earnings multiple and potential earnings of $1.20 per share in 2018, the company's stock price can be expected to rise to around $11.20 per share. This represents an increase of around 50% from the current stock price. As a result, despite gains of 66% in 2016 itself, Chesapeake Energy can be expected to deliver more upside in the coming two years.
Conclusion
Chesapeake Energy has done well this year and it is likely to sustain this momentum in the coming two years as well in light of the points presented above. So, investors should continue to hold Chesapeake Energy shares in the long run since the company is set to deliver more upside.
Disclosure: I/we have no positions in any stocks mentioned, and no plans to initiate any positions within the next 72 hours.
I wrote this article myself, and it expresses my own opinions. I am not receiving compensation for it (other than from Seeking Alpha). I have no business relationship with any company whose stock is mentioned in this article.