It has been a difficult time for investors who invested in energy stocks right before the WTI oil price fell from over $100 to as low as $30 and stabilizing in the $50 range.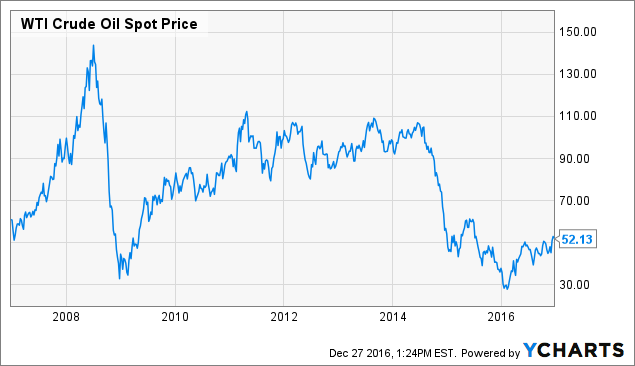 WTI Crude Oil Spot Price data by YCharts
Just take a look at the price charts of the biggest energy companies to see what I mean.
Here's Exxon Mobil's (NYSE:XOM) chart. It fell about 27% from $100 in 2014 to the 2015 low of $73. Buying in the low would have pocketed you a 23% gain by now while receiving a 4% dividend yield.
The company also stayed on schedule to raise its dividend. Even though it was only a raise of 2.7%, it still showed Exxon's commitment to its dividend increases. It also was a proof that it had a stronger balance sheet, as other energy companies froze or even cut their dividends.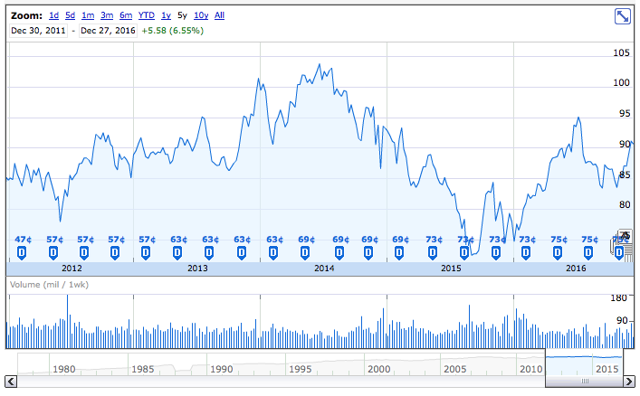 Source: Google Finance - Exxon Mobil's price chart
On April 6, 2016, Morningstar lowered Exxon Mobil's economic moat rating from Wide to Narrow. Here's a snippet of the report (the emphasis is my own):
Exxon generates its superior returns from the integration of low-cost assets (an intangible asset that we consider to be part of its moat source) combined with a low cost of capital; this combination produces excess returns greater than those of its peers. However, given our outlook for lower long-term oil and natural gas prices, we expect Exxon's returns to be lower than they have been in the past. Consequently, our confidence that it can continue to deliver excess returns for longer is diminished, resulting in the company no longer earning a wide moat. We now rate Exxon with a narrow moat.
The low commodity prices are having an impact on the highest-quality integrated firm. Imagine the impact they're having on other energy companies.
Here's Chevron's (NYSE:CVX) chart. It fell about 36% from $123 in 2014 to the 2015 low of $78. Buying in the low would have pocketed you a 51% gain by now while receiving a nearly 5.5% dividend yield.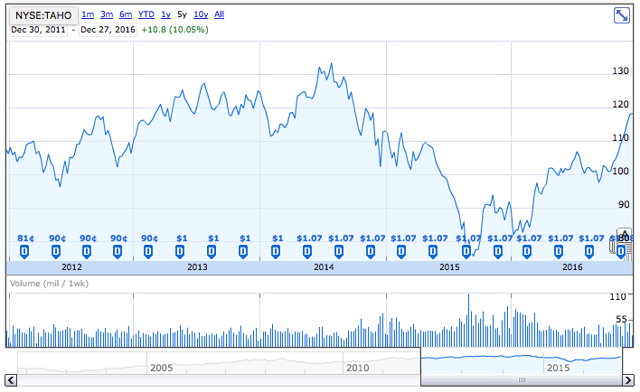 Source: Google Finance - Chevron's price chart
Buying Chevron before the downturn (compared to Exxon Mobil) would have been a tougher investment. Other than falling harder, it also froze its dividend during that time. After all, dividend freezes sometimes are the beginning of dividend cuts.
However, notice that compared to the lows of Exxon Mobil, Chevron's rebound came back stronger. So, investors who took on the greater risk of investing in Chevron enjoyed a bigger yield and a stronger turnaround. Indeed, there's no free lunch.
Here's Phillips 66's (NYSE:PSX) chart. Apparently, refineries generate higher earnings than the integrated energy companies. This is reflected in Phillips's relatively more stable price chart below.
It fell only about 19% from $83 in 2014 to the 2015 low of $67. Buying in the low would have pocketed you a 30% gain by now while receiving a 3% yield to start.
In 2015 and 2016, Phillips hiked its dividend per share by 12% and 12.5%, respectively. These are some of the best increases in the energy space!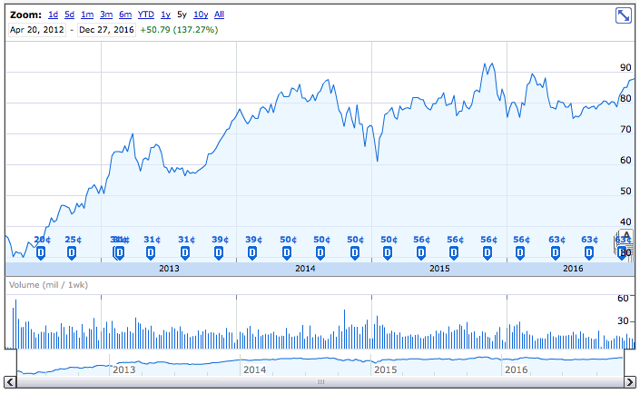 Source: Google Finance - Phillips's price chart
In general, the energy companies are technically overbought. At least, it is the case for Chevron and Phillips.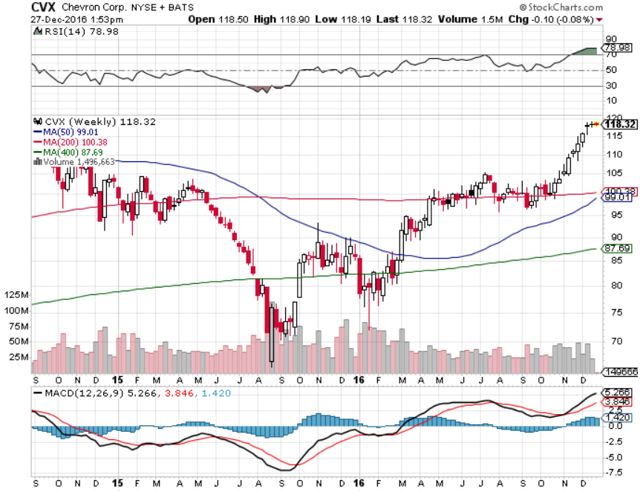 Source: Stockcharts.com - Chevron's weekly chart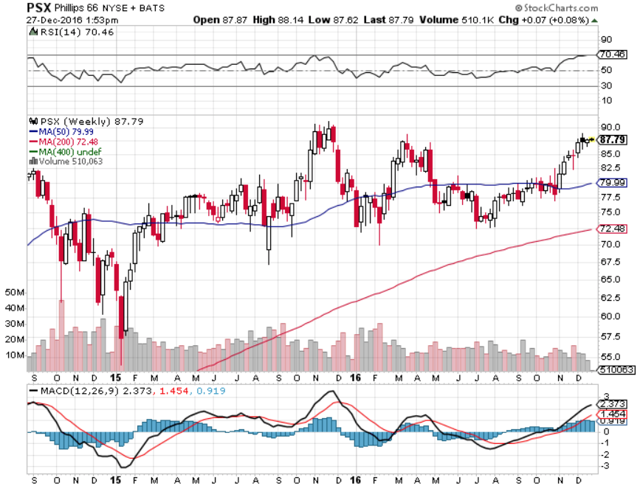 Source: Stockcharts.com - Phillips's weekly chart
To be on the safe side, I sold some Chevron today. Thanks to the dividend, I turned a profit.
Conclusion
Honestly, I have no idea where the WTI oil price will be in the next year. However, some analysts believe it can hit $60. In either case, through the downturn, energy companies have improved the efficiency of their operations and so can take on lower oil prices.
If you're looking for exposure to the energy space and a relatively smooth ride, add Phillips to your watchlist. If you're looking for above-average capital gains, add Chevron to your watchlist.
However, I don't believe now is a good time to buy.
Share your thoughts in the comments below
Where do you think oil will go in the next year?
What are you energy holdings?
Would you buy more today or take some profits?
If you like what you've just read, consider following me. Simply click on the "Follow" link at the top of the page to receive an email notification when I publish a new article.
This article first appeared in my premium service, from which my subscribers get priority attention and gain access to my real-time buys and sales. Feel free to try the service for free for two weeks.
Disclaimer: This article is not financial advice but consists of my opinions and is for educational purposes only. Additionally, the information provided is believed to be accurate but is not guaranteed to be so. Please do your own research and due diligence and consult a financial advisor and or tax professional if necessary before making any investment decisions.
Disclosure: I am/we are long CVX.
I wrote this article myself, and it expresses my own opinions. I am not receiving compensation for it (other than from Seeking Alpha). I have no business relationship with any company whose stock is mentioned in this article.