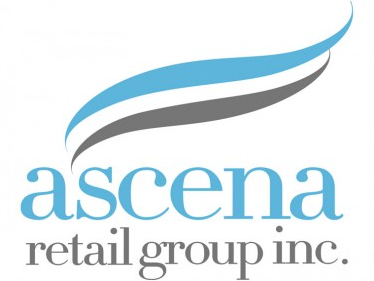 Ascena Retail Group (NASDAQ:ASNA) has certainly had its fair share of challenges in the past couple of years. Waning demand at most of its brands has been tough to overcome and the blockbuster purchase of Ann Taylor (NYSE:ANN) hasn't seemed to help much. As the company's comps have continued to slow, increasing profitability has been difficult to come by and investors have lost faith. With the stock at just 11 times this year's earnings (following the Q1 report,) I still think this one is a pass as there is simply too much risk here.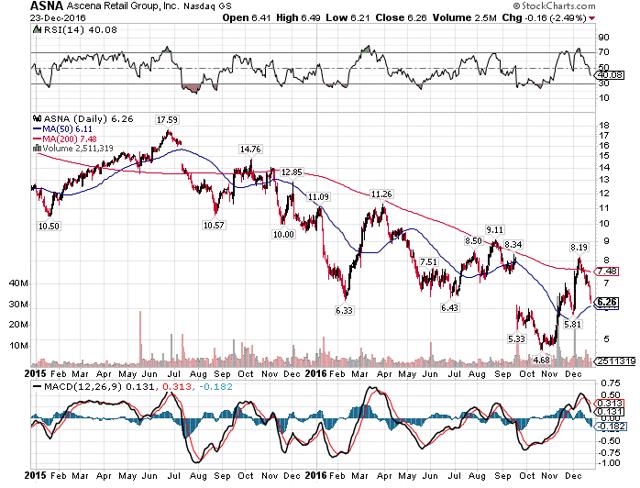 Total revenue was up fractionally in Q1, but that is only because the ANN acquisition was part of the company for the entire Q1 this year and was only part of ASNA for a fraction of last year's Q1. The real story is ASNA's continuously horrendous comp sales that only became worse during the period. This table from the press release does a better job of explaining just how bad ASNA was than I ever could: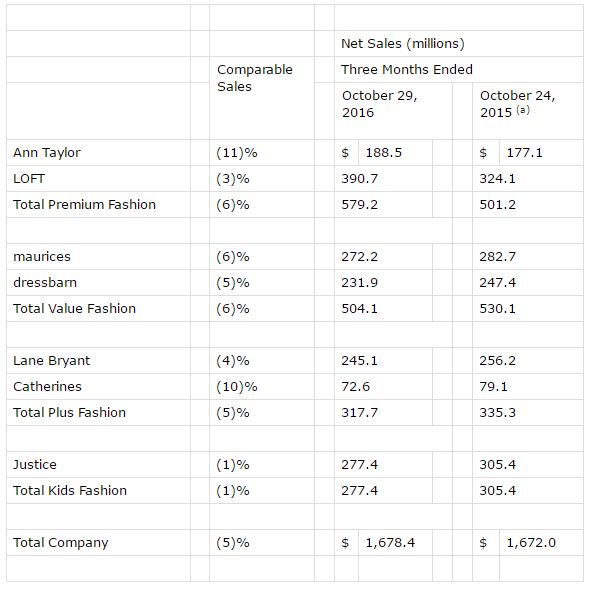 This company has seven different brands and every single one of them was negative in Q1. That is quite extraordinary by itself - and not in a good way - but also consider that weak comps have been a way of life for ASNA for a long time. It isn't like these losses are simply pullbacks from soaring comps of years' past; it is a continued decline and the extension of a period shareholders would surely like to forget.
We know apparel retail isn't exactly the hot place to be right now, as demand wanes across the sector and labor costs continue to rise. But that is no excuse for ASNA to go 0-for-7 with its comps. Even on a consolidated basis, we saw a -5% showing. Management continues to say that traffic is weak and, that discounting and promotions are still very much the "cure" for weak sales; something that hurts margins.
Gross margins were up 640bps on a reported basis, but 620bps of that increase was due to a purchase accounting adjustment in last year's Q1 related to the ANN acquisition. Thus, on an adjusted basis, gross margins were up 20bps Y/Y and, while any improvement is good, ASNA needs more to offset its continuous decline in comp sales. There was weakness due to Maurices, Dressbarn and Justice that was offset by relative strength by the company's other brands but, even with higher promotional activity at these three chains, comps were still negative. Justice, at -1%, was the only one that even came close to flat comps as everything else was -3% or worse. The fact that promotions and discounts weren't enough to get ASNA near flat is alarming to me and makes me think there is no end in sight to the protracted weakness that we've seen.
Store operating costs and SG&A both moved higher as a percentage of revenue due to both a lower store count and lower comp sales. This has been a common problem for ASNA and, although the headline operating margin number was much higher in this year's Q1, it was again due to the purchase accounting adjustment previously mentioned. Without that, operating margins fell on an adjusted basis by a crippling 240bps to 310bps in Q1. ASNA is rapidly approaching the point where its gross profit is equal to its operating costs and, while there is certainly time to fix it, I just don't currently see any evidence that would suggest hope.
Finally, ASNA's crushing debt load becomes a bigger problem every time comps decline. Interest expense was 1.5% of revenue in this year's Q1, against 1.2% last year. While that may not sound like a big difference, on a base of 3%, it makes a huge difference in profitability. ASNA needs every bit of operating profitability it can get, and its nearly $2B pile of debt is making progress all the more difficult.
The stock is going for 11 times this year's earnings as perma-bulls in the analyst community continue to believe in a turnaround. But keep in mind that any turnaround in profitability has to include a turnaround in comps and, right now, I don't know why anyone would believe that is going to happen. The industry is facing sizable headwinds including higher labor costs, oversupply and, let's be honest; ASNA is a bottom-feeder even in good times. That means the odds of ASNA picking it up aren't great to say the least and, if comps don't improve, there is a lot of risk to future earnings estimates.
I also find it very interesting that management has a buyback authorization for well over a tenth of the float and yet, saw fit to use none of it in Q1. If management doesn't think the stock is worth buying, why should you? The ANN acquisition isn't progressing as planned and the rest of the company is a disaster. So for me, ASNA is a sell, even at its current price.
Disclosure: I/we have no positions in any stocks mentioned, and no plans to initiate any positions within the next 72 hours.
I wrote this article myself, and it expresses my own opinions. I am not receiving compensation for it (other than from Seeking Alpha). I have no business relationship with any company whose stock is mentioned in this article.