Thesis
South African sovereign debt offers 9%-10% yields on its 15-, 20-, and 30-year bonds, among the highest in emerging markets, but the economy's various issues and downside risks price these bonds about fairly.
Overview
The South African (NYSEARCA:EZA) economy is one characterized by stagflation, massive levels of unemployment, and a currency that has bled heavily against the US dollar over the past five years as the country has been wracked by political instability at the highest levels. The South African rand fell 25.2% against the dollar in 2015 and 87.3% overall over the 2012-2015 period. However, with the late-2015 replacement of the country's finance minister due to public scandal, and gains made by the opposition party in this year's municipal election, the currency has gained back approximately 10% in 2016.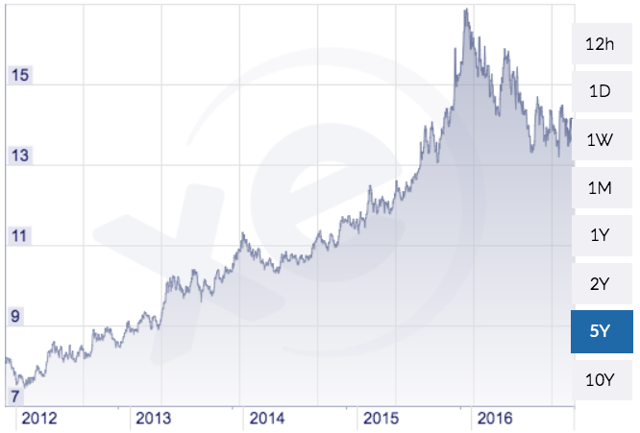 (Source: xe.com)
The commodity price decline from mid-2014 to early-2016 hit the South African economy, as it did with most emerging markets (NYSEARCA:EEM), largely export-driven economies. South Africa depends heavily on its mineral exports to drive economic growth. China's slowing growth trajectory that began earlier this decade has also been a detriment to South Africa given its close trade ties with the country. China represents South Africa's largest trade partner and the amount of business activity exchanged between the two countries has increased approximately 200% in the past eight years.
Meanwhile, with Beijing officials recently mentioning that it no longer intends to target 6.5% annual growth in the years ahead to avoid over-leveraging of the domestic economy. If growth continues to dip down to 6% or sub-6% as expected if China remains more prudent about reining in its credit expansion, this will remain a headwind to South Africa's economy as well.
Internally, the country is beset with plaguing issues regarding outdated infrastructure and poor levels of small business development that precludes a robust level of skill matching in the labor market. Real GDP sits at just 0.7% in year-over-year terms and the jobless rate increased to 27.1% in the third quarter, its highest mark since 2004.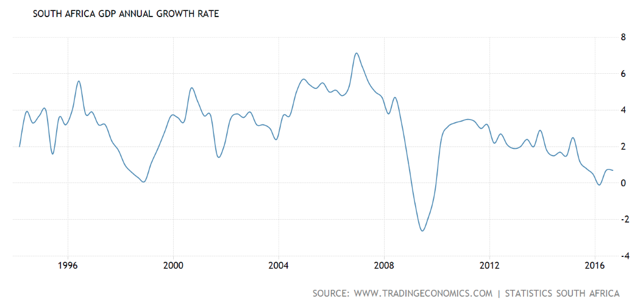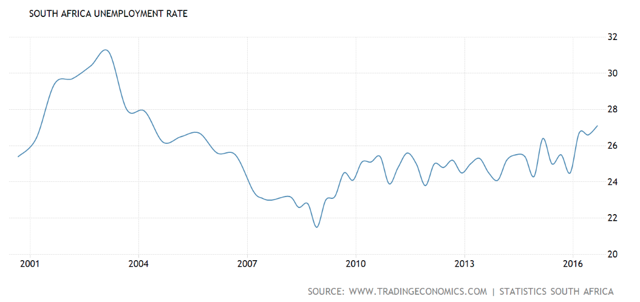 Moreover, despite the level of currency depreciation this decade, South Africa's current account deficit remains one of the highest in emerging markets. The country's current account deficit came to -4.4% of GDP in 2015 and has been volatile historically.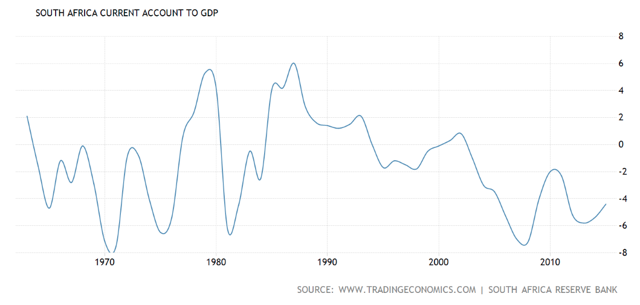 Emerging markets are generally known for their export-driven growth models and the current account deficit is especially curious in the case of South Africa with the country's mineral reserves. All of these notable inefficiencies are working to worsen the plight of meager growth and wealth inequality in the country.
Government debt is also rising as a fraction of GDP. It increased linearly from 2008 onward to a point of 50.1% of GDP by year-end 2015. Each incremental increase worsens credit quality.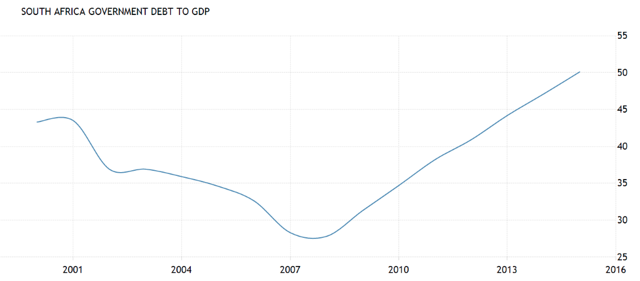 The country's state-owned enterprises are not as financially robust as might be optimal and the country's government budget sat at -4.2% of GDP in 2015 and 2016 will mark its ninth consecutive year of running deficits.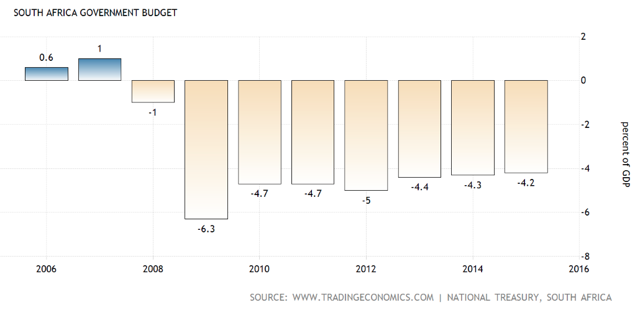 CPI/headline inflation is currently at 6.6% year-over-year, which has strayed beyond the South African Reserve Bank's (SARB) rate of 3-6 percent. Core inflation is a bit lower, as drought has caused higher food prices and inflation is expected to adjust lower to account for more typical climate patterns going forward. The SARB has responded by increasing rates 125 basis points over the last two years (to a 7% overnight rate) to tamp down on the risk associated with higher inflation.
Then again, the bank also has to balance out the fact that real GDP is trending below 1% and is precariously close to recession territory, which higher rates will only serve to exacerbate. High inflation, near-zero growth, and high unemployment is an ogre that is very difficult to fight successfully through standard monetary policy approaches.The underlying macro forces pulling in different directions muddles the decision-making regarding whether to ease or tighten.
Growth over the remainder of the decade is likely to slow hand-in-hand with China's gradual decline. The construction and operation of additional power plants is likely to increase real growth to about the 2% mark by 2020. Nonetheless, the SARB's rate hikes to quell inflation may generate further increases in the jobless rate, which is naturally a detriment to growth. There is some chance the SARB could decide to cut rates in 2017 as inflation expects to run back into the bank's targeted 3-6 percent band. With stable energy/fuel costs and normalized climatic patterns, inflation should hover around the 5%-6% mark in twelve months' time.
Under the three main ratings agencies, S&P and Fitch rate South Africa at BBB- (one notch above speculative grade), with Moody's downgrading in November from Baa1 to Baa2 (two notches above speculative grade).
With subpar macroeconomic metrics and a prime downside risk with its linkage with China, South Africa could be subject to a speculative grade downgrade should even a minor shock enter the economy. Such shocks could come via China, due to tightening global financial conditions, uncertainties regarding the economic and political future of the European Union, growth restraints from potential capital outflows, and/or other domestic fiscal-related channels. A downgrade into speculative territory would further undermine both domestic and foreign confidence in the strength of the South African economy.
The government and its social partners have underscored the need for structural fiscal reforms as a means of creating jobs, generating growth, lowering income inequality, and reducing risk in the system generally. Potential initiatives include increasing privatization of state-owned enterprises to augment their exposure to free-market forces, greater equality in access to higher education, enhanced product market competition, cutting down on public wages, and small business reform to improve the level of skill match in the labor market.
Should these reform efforts fail to work, government officials are likely to enact pro-growth measures (e.g., reduced taxes, deregulation) while ensuring an adequate backdrop of social spending. The SARB is likely to keep rates fairly steady throughout 2017, assuming a relatively stable inflation outlook, just as they have over the past nine months, as it generally takes some amount of time to fully assess the effects of rate increases (or decreases) on various macroeconomic outcomes. Weak growth and low inflation also tend to go hand in hand and also projects to keep inflationary prospects muted.
Valuation
For purposes of this post, I am valuing the South African 20-year bond with maturity on March 31, 2036. At a coupon of 6.25% and price of 70.93, this provides an effective yield of 9.6%.
In my recent post on the Indonesian sovereign debt market, I included a portion on how I work to value sovereign debt. I have reposted the relevant portion below:
When it comes to equities and corporate bonds, I prefer to value on the basis of discounted cash flow. For sovereign debt, median/mean real GDP growth, volatility in real GDP growth, GDP per capita, inflation, inflation volatility, government debt to GDP, government debt to revenue, interest expenses to GDP, interest expenses to revenue, fiscal deficit as a percentage of GDP, current account as a percentage of GDP, public debt to GDP, financial sector capital ratios, financial sector size as a percentage of GDP - roughly in that order - and more qualitative factors, such as the country's level of economic diversification, geopolitical risks, domestic political risks, corruption and quality of its rule of law.

Many of these ratios then bucket into a particular quality rating based on a predetermined range and an adjustable weighting factor system, are collectively assigned an overall rating. Through a database one can determine how often comparable scenarios defaulted in the past based on various time horizons - one-year, five-year, ten-year, etc. One should expect to calculate out an expected default rate until maturity.

From the expected default probability, we can then calculate out an appropriate discount rate that should represent the country-risk premium:

Country-risk premium = probability of default * (1 + 10-year Treasury) / (1 - probability of default)

The ten-year Treasury is used as a global risk-free rate.

(Further theory behind this can be seen in a 1985 paper by Sebastian Edwards.)
For this particular South African bond maturing in March 2036, I calculate about a 9% default rate for this particular security, which calculates out to about a 10% country-risk premium. Based on this particular premium, this provides a fair value of $68.7 versus its current $70.9, leaving the security at around 3% overvalued. The only reason to buy a fairly valued or slightly overvalued debt security is perhaps if the yield is high enough (ideally high-teens or better). But at merely 9%-10% yield, I would almost always pass.
Conclusion
The South African economy is one with many undesirable features, including high unemployment, low growth, high inflation, and badly needed structural measures to extricate the country from its current malaise. The good news is that this situation is compensated by near-10% yields on its 15-year, 20-year, and 30-year bonds. The bad news is that the default risk probability suggests the bond is only around fair valuation, largely stemming from the country's weak growth outlook.
Moreover, without any real foreseeable catalyst on the horizon, there is little reason to buy South African debt in hope of capital appreciation. Current account and fiscal budget deficits remain heavily negative, which pressures the currency and poses a larger credit risk to the sovereign debt. Growth is likely to remain low through the remainder of the decade and rate cuts are unlikely in the near-term until inflation settles back within the SARB's targeted range for likely a multi-month duration. Fiscal reforms are sorely needed, but will likely take years to materialize. All in all, I believe the market has South African sovereign debt appropriately valued.
Disclosure: I/we have no positions in any stocks mentioned, and no plans to initiate any positions within the next 72 hours.
I wrote this article myself, and it expresses my own opinions. I am not receiving compensation for it (other than from Seeking Alpha). I have no business relationship with any company whose stock is mentioned in this article.