Shares of Fitbit (NYSE:FIT) rose sharply off their 52-week lows on Tuesday, 12/27, in response to what may be strong Holiday sales signal. Fitbit has soared to the number 2 spot in Apple's (NASDAQ:AAPL) App Store chart for most downloaded free apps. In the short-run, this surge in app download activity, coupled with a surge in post-Christmas online search interest, strongly implies that Fitbit devices sold well this Holiday season. In the long-run, we think this stock has sustainable annual earnings power of $1 per share, making the current valuation seem attractive. In the big picture, we think today's rally is more than just a head fake.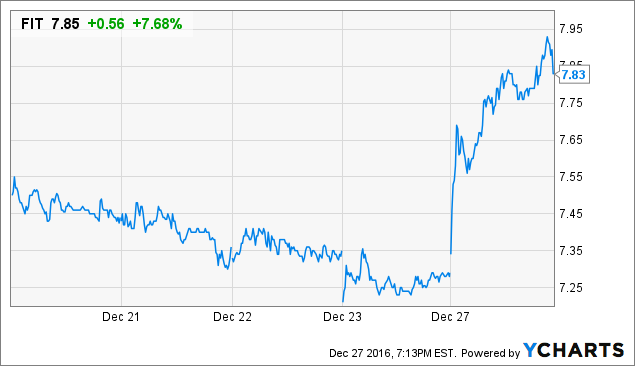 In the short-run, it does look like Fitbit devices were a popular gift this Christmas and that puts the Q4 ER on the map as a potential upside catalyst on the horizon. The surge in Fitbit app download activity, corroborated by a similar surge in Fitbit search interest this past week, is strongly indicative of heavy Fitbit purchase volume in the Holiday season. This runs somewhat counter to an Amazon (NASDAQ:AMZN) press release which left Fitbit out of its top-selling wearables list, but according to Amazon.com, Fitbit devices are the website's top-selling fitness trackers. Fitbit devices are also the top-selling activity trackers on Target, Wal-Mart, and Best Buy's e-commerce channels. All in all, it looks like the company had quite a good Christmas showing.

(Source: TechCrunch)
That is especially good for the stock considering how low the Street estimates are. On the Q3 call, partially due to a pull-forward of revenue from Q4 to Q3 and partially due to a soft outlook on Holiday demand, management set the Q4 revenue outlook substantially below expectations with growth rates considerably below-trend. The Street is sitting slightly above the midpoint of that guide, but it now appears that Holiday demand was strong and that the pull-forward revenue effect may be muted. If so, the 4.3% cons. revenue growth estimate for Q4 looks quite low following up on multiple double-digit revenue growth quarters. This puts the Q4 ER back on the table as a potential near-term upside catalyst.
In the long-run, this stock appears unfairly beaten up and offers good risk-reward asymmetry at these levels. The stock has followed the GoPro (NASDAQ:GPRO) trajectory with a rosy IPO followed by a dramatic and steep fall from grace, but Fitbit management appears to be more on the ball than GoPro management, revenue and unit sales are still growing, and Fitbit has bigger long-term growth levers to pull with enterprise value in healthcare and corporate wellness.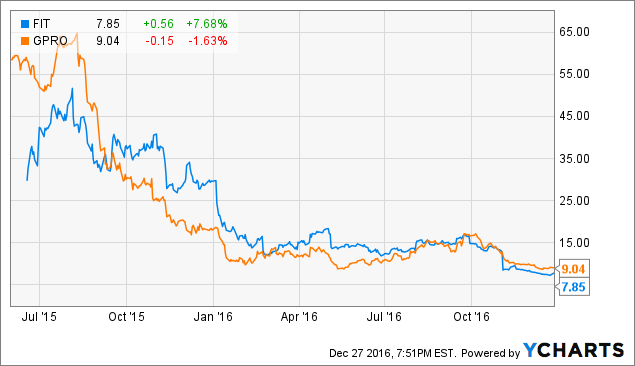 On the consumer front, Fitbit is trying to create a connected fitness network in the gap between health watch owners and fitness enthusiasts, and while management may be overestimating how much of that gap it can fill, there is a certain social aspect to health and fitness which implies more market growth for health watches. It may not be the 46% additional US penetration management implied on the Q3 call, but it very easily could be an additional 10% US penetration, which is another roughly 32 million health watch users in the US (assuming 320 million US population). At the company's current 25% market share, that is another 8 million Fitbit devices on top of a worldwide LTM devices sold base of roughly 24 million. That is pretty good growth, and it largely excludes growth in international markets (while they won't be as big as the US, Europe and APAC are considerably under-penetrated in the wearable tech space), corporate wellness (this could be a huge growth lever because a corporation's incentives of lowering healthcare costs are aligned with Fitbit's incentives of selling more devices), and healthcare (activity tracking and data for patients could prove to be extremely valuable to the healthcare industry).
Overall, we think it is fairly conservative to say Fitbit can grow revenues at a low to mid single-digit CAGR over the next five years, putting revenues in the ballpark of $2.4 billion in 1-2 years. Sticking to the company's long-term expense targets, 45% gross margins (fluctuated between 40% and 50% historically) less a 15% sales & marketing rate (Q3 rate was 15%), 10% research & development rate (company's long-term target versus 14% in Q3), and 3.5% general & administrative rate (company's long-term target versus 5% in Q3) equates to sustainable operating margins around 16.5%. That is annual sustainable operating income of around $400m, or near $260m in net income after a 35% tax rate. On roughly 240 million diluted shares, that is north of $1 in annual, sustainable EPS. We view that as an EPS base in 1-2 years from which the company can grow in the long-term.
At just under $8 per share, the stock looks attractive considering we see the company as having in excess of $1 in annual EPS power. This attractive valuation serves as a backdrop to what looks like was a Holiday sales surge. A confirmation of this demand surge in the Q4 report could turn sentiment around on this stock, and bounce it dramatically higher on a greatly expanded multiple and upwards analyst revisions. We like the stock here, and will buy lower if all else is equal.
Disclosure: I am/we are long FIT, AMZN, AAPL.
I wrote this article myself, and it expresses my own opinions. I am not receiving compensation for it (other than from Seeking Alpha). I have no business relationship with any company whose stock is mentioned in this article.