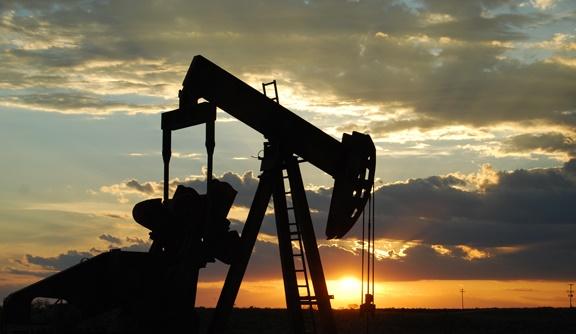 Oil has burst over $50.00 on OPEC news last month of reducing supply, the first formal recognition in years. However forecasts for next year are divided, one camp looking at rising international productivity, and another the historical interest of foreign governments (with budgets to balance), sneaking in higher sales volumes regardless. (Russia has previous 1990's form for cheating). So how can investors position themselves to best advantage, based on such mixed expert opinions, and do the charts shows us anything else worth knowing?
Fracking businesses could also add to supply, and there's the potential for resumption of fracking at over $50/barrel. However this might not happen immediately anyway. Businesses functioning at 'maintenance only' levels, might have to find new employees, and maybe secure additional investment funding too.
A recap on recent OPEC news:
At OPEC's meeting in Vienna, the group announced an output reduction of 1.2 million barrels per day (bpd) by January. The first cut by the group in about eight years, about 40 percent born by Saudi Arabia, while Iraq will reduce by nearly 20 percent.

However 30th November, Iraq agreed to curb supplies by 210,000 barrels a day as of Jan. 1, equivalent to about 4.5 percent of its total production, there's a clear graduation involved in their reduction.

OPEC also released agreements with non-OPEC members including Russia which agreed in principle to cut production by about 300,000 bpd, although some of this could be a natural reduction the market has already anticipated.
Based on the more negative outlook, WTIC could fluctuate between $50 and $60/barrel through 2017, as countries sell into any higher prices, that much is apparent from the oil chart, as interpreted below:
From the positive camp, the IEA has increased their demand growth expectations into Q2 2017, promptly putting 2017 into supply/demand deficit, based on some higher economic activity:
Global oil demand continues to grow until 2040, mostly because of the lack of easy alternatives to oil in road freight, aviation and petrochemicals, according to WEO-2016. However, oil demand from passenger cars declines even as the number of vehicles doubles in the next quarter century, thanks mainly to improvements in efficiency, but also biofuels and rising ownership of electric cars.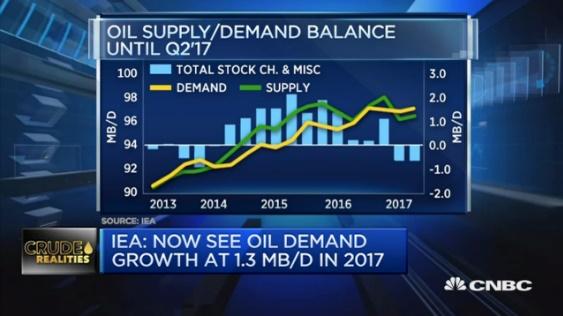 The EIA forecast (US Energy Information Administration) expects:
Brent crude oil prices to average $43 per barrel (NYSE:B) in 2016 and $52/b in 2017. West Texas Intermediate (NYSE:WTI) crude oil prices are forecast to average about $1/b less than Brent prices in 2017. The values of futures and options contracts indicate significant uncertainty in the price outlook. The NYMEX contract values for March 2017 delivery traded during the five-day period ending December 1 suggest that a range from $34/b to $71/b encompasses the market expectation of WTI prices in March 2017 at the 95% confidence level.
Commercial COT positions are a strong indicator of how the market is positioning itself from futures into 2017. In terms of actual trades July 17 futures are trading a high of $56.02, the market is spread as follows:
Source : Barchart.com Crude oil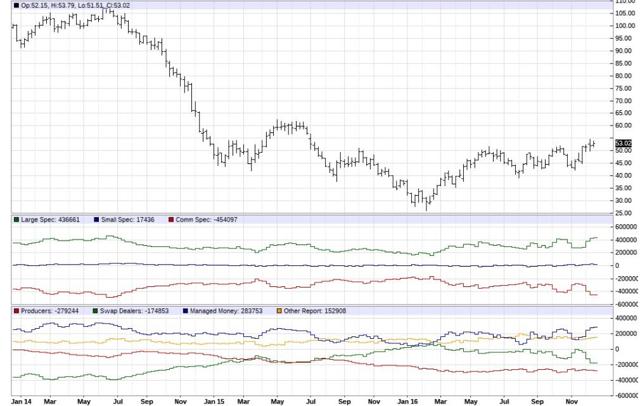 The Commitment of Traders Report
Commercials, consisting of Producer/Merchant/Processor/User and Swap Dealers (Red Line)
Non-Commercials or Large Speculators, consisting of Managed Money and Other Reportables (Green Line)
Small Speculators (Blue Line)
The Commitment of Traders Disaggregated Report
Commercials - Producer/Merchant/Processor/User (Red Line)
Commercials - Swap Dealers (Green Line)
Non-Commercial - Managed Money (Blue Line)
Non-Commercials - Other Reportables (Orange Line)
The USD chart shows a near 'over bought' RSI position, while the fast stochastic is also at the top of the chart. While the USD is very strong, it appears to be trading in what is potentially the last of a sequence of five rising (Elliot) waves, which needs confirmation, but could then result in a correction of the series. The rise has been in expectations of an interest rate rise, which from a sentiment perspective is due a correction, (in December 2015, that was about China and US inventories, but could also be about the reduced earnings of Internationals in early 2017).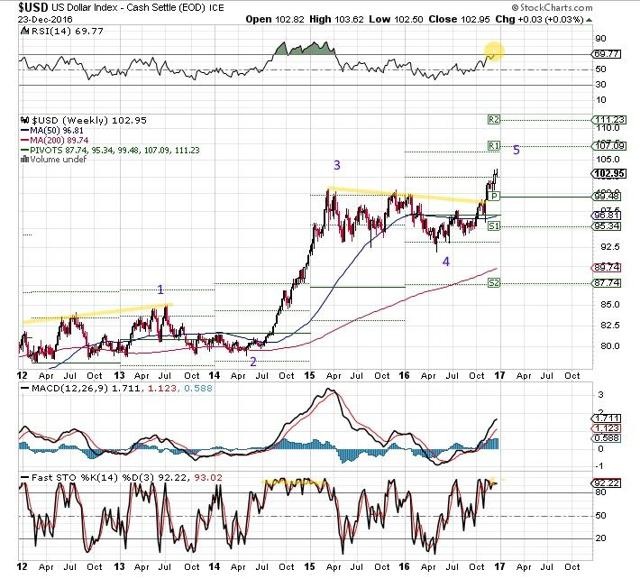 Gold also frequently trades opposite the USD. The weekly over sold RSI usually creates a reversal point, and there are numerous incidences highlighted below. The current low has also combined with a technical support or previous heavy buying level. (This could be a limited bounce however), down side risk should be allowed for.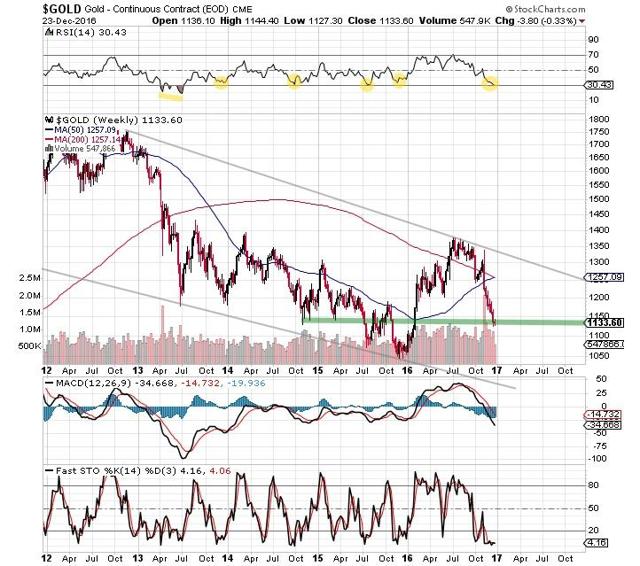 The WTIC chart indicates bullish and bearish scenarios as follows:
To break out of the current trading range, crude has to break over the bullish volume channel illustrated on the RSI. Otherwise with a high on the fast stochastic oscillator, a short term correction is likely. This is a strong season for oil, with the demands of a normal North American and European winter, but from a speculation perspective it wouldn't be unusual to see some short term weakness at the end of the year or into early January.
There is a very tiny rising trend (green)which if broken to the downside could give rise to a test of the rising lower channel, as it meets the deep green support area illustrated, trading close to the 50 moving average. There is some support at $50 which could give rise to trading the highs in the channel rather than the lows, with selling resistance highlighted as a bar in red. However note the length of this channel compared to the January - June rise, and prevailing mixed sentiment.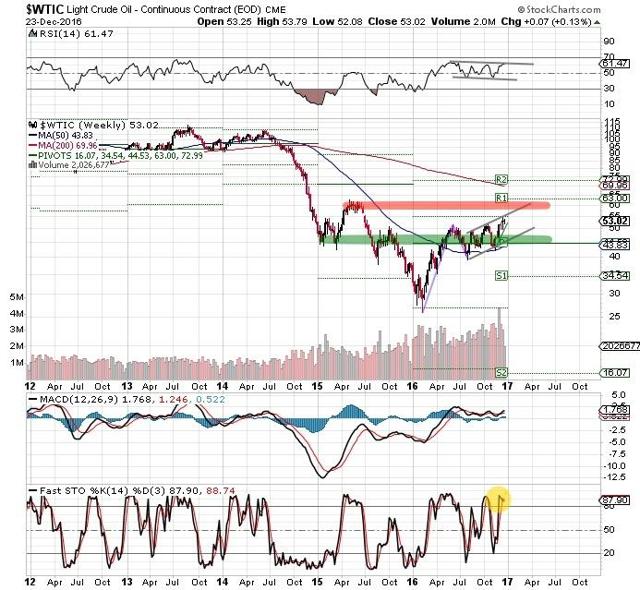 Summary
A trading position needs to allow for either a continuation of the minor green trend line illustrated on the oil chart, or a breakdown which very short term, would give rise to a bounce from the $50 level. Having completed that bounce, and in the more bearish scenario, anticipate the potential for an oscillator correction, to the lower rising trend line (grey), or horizontal green support area, noting the position of the 50ma.
In the more bullish scenario (since the RSI isn't at an extreme over bought level), consider the possibility of a continuation of gold rising from the fine green rising trend line allow oil to hug, or potentially break (lower likelihood), the upper channel range. However the current wave range overall, needs to the same as or longer than the first rise.
Disclosure: I/we have no positions in any stocks mentioned, and no plans to initiate any positions within the next 72 hours.
I wrote this article myself, and it expresses my own opinions. I am not receiving compensation for it (other than from Seeking Alpha). I have no business relationship with any company whose stock is mentioned in this article.