My Ian's Million Fund, "IMF," is a quasi-index fund where I have two main goals. One, beat the S&P 500 over time with my own diversified basket of stocks, while avoiding any ongoing management fees. Two, build a model that my non-investment professional friends can copy. If I didn't have other investments and had $1,000/month to invest, what retirement portfolio would I build to ensure I ended up with a strong solid nest egg? The "IMF" answers that question.
For December, with the benefit of hindsight, it appears I should have made my purchases at the beginning of the month. Markets have steadily moved higher since Trump's victory, with seemingly nothing capable of slowing down the rally.
That said, the average global stock market is flat or down slightly - in dollar terms - meaning that there are still values outside of US stocks. I'd love to buy more American companies, but for now, the values remain overseas. So that's largely where we went this month. I made this month's purchases on December 16th.
The IMF enjoys buying stocks at or near 52-week lows. As you can see, the basket of stocks the IMF purchased this month has underperformed the S&P 500 by 15%(!) since September. Some reversion to the mean may be in order:

Where are these discounts? Mexico remains historically cheap - with its shares again falling following the Fed rate hike. UK stocks continue to offer value. And in general, opportunity lies in countries not using the US dollar as their currency of choice. Here are the 16 stocks purchased this month: 15 are additions to pre-existing positions, and one new position: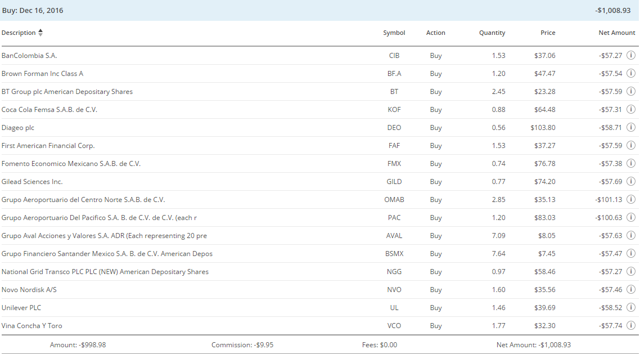 Let's start with British stocks this month. They continue to remain a currency trade, with the British Pound (NYSEARCA:FXB) remaining under pressure: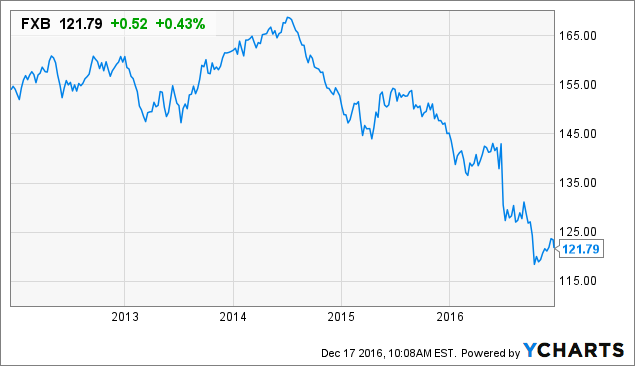 There are no guarantees in life, but generally when you buy major first-world countries' currencies (or associated stocks) at multi-decade lows, good things happen. We may not see above 140 - pre-Brexit levels - in the near future, but even a 10% Pound rebound would provide significant tailwind for British positions.
The new position this month is Unilever (NYSE:UL) (NYSE:UN). I've long wanted to start a position in this in the IMF. However, I'm a patient man - my price objective was $40 or better, and it finally got here this month.
If you like Procter & Gamble (NYSE:PG), but wish it traded at a lower PE ratio and offered a higher dividend yield, then let me present you Unilever. Yielding 3.5%, and with 40 years of continuous dividend growth (as measured in British Pounds), Unilever is a dependable if somewhat slow growing income play now trading at a reasonable price.
Unilever does have nice exposure to faster-growing emerging markets, which should be sufficient to ensure that it can keep modest dividend hikes going for many years to come. As a reminder, US-based investors should usually buy UL rather than UN, as it is taxed more favorably (no withholding tax on UL).
If you want to buy utilities, but find US ones to be too expensive, National Grid (NYSE:NGG), now at 14x forward earnings, stands out as an interesting yield-ier choice with its 5.2% dividend. Similarly, telecom company BT Group (NYSE:BT) remains cheaper than US peers on Brexit concerns.
Finally, Diageo (NYSE:DEO) remains in the sweet spot, with shares available under $105. Despite all the UK and alcohol-negative headlines this year, Diageo continues to trade in a tight range, paying a sizable dividend while we wait for sentiment to finally pick up: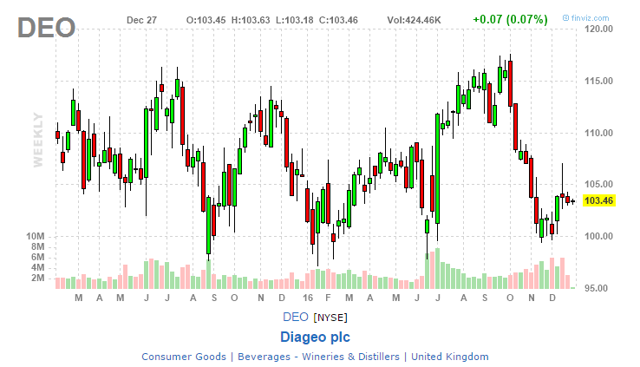 Speaking of liquor, let's move back to the US, where we had three buys this month. If you didn't already see it, make sure to catch my article regarding Brown-Forman (NYSE:BF.A) (NYSE:BF.B). I lay out my buy case for the stock in Brown-Forman: Still Enriching Shareholders.
Switching gears to the title insurers, First American (NYSE:FAF) strikes me as a cheap stock that Wall Street is judging too harshly given what's going on with interest rates. The stock trades at 12x earnings and operates in a regulated industry with only a few meaningful competitors. The yield is also nice. Don't let refi slowdown fears scare you.
Finally, I added to my position in Gilead (NASDAQ:GILD), following the drop on news regarding Gilead's patent dispute with Merck. As a reminder, I don't view Gilead as a slam-dunk long, like many people do. Its business is clearly in decline, and they've offered little to nothing on the M&A and near-term pipeline front to dispel that notion.
That said, the cash flows generated off their existing products is so strong that unless management squanders the money, the majority of potential outcomes favor a long position in Gilead. I see fair value at $85-90, there's not huge upside here despite the sub-7 PE ratio. But as a way to deploy cash to earn a dividend and probably see modest capital gains, Gilead is a reasonable choice sub-$75/share.
Heading south of the border, Mexico remains a top focus. I overweighted the two airport positions this month, adding aggressively into Grupo Aeroportuario del Pacifico (NYSE:PAC) and Grupo Aeroportuario del Centro Norte (NASDAQ:OMAB). PAC and OMAB are now the 2nd and 7th largest IMF holdings respectively following this month's purchases.
Both of these companies continue to put up fantastic growth figures - PAC for example is growing traffic at 15%/year. Trump concerns are deeply overblown, and these stocks - at today's levels - represent top-notch growth & income opportunities, as both pay reasonable starting yields with high dividend growth rates. As a reminder, PAC is safer than OMAB, since OMAB primarily relies on industry/NAFTA related traffic, whereas PAC has a larger tourism component. I posted lengthy PAC coverage this week in Ian's Insider Corner for those interested.
Next up, we have Coca-Cola Femsa (NYSE:KOF). Shares haven't rebounded since the initial Trump victory, leaving this multinational Coca-Cola bottler with a large ex-Mexico business on the cheap.
Shares of Fomento Economico Mexicano (NYSE:FMX) continue to struggle, for related reasons. FMX stock represents three business. FMX owns a controlling stake in Coca-Cola Femsa, a 20% stake in Heineken (OTCQX:HINKF), and its own OXXO convenience store business. Interestingly, shares of Heineken have also gotten blasted this year: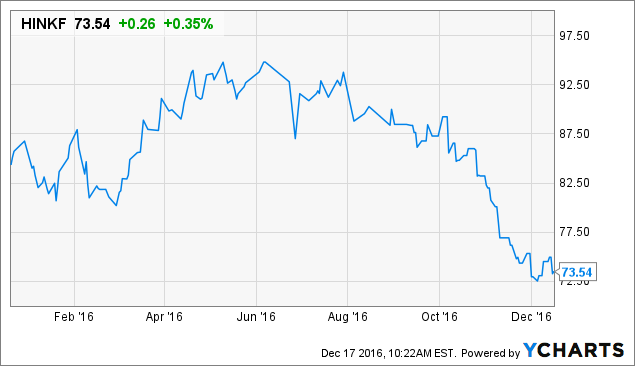 Thus, FMX stock unites cokes, beer, and convenience stores under one roof at a 20% discount since Trump won. The 1.7% yield isn't the main attraction, but it's a decent incentive to keep holding while waiting for its collection of assets to regain market favor.
The IMF has made no secret of its love for US community banks. However, they've run too far to make it easy to allocate more money there now. Thus, to play the rising interest rate/inflation trade globally, it's time to turn to larger foreign banks.
On that note, the IMF picks up more Grupo Financiero Santander (NYSE:BSMX). Santander is the only pureplay Mexican banking operation with a US big board listing. It's one of Mexico's stronger banking operations, and continue to generate steady 1.3% ROA and 13% ROEs despite the economic slowdown.
The company earned $1/share in brighter times - a return to that level would leave the stock at 7x earnings. Even with today's beaten-down Peso, Santander is still at just 12x earnings and pays a reasonable yield. If you're bullish on Mexico, Santander is a strong option today.
Similarly, despite their strong year-to-date gains, Colombia's Bancolombia (NYSE:CIB) and Grupo Aval (NYSE:AVAL) remain strong international banking choices, particularly with the post-Trump selloff. Yes, I know Bancolombia in particular was at 7x earnings and 0.9x book earlier this year. So 11x earnings and 1.4x book isn't as great a deal today. That said, it's still a fine price to pay for a bank that will grow at compounded 12-15% rates over the next decade or two.
In Chile, it's time to pick up more winemaker Vina Concha Y Toro (NYSE:VCO). I called buy on it a year ago at $30/share. After a 20% rally, shares have again dipped, hit by currency headwinds and a less-than-ideal harvest season. With that, shares are again quite cheap. In fact, as fellow SA author Cashman notes, on an EV/EBITDA basis, the company has never been cheaper: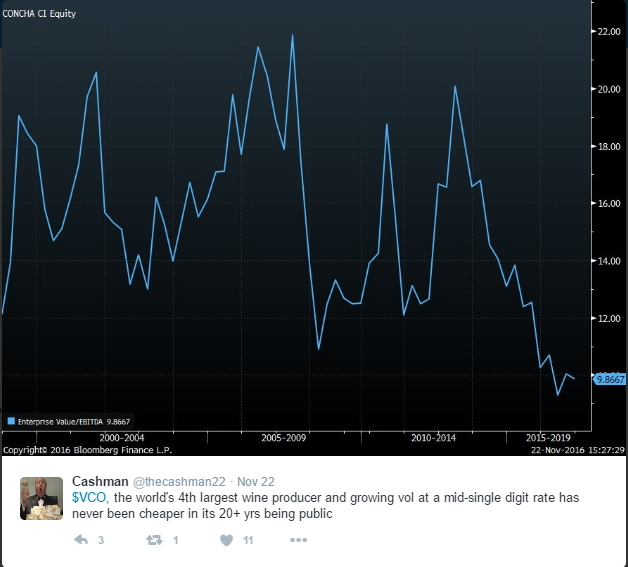 Tens of thousands of acres of prime agricultural land, a growing business under 20x earnings, and a respectable dividend yield - a nice tidy inflation hedge with a real shot at appreciating 50% over the next couple of years as it heads back to its normal valuation range.
And finally, to wrap up the month, we circle back to Europe to pick up more shares of Novo Nordisk (NYSE:NVO). The diabetes leader has bounced off the lows, but shares remain deeply discounted on the year: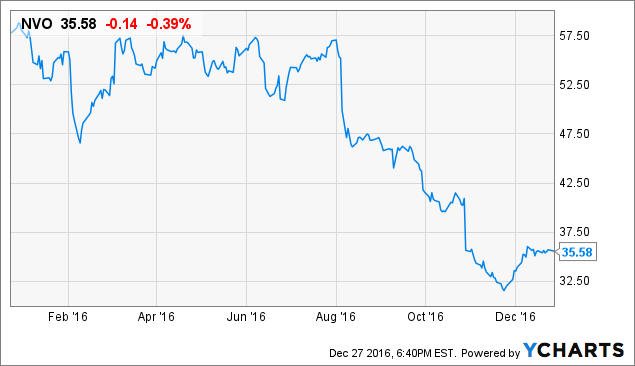 Disclosure: I am/we are long ALL STOCKS IN THE TABLE.
I wrote this article myself, and it expresses my own opinions. I am not receiving compensation for it (other than from Seeking Alpha). I have no business relationship with any company whose stock is mentioned in this article.
Editor's Note: This article discusses one or more securities that do not trade on a major U.S. exchange. Please be aware of the risks associated with these stocks.