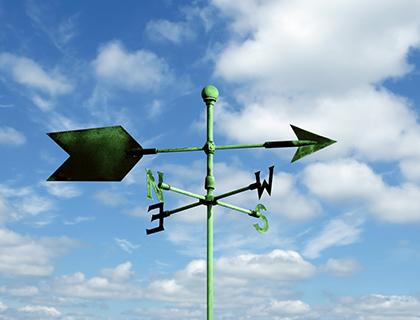 Source: http://www.nasdaq.com/article/cio-roundtable-nothing-endures-but-change-cm723574
The coming year is very likely to contain as many thrills and spills as were seen in the tumultuous calendar of 2016. In fact, despite the near-universal happy talk we see in global markets right now, I believe that 2017 will prove to be an annus horribilis somewhat like other post-election years when Republicans swept into power (e.g., 1981, 2001). This is hardly a surprise given the state of our affairs heading into the New Year, but the financial media and Wall Street will be shocked, if the current consensus for continued smooth sailing (markets ever upward) is any guide. Never have we witnessed such obviously over-the-top enthusiasm after an election, and I imagine that the shock to the markets will be profound when they again see how the sausage gets made in Washington. However, before we delve into the gory details of what may be coming down the road, a short review of 2016's predictions and events may be in order.
I wrote a similar article a year ago, and it is both relevant and mildly amusing to look back and see how those predictions worked out. Back then I predicted markets would soon experience a significant correction, and although such an outcome would hardly have been surprising, one did in fact occur in January and February. Unfortunately I also predicted that deflationary trends would be prolonged and that the Fed would try some new experiment, but fortunately I was wrong about this one. I also suggested that bond investors would have a very good year in 2016. Well, they did, but it was over by mid-summer, and since then a huge sell-off has transpired. So score me a half-credit on that one. I further suggested that the US dollar rally would stall out, and it did until it hit an intermediate bottom in May. Since then it has rallied strongly again, so only a half-credit can be scored on that one. Just to prove my fallibility, I also predicted a commodity slump, but that clearly was wrong, as oil and other commodities rallied strongly after reaching extreme lows in February.
I did predict that Japanese stocks would outperform, and they have indeed done that in 2016. I further predicted that gold prices would rally strongly, and they did in fact soar by some 30% to a recent peak of around 1375 in August, but have fallen off steeply since then, reducing the annual gain to only about 7%. Still I think I can count that one in my win column. Dividend-growth stocks were expected to outperform in 2016, but I would say they only held their own and did not outperform, so I was wrong on that one. In another prediction I suggested that the "ACA" (Obamacare) would run into big trouble in 2016, and it seems to me that it did just that. However, my suggested trades (long hospital networks and short insurers) were pretty much disasters. So maybe I get one-third credit on this one. Finally, I suggested that the war on ISIS would fail miserably in the short run, that Iran would violate the terms of its nuclear agreement (which it never signed anyway), and that a nuclear arms race might ensue. The first and third of these appear to be correct, based on media reports, but the UN claims that Iran is in compliance. I was right that defense stocks would do very well. So perhaps score me two-thirds credit for this last set of predictions. All in all then, I was correct or partially correct on about 50% of my predictions last year, no better than a coin toss (but still fun and profitable in my opinion).
Now we can consider what might happen in 2017. We again have our own take on things, and we think some of the themes we've identified may be of interest to investors. On a macro level, the developing economies of the world are facing a dire crisis involving capital flight due to the recently rising dollar and a credit crunch of sorts due to massive debt. At the same time, the developed or advanced economies of the world, especially the European Union, Japan and the US, are still facing long-term deflationary pressures, the probable end of the credit cycle, problems with banks, and sovereign debt issues. Monetary policy in all of these countries except the US remains strongly expansionary, in spite of the fact that the U.S. Federal Reserve just raised rates for the second time this cycle.
Major economic players like Russia, Italy, Brazil and Japan are recovering from, or worse, continuing to suffer from recent recessions. China is a special case but appears to be on an economic downtrend that has not yet hit bottom. A mild form of currency war is still ongoing, with the Chinese yuan falling by almost 9% since July of 2015, the British pound sterling down about 16% since the Brexit vote in June, the Japanese yen down about 17% since the August high, and the euro down almost 10% since the May high. So far, this still seems to me like a slow-motion replay of the financial crisis of 1998; however, we still believe that there is more risk of contagion this time around. Private and public debt are still extremely high by any measure in much of the world; US corporate debt is either about the highest ever (Jesse Felder, 2016; http://businessinsider.com/us-corporate-valuations-match-dotcom-peak-2016-12), or the highest in 30 years (Merrill Lynch data, as reported in Barron's, 12/12/2016), depending on how it's measured. This overhanging debt problem will turn out to be one of the most important features of economic macro trends in 2017.
Will the currency war degrade into the equivalent of the financial crisis of 1998? That probably depends on China and Italy, both of which look very weak, but both still capable of kicking the can down the road one more time. Either way we are convinced that markets will remain volatile around the world in 2017, in part due to the economic stress and policy uncertainty prevailing around the world, in part due to the debt overhang, and in part due to rising nationalism in many countries. It will again likely be another interesting (and demanding) year for investors. What follows is a list and brief explanation of each of the ten themes we've identified for 2017. Please note that there is considerable uncertainty surrounding most of the themes on the list.
1. Investors will experience a major market correction in 1Q/2017 and should begin to act defensively soon. This will occur because as I write this, US equity markets are overbought, over-bullish, and over-valued, with yields rising sharply. Investor sentiment is extremely optimistic and cash flows to risk assets have been enormous recently. Given low operational liquidity in bond markets, a credit crisis is possible. If the Treasury yield curve actually rises above the range of 2.75% to 3.00% for the 10-year, markets will be hit hard in 2017. Multiple expansion is quite unlikely in a rising rate environment, so markets will need to see substantial earnings growth to continue much higher. Finally, risk tolerance has come down in spite of the strong rally since the election, based on deteriorating market internals (John Hussman, 2016; http://hussmanfunds.com/wmc/wmc161219.htm). This all suggests that a sharp correction lies in our path in 1Q/2017. Long/short funds make a lot of sense here, and we favor those with good track records, such as Diamond Hill Long/Short Fund (MUTF:DHLSX), AQR Long/Short Equity Fund (MUTF:QLENX), and Otter Creek Long/Short Fund (MUTF:OTCRX).
2. Replacement of central bank driven stimulus by fiscal stimulus will continue to transform markets, but the Trump fiscal stimulus will come too late to make an actual difference to the economy in 2017. This will be because there are lags in getting legislation passed, and lags in getting infrastructure projects started, and finally there are lags in seeing the economic impact of such projects. One good thing though: much of the funding will come from private sources that do not drive the federal debt up.
3. Massive tax reform will provide a delayed and weaker than expected stimulus no sooner than 1H/2018. This is because the Republicans will seek to obtain a consensus on tax reform, and will want substantial bipartisan support for it, which will consume lots of time. However, government regulations will be aggressively rolled back throughout 2017 and beyond, via executive orders and administrative decisions.
4. A mild inflation shock will set in as the Fed falls behind the curve, then plays catch-up, while stimulus effects arrive later than expected (Will Martin, 2016; http://www.businessinsider.com/what-to-expect-from-the-economy-in-2017-2016-12/#inflation-in-the-usa-will-shape-global-discourse-10). As a result, a mild form of stagflation sets in by late 2017, and at long last, a recession begins in late 2017 or early 2018. We favor the I-Shares TIPS Bond Fund (NYSEARCA:TIP) and the Lord Abbott Inflation Focused Fund (MUTF:LIFIX) early on, but if a recession begins, we would buy some longer Treasuries like the I-Shares 20+ Yr. Treasury Bond Fund (NYSEARCA:TLT) and the Vanguard Intermediate Term Bond Fund (NYSEARCA:BIV).
5. The bond market sell-off will pause during the equity correction in 1Q/2017, but then yields will soar as the later inflation shock hits; however, the onset of a recession late in 2017 or early in 2018 will reverse much of the bond sell-off temporarily. High-yield bonds will finally sell off dramatically as the credit cycle ends later in the year.
6. The US dollar rally will peter out, but the dollar will not fall back very much until 2018. Oil and other commodity prices will continue to rally in 1H/2017, but by spring the surge will "run out of energy." Gold will rally during equity market corrections in 2017, but will do little until the stagflation theme becomes widely accepted.
7. Healthcare reform will be somewhat muted and will require three years to be fully implemented. Phasing in the changes will prevent the loss of coverage for the millions who have benefited from the new healthcare law. Changes to the ACA will still positively impact many others through reduced insurance cost growth.
8. Japanese stocks will continue to benefit from the weak yen in 1H/2017; European stocks will outperform US stocks in 1H/2017; EM stocks will continue to under-perform US stocks in 1H/2017, but may do better as the dollar stabilizes later in the year. We favor the WisdomTree Europe Hedged Equity Fund (NYSEARCA:HEDJ), and the WisdomTree Japan Hedged Equity Fund (NYSEARCA:DXJ).
9. Crises in China, Italy, and the UK will help set up a potential global financial crisis and cause the onset of recession in late 2017 to early 2018. It is hard to say which of these will prove the catalyst, but I would put my money on the Italians, who have many good reasons to resent the euro and its problems, and whose banks are already teetering on the brink of catastrophe. Gold will probably do very well if this scenario comes to pass. We would hold the I-Shares Gold Trust (NYSEARCA:IAU) and the Van Eck Vectors Gold Miners ETF (NYSEARCA:GDX).
10. The risk of a war with China will become a topic of conversation in political and defense circles, but it will be avoided as a result of negotiations with the US and its partners. Nevertheless, we still favor defense stocks, which may continue to do well going forward, but I am still wary of the stocks (LMT, GD, NOC) that are associated with very large weapons programs with big cost over-runs. I think Mr. Trump will be cutting back on many of these expensive programs in the near future. More economical weapons systems may be preferred, which suggests that standard equipment suppliers (RTN, BA, HON, COL, etc.) will do better than those supplying various extremely expensive weapons systems like the F-35 fighter, which Mr. Trump has recently criticized.
Disclosure: I am/we are long QLENX, OTCRX, TIP, LIFIX, BIV, HEDJ.
I wrote this article myself, and it expresses my own opinions. I am not receiving compensation for it (other than from Seeking Alpha). I have no business relationship with any company whose stock is mentioned in this article.
Additional disclosure: Disclaimer: This article is intended to provide information to interested parties. As I have no knowledge of individual investor circumstances, goals, and/or portfolio concentration or diversification, readers are expected to complete their own due diligence before purchasing any stocks or other securities mentioned or recommended. This post is illustrative and educational and is not a specific recommendation or an offer of products or services. Past performance is not an indicator of future performance.