On Oct. 24, 2016, I wrote up and recommended shares of Northern Dynasty (NYSEMKT:NAK), as my then best speculative idea. On that day, shares were trading at $0.74. Today, shares hit $2.50 per share.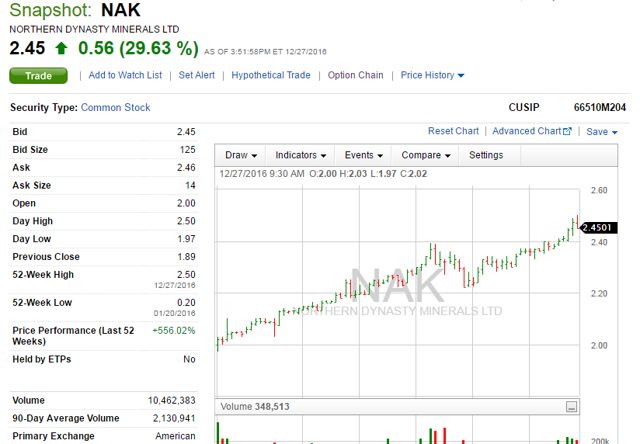 Source: Fidelity
Some of my longtime Seeking Alpha followers understood my logic/thesis and bought shares in the mid-70-cent/share range. From the time of initial writing to today's high water mark, investors still long the name have made upwards of 230% on their original investment.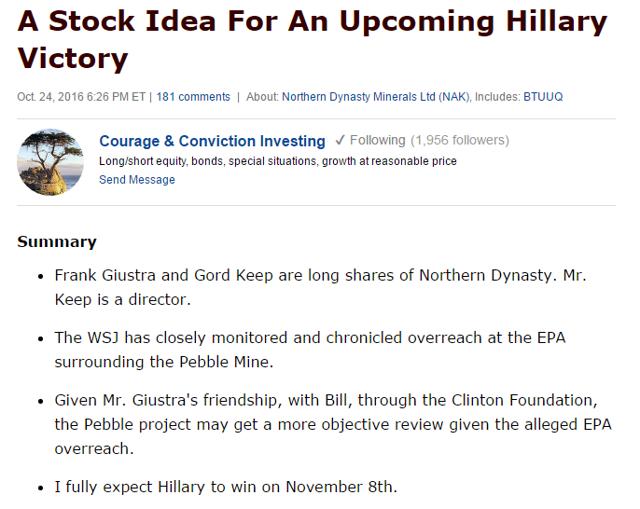 Although I and nearly every pundit on the planet incorrectly forecast a Hillary victory, my thesis was essentially that Mr. Obama's departure from the White House combined with the well-chronicled EPA overreach could lead to the EPA preemptive veto being thrown out. Lo and behold, a Trump victory, unsurprisingly, turned out to be an even better catalyst for management to present its case of the unlawful EPA actions. Despite getting Hillary's win wrong, the NAK thesis has played out.
However, with roughly 342 million fully diluted shares outstanding, at $2.45 per share, NAK's market capitalization now stands at $837 million. Based on this valuation, I am suggesting it is wise for investors to take some chips off the table as the easy money has been. Frankly, I am a bit surprised at how far shares have run given that Mr. Trump's well known policies views and his EPA pick of Scott Pruitt already well publicized. Moreover, here is a direct quote from NAK's president, made on Dec. 21, 2016, in this Reuters article, which suggests this news is fully priced in:
Ronald Thiessen, chief executive officer and president of Northern Dynasty Minerals Ltd, said he expected the U.S. Environmental Protection Agency to announce in the first quarter of 2017 that it will let the application process proceed for the controversial project. He said the company has held discussions with Trump's transition team, including Myron Ebell, who heads the EPA transition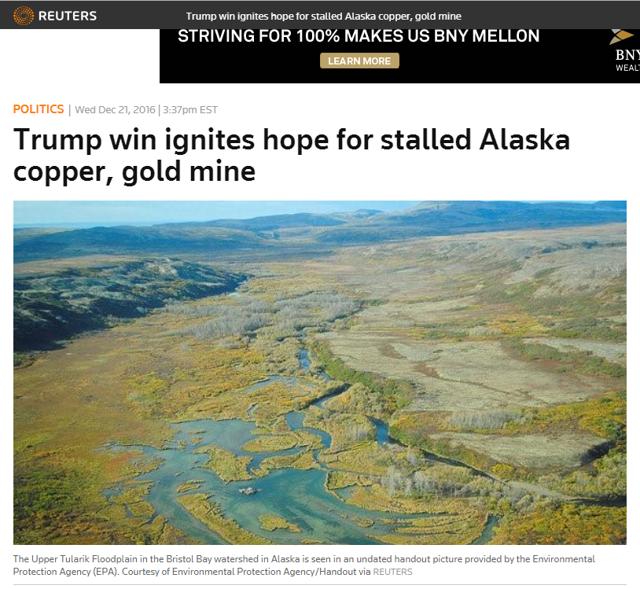 Finally, investors need to realize that the EPA preemptive veto getting thrown out simply means that the company can file for permits. This doesn't mean the project will be permitted, it simply means the permitting process can begin.
Enclosed below is a slide from NAK's November 2016 investor slide deck. Even according to management's estimates, the company is three to four years away from a final permitting decision. In the meantime, NAK doesn't have any cash on its balance sheet and the permitting process hurdles will be very steep, so I don't think they will find a partner like Anglo American to foot the bill for a 50% project stake. Additionally, an outright sale after the EPA preemptive veto gets thrown out is also unlikely, as I'm not sure how many companies with deep pockets to fund the capex for Pebble will want to 1) write a check for $837 million plus, and 2) attract the significant negative political scrutiny of the press, who we know will be well funded by wealthy environmental groups.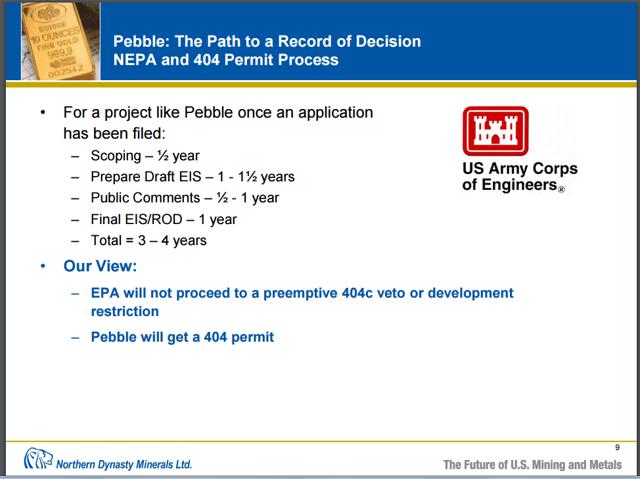 Again, congratulations to my Seeking Alpha followers that made a lot of money on this idea. I would take my chips off the table.
Disclosure: I/we have no positions in any stocks mentioned, and no plans to initiate any positions within the next 72 hours.
I wrote this article myself, and it expresses my own opinions. I am not receiving compensation for it (other than from Seeking Alpha). I have no business relationship with any company whose stock is mentioned in this article.