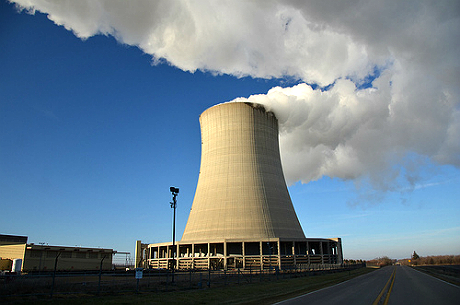 In January 2016 uranium was one of the top picks for the year, and with crude oil on a 2009 low, it looked as though energy was the contrarian place to be. With concerns about the Fukishima disaster still lingering though, uranium probably hasn't received the favoritism of either precious metals or crude, and low uranium prices over an extended time, can also create risk in holding individual miners stocks.
However sometimes 'poor sentiment' creates opportunity, providing risk can be reduced as much as feasible. Interested investors could position themselves for a reduced risk entry, by considering the 26 company managed spread of the Global X Uranium ETF (NYSEARCA:URA), while looking for an acceptable entry point. The seasonally stronger months of January and February, could create that opportunity.
URA Market Positioning
URA aims to position itself against the performance of the uranium miners index:
To provide investment results that correspond generally to the price and yield performance, before fees and expenses, of the Solactive Global Uranium Total Return Index.
The Solactive Global Uranium Total Return Index:
Tracks the price movements in shares of companies which are active in the uranium mining industry. A maximum of 40 components are included which are weighted according to free float market capitalization. The Index is calculated as a total return index and published in USD. The composition of the index is ordinarily adjusted twice a year.
Their fact sheet was last updated 26.12.2016
ISIN/WKN DE000SLA0UR5/SLA0UR Bloomberg/Reuters SOLURA Index/.SOLURA
Uranium Growth in Demand
In terms of supply/demand potential, the industry in Europe and especially China seems reasonably healthy.
Nuclear Power Europe - Growth
As of November 2016 there's a total of 186 nuclear power plant units with an installed electric net capacity of 163,685 MWe in operation in Europe (five there of in the Asian part of the Russian Federation), 15 units with an electric net capacity 13.696 MWe were under construction in six countries.
Nuclear Power China - Growth
The World Nuclear Association recently reported that China is in the process of building 22 nuclear reactors. This will add to the 32 existing reactors already in use. Even more are in the planning stages. China aims to have 8%-10% of its electricity needs supplied by nuclear power, compared with the current level of 2% by 2030.
Within the mining sector, many junior companies have been struggling for survival with uranium prices having been depressed for a long time, and still at a comparably low level, also, there's always the risk of ongoing debt and dilution issues, so caution is warranted. From that perspective, the ETF is worth considering.
URA Seasonality
Also, as described in 'The Chart Technician', uranium mining is seasonal, and some of the best months for an investment return from the ETF URA, are most likely January and February.
According to this chart, September marks the end of worse period for URA ETF, and October to Feb. have the best (both inclusive) period. Probabilities in October for a 1.2% gain is only 20% which is poor. Feb. as well as Jan. are the highest probability months over a 6 year period, with Jan. 6.4% and Feb.3.4%. Feb. marking the end of the bullish seasonality.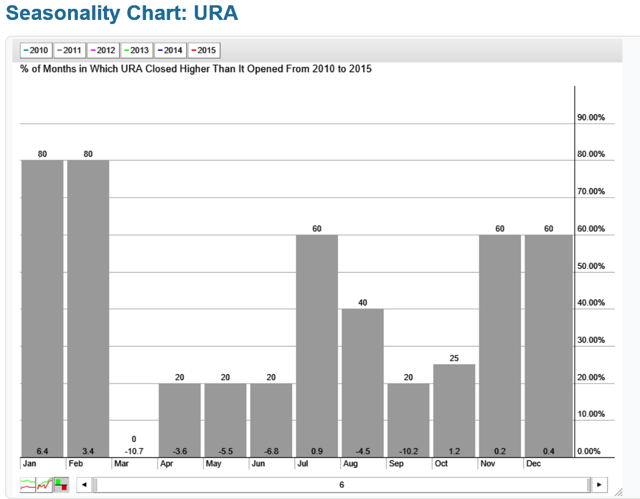 However as mentioned, seasonality is one thing, there still has to be supportive technical charts.
Global X Uranium ETF
This chart (below) is becoming medium term bullish, the late 2016 correction low producing another test of what now looks like the January and February bottom. This is effectively the wave 2 correction of what is usually a series of five Elliot waves. The second wave needs to be at least the rise of wave 1 (to the March/April high), and is usually at 38 per cent or more in the next leg. This chart illustrates a clear break out from the red correction trend line of 2016, and on volume.
Short term a mini correction is underway, which doesn't appear to be complete. There is some support from the April falling red trend line, but the more significant is the green rising base line from the October low. If URA corrects further with the volume oscillators, a bullish scenario could still continue if that trend line failed, with the next band of support from about $12.60 down. However given the season, extreme lows seem unlikely.
Alternatively a bullish scenario from here would need to take out the highs of the last two weekly candlesticks, (which I have drawn as a second and short falling red trend line), and continue the minute volume spurt apparent on the RSI.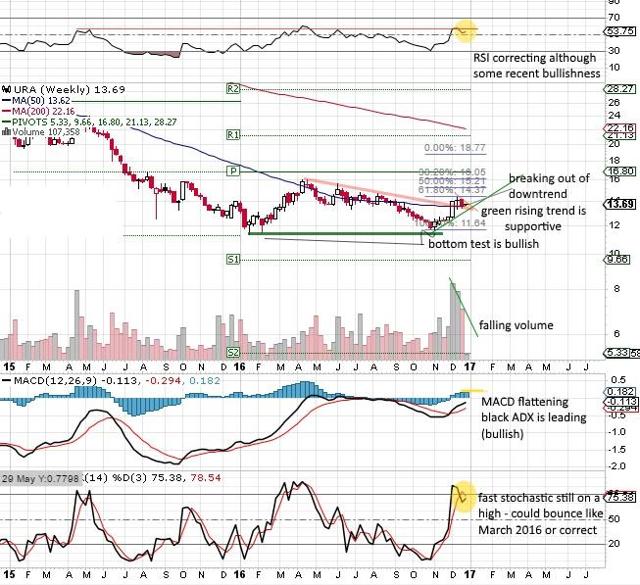 In summary, the ETF spreads investment risk over a number of miners, which should benefit from seasonally strong winter prices. The ETF chart shows a longer term bullish trend developing, with a very good chance of higher prices being created over the next few months, albeit some short term initial weakness is possible immediately.
Bear in mind that the Fibonacci 38 percent expansion high illustrated is approximate, and can't be considered an absolute price target. Waves are inclined to fluctuate in time as well as price.
Disclosure: I/we have no positions in any stocks mentioned, and no plans to initiate any positions within the next 72 hours.
I wrote this article myself, and it expresses my own opinions. I am not receiving compensation for it (other than from Seeking Alpha). I have no business relationship with any company whose stock is mentioned in this article.