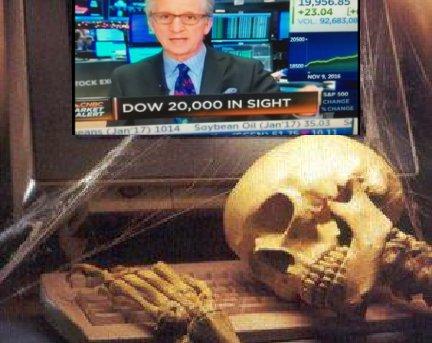 Yawn!
Come on Dow, we already bought the hats. It's going to be tough going higher this morning unless the Dollar calms down - it's already up half a point at 103.45 but it is possible they are ramming the Dollar higher, pre-market, so they can take it back down later, when they need that final push to get the Dow over the hump. As I said yesterday, it does not look good for the bulls if we can't wear our Dow 20,000 hats on New Year's eve and the Banksters want to close out the year with that nice headline print so expect all sorts of shenanigans over the next 3 days.
At this point, we have stupid gains from our Nov 30th bullish hedge on the Dow and, since we don't really believe in this rally, I'd say it's time to get it off the table while there are still suckers buyers left to take them off our hands. Our trade idea was:
HOWEVER, we could be (and have been) very wrong about the Russell and, if so and it heads higher still, then it's the other indexes that should be catching up so we can hedge our hedges with long positions on the Dow, S&P and Nasdaq. For example, the Dow ETF (NYSEARCA:DIA) is at $190 so a 5% move in the Dow would be $199.50 and we can make the following play to gain leverage:

Buy 30 DIA March $188 calls at $6.70 ($20,100)
Sell 30 DIA March $193 calls at $3.75 ($11,250)
Sell 5 AAPL 2019 $97.50 puts for $10 ($5,000)

This spread requires a net cash outlay of $3,750 and the spread pays $15,000 back if the Dow even squeaks higher into March expiration (17th) and you can use any stock for an offset but Apple (NASDAQ:AAPL) is a major Dow component and makes a very desirable buy at $97.50 and the margin on 5 short puts is just $5,000 - so it's a very efficient trade that profits $16,250 (433%) if the Dow goes up 2.5% - good deal, right?
At yesterday's close, the March $188 calls had almost doubled, to $12.60 and the $193 calls are $8.50 so net $4.10 x 30 contracts is $12,300. I'm for cashing those in as we're netting back an $8,550 return on cash (228%) in just one month and, since we REALLY do want to own 500 shares of AAPL for $97.50 (now $117.26) - it doesn't harm us to leave the short puts open. If you want to close that leg too, the AAPL 2019 $97.50 puts are now $8.60 x 5 contracts is $4,300 so $12,300 - $4,300 is $8,000 back on our $3,750 investment and that's up $4,250 (113%), which is not bad for a month's "work", right?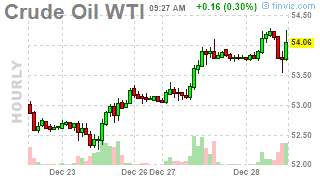 In our Live Member Chat Room this morning, we took advantage of the rising Dollar to call a short on Oil Futures (/CL) as it comes back below the $54 line with very tight stops above and we're just looking for a small pullback of maybe 0.50 (+$500 per contract) to match the rise of the Dollars that oil is priced in. The OPEC production cut officially goes into effect on Sunday so this isn't the best week to short oil - this is just a technical short for a quick trade.
We officially announced our Stock of the Year for 2017 and it's Silver Wheaton (SLW) and we sent our a Top Trade Alert to our PSW Members as well as to our Options Opportunity Portfolio Members over at Seeking Alpha. Signs of inflation are rising all over the World and the only reason the US isn't really seeing it is because our currency is so strong. At some point that will normalize a bit and metals should rise. Also, there's an immense capital flight out of China and look what it's already doing to the BitCoin market: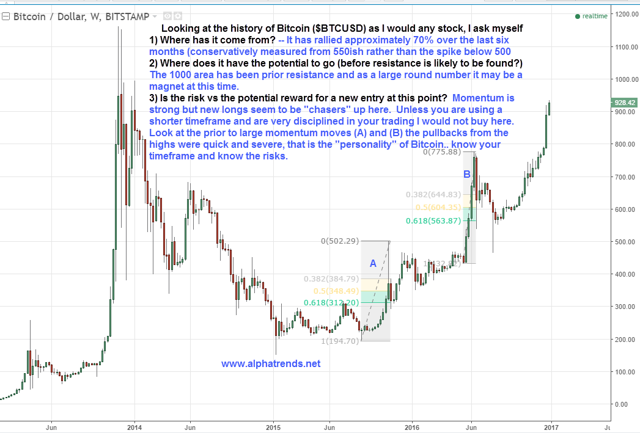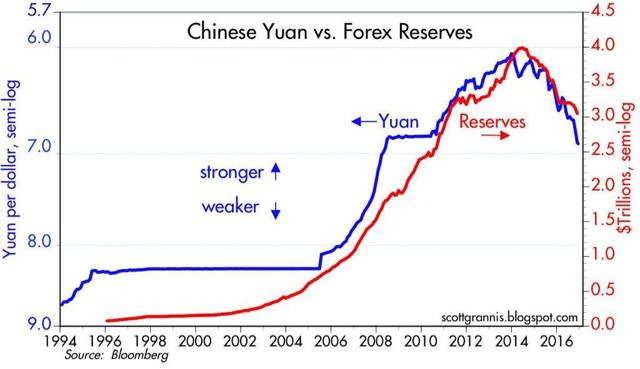 As you can see from this other chart, the Yuan has been collapsing since 2014 on massive outflows and China has tried various methods to put the brakes on the capital flight, but to little avail so far. This is horribly destabilizing and it gives me 2007 flashbacks as I was ranting and raving that China troubles (different ones) mattered back then but no one believed it until Northern Rock (NYSE:NRK) went bust in Europe and suddenly it WAS a crisis.
That's how bubbles are, people keep running in until they pop and then they seem very surprised that it popped. We have a Dow spread above that made 113% in less than 30 days - are you really going to be surprised if we can't do that 12 months in a row. What if it were possible to make 12 x 113 = 1,356% per year? It might be fun for you but inflation would quickly catch up and Starbucks would have to charge you $500 for a latte.
Consumers (retail investors) have never been more confident that the market would go higher and when have they ever been wrong?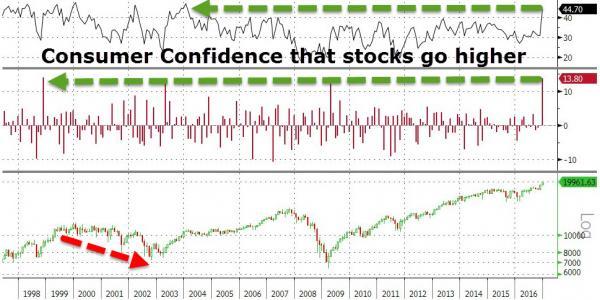 Inflation is the premise for our Trade of the Year on SLW and, in our Secret Santa's Inflation Hedges for 2017, we have a hedging idea for Gold (NYSEARCA:GLD) using Barrick Gold (NYSE:ABX), Gasoline (NYSEARCA:UGA) using Sunoco (NYSE:SUN) as a proxy and Food, using the Agriculture ETF (NYSEARCA:DBA).
If you really believe this market can keep going higher, then inflation hedges are a no-brainer. That's why we're happy to take our profits off the table on DIA now, we can put that $12,300 (keeping the short AAPL puts) to great use on our next set of hedges. It's good to get a fresh horse - even if you are winning the race.
Disclosure: I am/we are long AAPL, ABX, DBA, SUN.
I wrote this article myself, and it expresses my own opinions. I am not receiving compensation for it. I have no business relationship with any company whose stock is mentioned in this article.
Additional disclosure: Positions as indicated but subject to RAPIDLY change (currently mainly cash and an otherwise bearish mix of long and short positions - see previous posts for other trade ideas). Positions mentioned here have been previously discussed at http://www.Philstockworld.com - a Membership site teaching winning stock, options & futures trading, portfolio management skills and income-producing strategies to investors like you.