I generally cover REITs, real estate and related technology, including cloud computing and wireless infrastructure.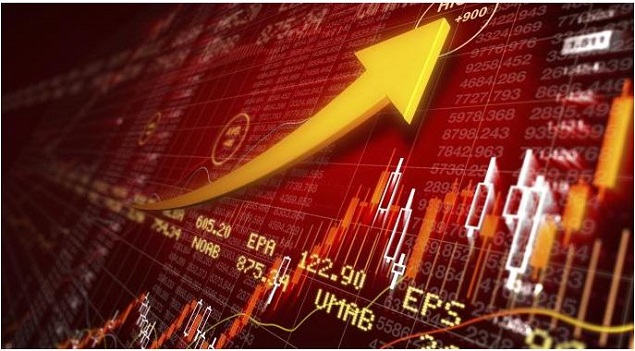 Source - Benzinga
Agree Realty (NYSE:ADC) and National Storage Affiliates (NYSE:NSA) are both well-managed, small-cap REITs, which I selected as my top picks for 2016. However, they each executed on very different business plans to move the growth needle in 2016.
Agree Realty is a freestanding retail net-lease REIT with a long prior history as a publicly-traded shopping center-focused REIT. National Storage, a 2015 IPO, was the newest addition to the publicly-traded self-storage REIT sector.
Both of these small-cap gems outperformed during 2016 versus sector peers, the broader equity REIT sector, and the S&P 500 Index.
While the incumbent self-storage REITs were down an average of -13.34% YTD, National Storage rewarded investors with a total return just over 30%.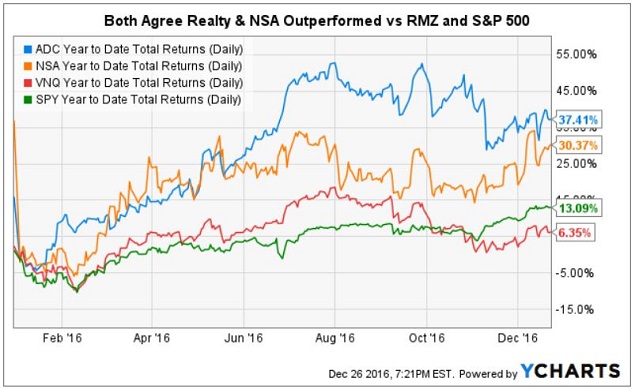 Back in January, I referred to freestanding retail triple-net lease Agree Realty as my highest conviction pick for 2016. However, I did not expect this level of outperformance, a +37.4% total return YTD.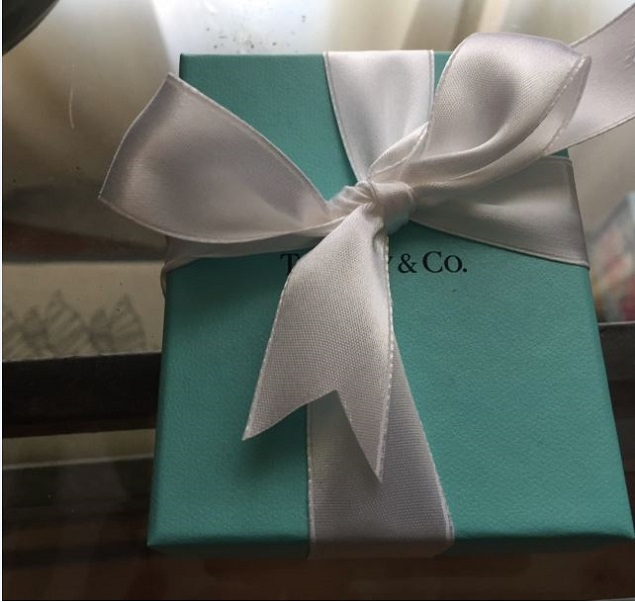 "Good Things Come in Small Packages" - Image by author
Notably, self-storage REITs rent to customers on month-to-month leases while freestanding triple-net leases are typically for 10-plus years to creditworthy commercial lessees. Hopefully, this article will help to shed a bit of light on both ends of the REIT leasing spectrum.
Here are links to some of my previous articles discussing these two picks, including the original thesis from January:
Please take a moment and review the previous articles if you aren't familiar with my research, or would like more information regarding these REITs.
Much like a Russian nested doll, all of my articles contain links back to previous SA focus pieces and other relevant content to help readers understand the context and thought process behind my selections.
A Challenging Macro Environment
Here is a brief look at the bigger picture for REITs during 2016.
During the past eight years, Fed policy has resulted in low interest rate environment. Many investors have been attracted to the REIT sector as a bond substitute, and REIT prices often trade in tandem with the 10-year US Treasury yield. It is an inverse relationship. A higher yield on the 10-year Note usually results in lower REIT prices.
After a great run during 1H2016, a second-half REIT sell-off on valuation and rising interest rate forecasts was exacerbated by concerns regarding president-elect Trump's stated tax cut and infrastructure spend economic policies.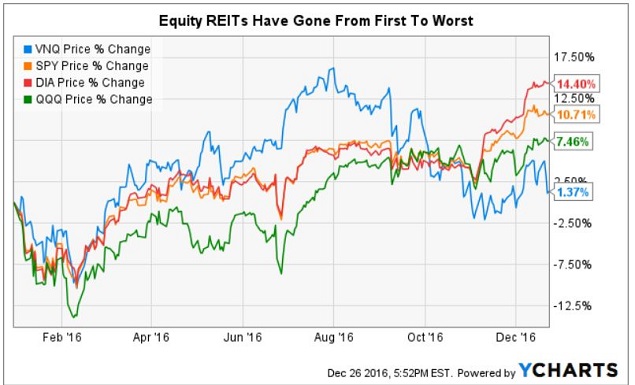 Post-election, the REIT sector was hammered down as the 10-year interest rate spiked. In a sector rotation, money flowed out of the Real Estate sector into Financials, Materials, and Cyclical Stocks.
Single-tenant net-lease REITs and healthcare REITs both tend to have longer duration leases, and are often viewed as bond substitutes. However, unlike bonds, many REIT leases have contractual annual rent increases, CPI bumps, or adjust every five years on longer-term leases.
On the other side of the coin, self-storage REITs have thousands of short-duration rental agreements. However, self-storage has fared worse during 2016 than almost any other REIT asset class. Here are a few insights into this counterintuitive phenomenon.
Self-Storage Bigger Picture
After the Great Recession, there was a dearth of new product being financed and developed which failed to keep pace with population growth. Demand trends were also favorably impacted by steadily decreasing home ownership after bets on residential mortgages fueled the global financial crises. This is because renters move three time more often than homeowners making them ideal storage customers. This perfect storm of muted supply in the face of growing demand created the strongest industry fundamentals in modern times.
Most storage searches begin on Internet and/or mobile devices which allows these REITs to dominate search results vs. smaller operators and mom-and-pop operations. National call centers staffed 24/7/365 also helps these industry giants to seal the deal. The publicly-traded REITs were able to leverage scale and technology to boost occupancy and optimize revenues to drive higher rent per square foot.
However, these smaller operators still own about 85% of the storage inventory nationally. This gives REITs with access to capital an opportunity to consolidate a fragmented industry and grow accretively through acquisitions.
NSA - A Unique Self-Storage Consolidator
I was not surprised to see National Storage perform well. However, I was a bit surprised by how poorly self-storage REITs - usually a top sector - performed in 2016.
One thing to keep in mind about self-storage is that there are no anchor tenants, and facilities open 100% vacant. It typically takes up to three years to achieve stabilized occupancy, which made new development very difficult to finance for a small, local developer after the 2008-2009 financial meltdown. This resulted in very limited new supply of new self-storage, which gave pricing power to the incumbents.
During 2014 and 2015 self-storage was a top-performing sector for REIT investors. The Big 4 self-storage REITs: Public Storage (NYSE:PSA), Extra Space Storage (NYSE:EXR), CubeSmart (NYSE:CUBE), and Life Storage (NYSE:LSI) (the former Sovran Self Storage rebranded) essentially became victims of their own success during 2016.
The valuation bubble popped due to high occupancy and high rent rates making future same-store NOI growth rate comparisons difficult moving forward for these incumbents.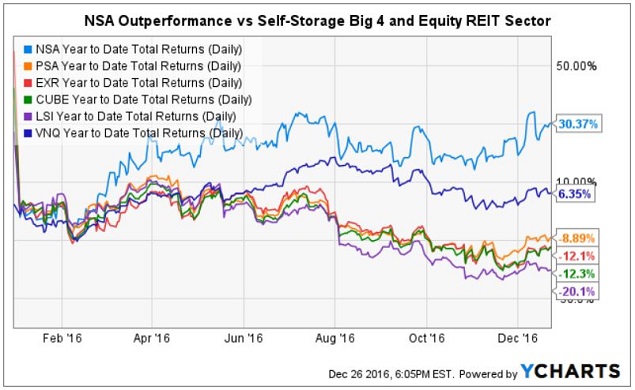 National Storage became the new kid on the block after a $13 per share IPO in April 2015 which raised $260 million. NSA at that time was essentially an unproven roll-up of six regional operators.
Part of the plan was to offer other large privately-owned self-storage operators an opportunity to join NSA by contributing their portfolio in exchange for OP and SP units. These "PROs," or preferred regional operators, can diversify and achieve some liquidity while still being able to participate in the upside of their life's work. For self-storage operators that wish to cash-in on high current valuations for the stabilized storage properties and remain active, it is a way to have their cake and eat it too.
Initially, it sounded like a complicated story, and NSA's valuations lagged the Big 4 self-storage incumbents.
However, over the next few months, a much clearer National Storage picture began to emerge as various parts of the puzzle quickly fell into place.
In March 2016, I wrote the following recap:
NSA - Impressive Execution
"I have pointed out three significant milestones in previous SA focus articles:
The August 2015 press release by National Storage announcing a $350 million unsecured revolver and $200 million term loan from a large group of commercial banks. This was a catalyst for NSA shares I discussed in "National Storage Affiliates: Recent Self-Storage REIT IPO - Catch A Rising Star."
Because the NSA business model is unique, having a large consortium of lenders vet National Storage and provide $550 million of dry powder for acquisitions was a significant milestone.
I became a true believer and wrote Self-Storage REIT: "Self-Storage REIT: National Storage Affiliates' Strong Q3 Validates IPO Business Model" last November. However, there was just one piece of the puzzle still missing. NSA had not been able to convince any of the large private peers to come aboard the ship and join the party.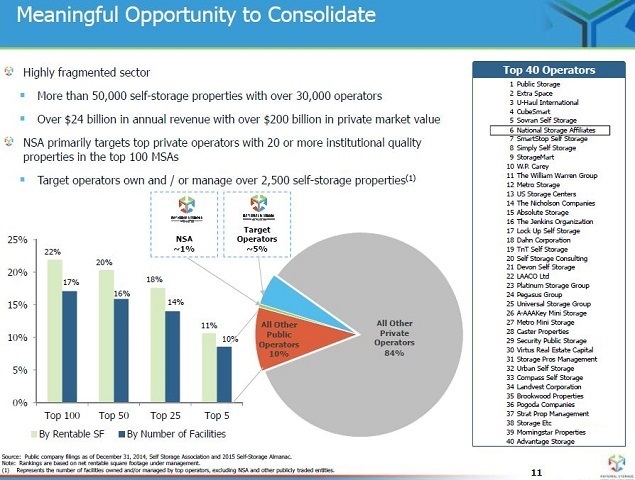 Naturally, there is a long sales cycle when you are trying to convince a successful business person to turn down a highly lucrative offer from one of the Big 4 self-storage REITs.
On February 8, National Storage announced that Hide-Away Storage Services, Inc. of Sarasota, Florida, will become its seventh Participating Regional Operator.
This milestone proved that National Storage Affiliates was now firing on all cylinders."
The NSA business model has proven itself to be successful during 2016. I would expect NSA, which currently yields 4.44%, to continue to outperform its peers in 2017. Currently, NSA's shares are trading at ~19.7x 2016 FFO estimates.
I remain constructive on the ability for NSA to continue to grow FFO per share accretively through organic growth and acquisitions. This should continue to support the regular dividend increases that NSA shareholders have enjoyed since the IPO. However, keep in mind the lowest hanging fruit (multiple expansion) has already been picked in 2016.
Net-Lease Agree Realty - Freestanding Retail Growth
REIT investors love a simple story and the single-tenant triple-net lease business model is both elegant and easy to scale.
In addition to monthly rent, creditworthy tenants also pay taxes, insurance, utilities, and most or all of the property maintenance. These are typically leases of 10 years or more often with contractual rent increases. This creates a predictable source of net operating income to grow FFO and pay the dividends that REIT investors crave.
At the end of 2015, Agree Realty was not viewed by Mr. Market as being worthy of the same FFO multiples as its larger net-lease cousins. However, I had noticed ADC had already begun to gain momentum vs. its peer group, as shown below.
My research confirmed that a portfolio transformation which had been underway over the past five years had been completed.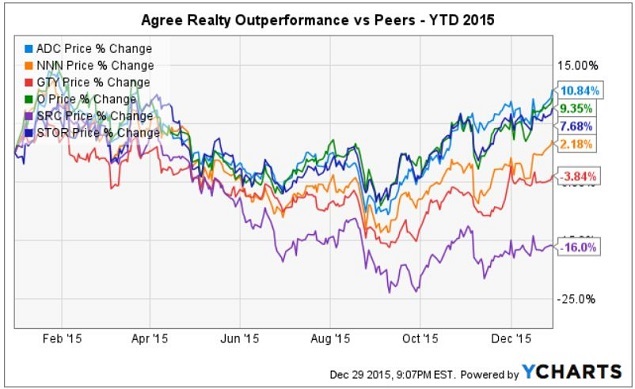 This meant that investors using past performance to evaluate 2016 and beyond would tend to underestimate the growth potential. My sense was Agree was also undervalued because many investors did not realize the high quality of the real estate contained in the net-lease portfolio.
This left room for some multiple expansion in addition to the FFO growth prospects and resulted in the 2016 outperformance shown below: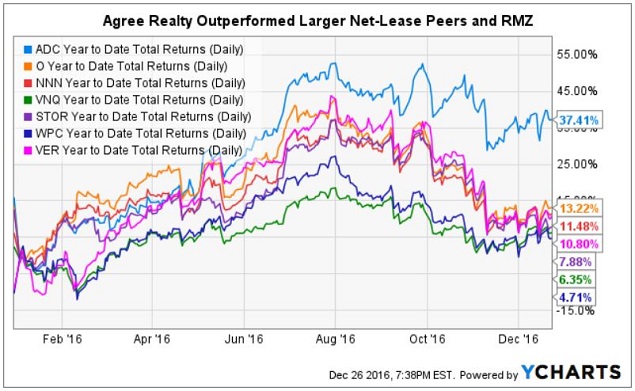 As of this writing, Agree Realty has returned 37.4% for shareholders 2016 YTD despite the retreat from summer peak valuations.
Agree has outperformed all of its larger net-lease peers including retail investor favorite Realty Income (NYSE:O), freestanding retail "Dividend Aristocrat" National Retail Properties (NYSE:NNN), high-yielding W.P. Carey (NYSE:WPC) and STORE Capital (NYSE:STOR).
ADC - Why Size Matters
Small-cap Agree Realty has a size advantage when it comes to comparing performance metrics. It is simply easier for Agree to move the growth needle without having to resort to large-scale acquisitions. Agree can sharpshoot one-off properties at a weighted average initial yield of ~8%, a higher going-in yield than most peers.
The smaller ADC balance sheet has not been rated investment grade like its larger cousins. However, it has been managed to reflect investment grade metrics. Notably, Agree Realty's weighted-average cost of capital is similar to its larger investment grade peers. This combination creates spread investing margins which are slightly larger while still having a significant percentage of investment grade tenants.
Long-standing retail relationships from decades of shopping center operation and development also help Agree to source larger deals which can really move the needle. Additionally, Agree has in-house development capability which delivers even higher cash-on-cash yields of 9-10%. CEO Joey Agree looks at acquisitions through a developer's "value-add lens," looking for opportunities for densification or create new outparcels on legacy retail parcels.
I have always viewed Agree Realty to be a "get rich slowly" holding. However, during 2016, investors began to view Agree more in line with my views, which has resulted in some multiple expansion.
Looking forward to 2017, I expect ADC's shares to face some interest rate headwinds which could limit price appreciation.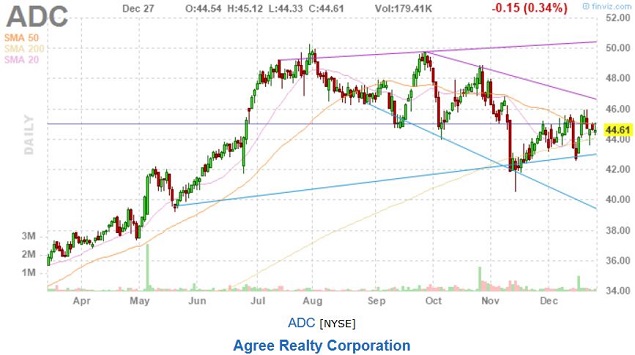 The analyst consensus 12-month price target for Agree Realty is $51.80 per share. If the Fed does raise rates three or more times in 2017, this may be a bit optimistic. However, given a current yield of 4.44%, a low-double-digit total return would not be unreasonable from here. Currently, ADC's shares are trading at ~17.7x 2016 FFO estimates.
Investor Takeaway
The small-cap gem strategy actually turned out to be more powerful than I had realized in the face of the rising rate headwind for REITs in 2H2016.
In a rising rate environment, REITs which can grow FFO per share at a faster clip will tend to outperform. Smaller-cap REITs have an easier job growing on a percentage basis. Strong internal management teams aligned with shareholder interests complete the formula for success.
In the case of Agree Realty, shareholders are investing side-by-side with the founder and second generation CEO, where the immediate family has never sold a share of stock.
NSA is even more interesting. The OP units given to the PROs in exchange for the contribution of self-storage properties can be viewed as common share equivalents (and additional equity). The SP units are a way to incentivize and compensate PROs based upon performance of their regional portfolio. NSA shareholders are investing alongside long-time self-storage industry experts who have chosen to participate in the upside of growing the business.
The large number of OP/SP units are additional equity not reflected in the NSA market capitalization. However, when you add them into the equation, NSA has a total capitalization of ~$2.6 billion, and arguably has outgrown the small-cap gem category going into 2017.
I am contemplating whether to launch a Seeking Alpha Marketplace Premium subscription service. I would appreciate any feedback from readers who may be interested. Feel free to share them in the comment thread below, or send me an Inbox message.
I relentlessly hunt for diamonds in the rough and rising stars, in addition to closely following data centers, covering REIT blue-chips, and breaking news. Please consider following me as a Seeking Alpha author if you would like to be notified when my future articles are published.
Disclosure: I/we have no positions in any stocks mentioned, and no plans to initiate any positions within the next 72 hours.
I wrote this article myself, and it expresses my own opinions. I am not receiving compensation for it (other than from Seeking Alpha). I have no business relationship with any company whose stock is mentioned in this article.