I will try to keep this portion of the article as short as possible. I started writing on Seeking Alpha with an IPO analysis attempt on Line Corp. (NASDAQ:LN) and lastly I have reported my views on Morgan Stanley (NYSE:MS). I have enjoyed being part of the contributor community here in SA and hopefully will continue to do so. My overarching goal for joining my respected colleagues on the crowd-sourced investment platform is to further expand my financial knowledge.
I am currently a junior at Westminster College and will be completing my undergraduate degree in both Finance & Economics in May 2018. I have recently been elected as the CEO of Blue Blazers Investment Committee; hence I am excited to manage my college's portfolio of over $520k. SA has given me the tools to better my skills and apply what I have been learning in my small private school here in Missouri.
Now that I have given a brief background information on myself, I will move on to explain the content within this piece. I will cover some of the equities and industries I have aforementioned in my previous articles and try to bring daylight to how each particular stock will perform in the foreseeable future.
Line Corp.
Let's start out with the hot IPO of last summer: Line Corp. The company had a rally after the public offering but the last quarter has not been very positive for the equity.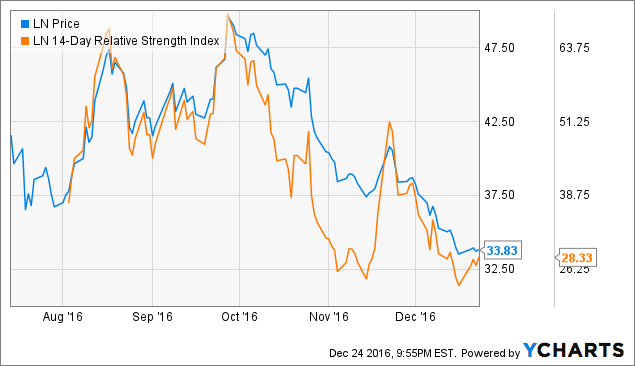 The messaging app saw a sharp turnaround from highs close to $48-$49 as the fourth quarter of 2016 saw an overall bear climate whilst only a few price spikes occurred. Looking back, the public offering of the Japanese company raised $1.3B. They have broken even; the six months through June the company had net income of $24.3M, compared to the same period in 2015.
I will use dollar figures for Line as most of my viewers are U.S.-based investors.
Honestly, I have been a bear on Line since inception. My reasoning was due to them entering the already crowded public messaging application realm. Competitors like Facebook (NASDAQ:FB), with its branches like Facebook Messenger and WhatsApp have been dominating the global messaging industry. Line has been a dominant figure in the South Asian and Japanese segments. However, the semi-free economy of China does not allow foreign companies to operate in the messaging and communication market space.
WeChat will continue to dominate the Chinese segment due to barriers of entry implemented by the Chinese Government. The market in China is huge and the messaging culture of China and the Japanese are similar in nature. The Western segments however do not carry the same characteristics regarding culture. Westerners choose simplicity via WhatsApp, while east Asia markets tend to want more personalization implemented in their messaging experience; the user tends to use Line for multiple reasons alongside messaging. The U.S. and European users tend to just use messaging apps for purely messaging.
The executives at Line have avoided reporting yearly forecasts while competitors have chosen to post yearly ones. This implies that the executive branch of the company is not even certain of the future of operations. The uncertainty associated with Line is the final straw to my bear stance on the equity. Price has declined this whole quarter thus I will state that Line is an equity to avoid as the equity approaches the IPO price range. Bulls on the particular equity could agree the equity is at instinctive value relative to fundamentals at the IPO range.
The bull argument is that the company is making money now while in the past it was not. But one would have to make a few assumptions for Line Corp. to have a bull-run this year.
These are:
They continue to monetize their user base; this has been the main reason for the company turning profitable.
Somehow the western culture of mobile communication changes shifts and eastern trends become more observable.
Subsequently resulting with FB Messenger and WhatsApp to adapt or lose market space.
However, my personal opinion is that the factors listed above are highly unlikely to occur except the current user base becoming more monetized. Economic slowdowns in Japan are also a negative catalyst for the particular equity.
My previous article about LN can be found here.
What To Buy After U.S. Elections And December Interest Rate Hike; Longs and Shorts In U.S. Equities
Like most I was not expecting a Donald Trump presidency to become a reality. There was an immense increase of rural voters coming out to vote which is what I believe was the game changer in the last presidential cycle.
I predicted that utilities would underperform the overall stock market (NYSEARCA:SPY) whilst technology should outperform the aggregate market. The Technology Select Sector SPDR ETF (NYSEARCA:XLF) did quite well after the Trump win and the rate hike.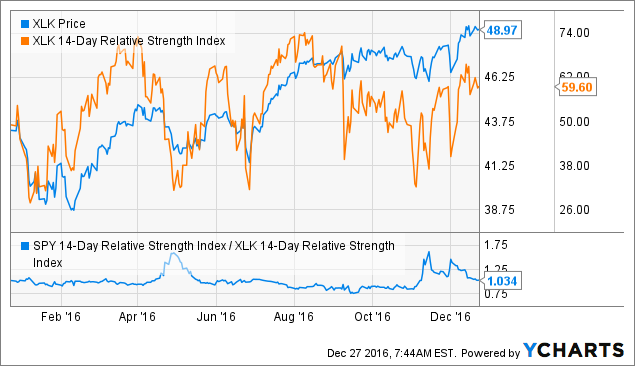 From the graph above, we can observe that XLK has recently had some drawbacks but is trading in a bull trend above the $46.25 psychological support. The 14-day RSI is heading upwards but the drawbacks have reflected on the technical side, dropping under the 41.25 levels through the middle of 4Q2016.
Secondly, the technology sector should further appreciate with the overall SPY, which is evident from the correlation level of 1.034. We can also observe that the rate hike increased the correlation between the SPY and XLK when the Federal Reserve increased the interest rates.
When I was writing this particular piece, XLK was at $47.53; through time, the ETF appreciated as I write to $48.97. Thus, there was a 3% upside if invested accordingly through the last 2 months. I believe the upside should be relevant for the short term.
The Trump Administration has signaled that they were going to deal with biotechs by increasing the state of competition and deregulation measures rather than putting price caps on biotechs. As aforementioned, large cap biotechs should outperform the smaller ones. Biotechs went up 1.4% from my publication covering the industry, which isn't that bad for the short term. There should be more evident progress in R&D spending and increased healthcare utilization throughout the fiscal year of 2017.
Utilities were a mixed heaven honestly. I predicted a bear market for the industry; however; the Utilities Select Sector SPDR ETF (NYSEARCA:XLU) have appreciated by 1.2%. I was wrong on this particular industry; but the upcoming year should prove me right; as yields rise there will be pressure on equities in 2017. The rise of yields should equate to investors looking for better returns over defensive higher dividend stocks, which would have slow dividend growth rates.
The EURUSD pair got a short prediction from where I stood in late November. The U.S. dollar is in a maturity stage; however, with rising rates, the flood to the dollar would continue. The pair was at 1.063 on the day of the publication, and as am writing, it is trading at 1.044. Hence, we would have had a 1.8% upside if the investment was made.
Goldman Sachs
Well, Goldman Sachs (NYSE:GS) ended up being my best pitch in my short time of writing on SA. I ran a DCF model based on various assumptions to come up with multiple price targets; the content can be found here.
The equity was trading at $174.41 when the publication occurred, the equity trades at $240.97 as of 12/27/2016. The equity ended up being the best Trump trade ahead of Gold (NYSEARCA:GLD) and the U.S. Dollar. The Trump administration is filled with Goldman partners, and even if Hillary Clinton had won, we know that the investment bank has deep ties with her as well via lobbying. There was a 38% upside evident from publication to present.
Steeping yield curves will allow core business operations to make more money; subsequently, effects of regulation will allow most banks to have less red tapes. I believe my price target of $265 is still relevant for the near term. 2017 will be a good year for Goldman.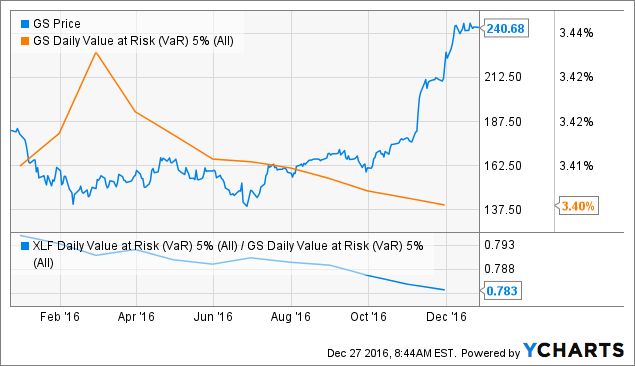 Goldman is out performing the overall financial industry (XLF) while VaR correlation indicated a decline throughout the last year as GS is appreciating in price at an accelerated pace; a 1% increase in GS accompanied with a 0.7% increase in the financial services.
Morgan Stanley
Morgan Stanley was trading at $33.44 when publication occurred, while the current price is $43.06, indicating a 28.8% upside if an investment was made. I continue to believe that MS will appreciate; however, the equity is approaching premium value.
The rate hike benefited the firm, and the short-term outlook on the MS equity is bullish from where I stand.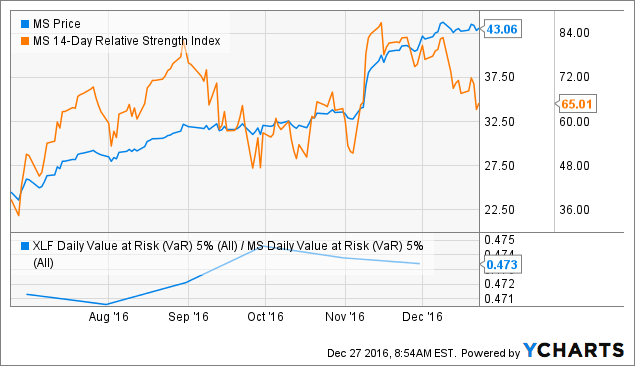 The 14-day RSI has seen a dip bringing it under the 70 overbought levels. XLF Value at Risk correlation indicates a medium correlation with the Value at Risk for MS. MS should appreciate over double the rate as the overall financial services industry as we approach a more inflationary and high-yield environment.
Starbucks
Starbucks (NASDAQ:SBUX) is a future dividend aristocrat in my view, global coffee demand has risen and continues to do so. The global coffee brand should benefit from this trend in the long term.
My article pertaining to SBUX can be found here.
At publication, the equity was trading at $57.43; current price is at 57.01. This was mainly due to the CEO of the corporation resigning. I believe this is a good thing for the company due to the former CEO not being in a good relationship with Donald Trump.
I am still behind my conceptual framework and believe that SBUX is a good long opportunity.
Conclusion
My 7 picks mentioned above ended up having an average return of 9.82% up to date from each publication. I hope to cover commodities ahead while concentrating also on financial services, particularly fintech, alongside technology equities.
| | | |
| --- | --- | --- |
| | Profit/Loss | Long/Short |
| SBUX | -0.07% | Long |
| MS | 28.8% | Long |
| GS | 38% | Long |
| XLU | -1.2% | Short |
| XLK | 3% | Long |
| EURUSD | 1.8% | Short |
| IBB | 1.4% | Long |
Disclosure: I/we have no positions in any stocks mentioned, and no plans to initiate any positions within the next 72 hours.
I wrote this article myself, and it expresses my own opinions. I am not receiving compensation for it (other than from Seeking Alpha). I have no business relationship with any company whose stock is mentioned in this article.