Royal Bank of Canada (NYSE:RY) has been my preferred means of getting financial exposure in one of the safest ways possible; the Canadian financial system. Back on March 1 I recommended Royal, calling it a "great value." I wrote a follow-up article on September 20th, about whether Royal was still a buy, considering a higher price of $61 per share and a slow Canadian economy.
Fast forward to today, and Royal is now up over $67 per share. In my opinion, this is a significant run up in the price, and the valuation scale has finally tipped on this stock. This article takes a look at Royal's most recent business performance, what that means for the future, and the valuation of the stock.
Slower growth ahead
My original reason for liking Royal Bank of Canada was, first, that Canada has arguably the safest financial system of all the developed world. Second, a few years ago the Canadian economy appeared to be outperforming most other OECD countries, and therefore Royal's earnings and dividend were poised to grow by the mid-to-high single digits annually.
That investment thesis has been dinged by a global commodities downturn which started in 2014, which lead to a slower economy in Canada and a tumbling Canadian Dollar. While I held faith that manufacturing and tourism would pick up some of that slack, it doesn't appear to have made enough of a difference at this point. In fact, since 2014 the Canadian economy has oscillated around zero GDP growth and never exceeded 1% GDP growth.
The federal government is now requiring borrowers undergo a "stress test," in addition to new lending rules which limit how much house borrowers can get. Many, including management of Royal Bank of Canada, believe this will lead to a slowdown in mortgage originations, which is an important chunk of the bank's business. I don't blame Canada's federal government for trying to cool off the mortgage market, but it will slow the economy nevertheless.
On the full fiscal year Royal managed to grow its net income by 4%, and cumulatively raised its dividend by 5%. Earnings per share, however, were up by only 0.8%, due to share issuance related to the City National acquisition.
I expect growth to moderate in 2017, and I expect growth to be in the low single digits, for both net income and dividends. Furthermore, with the government acting to deliberately cool off the mortgage market, I do not expect outsized growth in the Canadian economy next year, either, all other things being equal.
I expect the company's Canadian banking segment to fall short of the 4% net income growth achieved this fiscal year. Also this year, wealth management, insurance, and treasury and investment segments each saw income grow by triple digits, but this was almost entirely due to the acquisition of City National, a large bank and wealth management firm in the US. I do not expect such continued growth from those segments in 2017.
I do believe that the integration of City National will be an important determinent in Royal's success and growth going forward. This year, share issuance linked to the acquisition dragged down earnings per share, but as management said, the acquisition of this US wealth management company is a multi-year project.
Valuation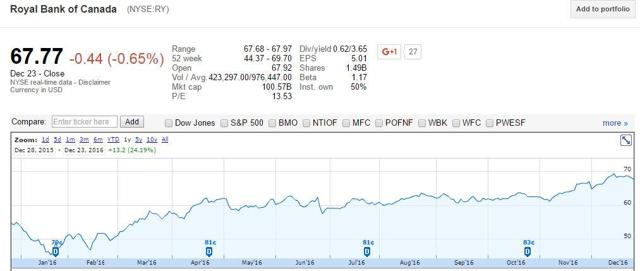 Courtesy of Royal Bank of Canada.
As the title of this article indicates, I believe Royal is fairly valued right now. You can see above that the stock has come a ways to get there since the beginning of the year. According to data from FAST Graphs, for example, U.S. shares of Royal have averaged 12.6 times earnings over the last ten years. As of close of business yesterday, shares trade at 13 times operating earnings, so stocks are right about at their average valuation over the last business cycle.
U.S. investors in Royal are looking at a 3.6% yield, with growth in both earnings and dividends likely to be in the low single-digits at least next year, and a stock that is, overall, fairly valued. I believe there are better values out there, and so I do not intend on buying Royal Bank of Canada nor do I recommend it at this time. In fact, I will strongly consider selling all my holdings if shares reach $73 or above; about 10% above the average valuation.
To sum up, I don't think Royal Bank of Canada has much upside from here, especially given the current macroeconomic fundamentals. I would be a buyer of Royal at significantly lower prices, but for now I recommend income investors look elsewhere for long-term value.
If you're interested in Royal Bank of Canada, feel free to follow me on Seeking Alpha. I am personally long this stock, and I intend on writing follow up articles when doing so is both material and relevant.
Disclosure: I am/we are long RY.
I wrote this article myself, and it expresses my own opinions. I am not receiving compensation for it (other than from Seeking Alpha). I have no business relationship with any company whose stock is mentioned in this article.