I've been penning a series of articles related to the water industry. I believe the water industry is severely under covered in the financial market which is a shame as the underlying rational for water (as investment) is actually very conceivable. The actual use of water has grown at a nearly double rate in contrast to population growth, which too many seems unsustainable. Other reasons such as water scarcity, droughts, and the water we waste (and many more reasons) make me believe that water is an incredibly exciting investment theme. This can be an investment either physical (through land or rights), as well as through stocks.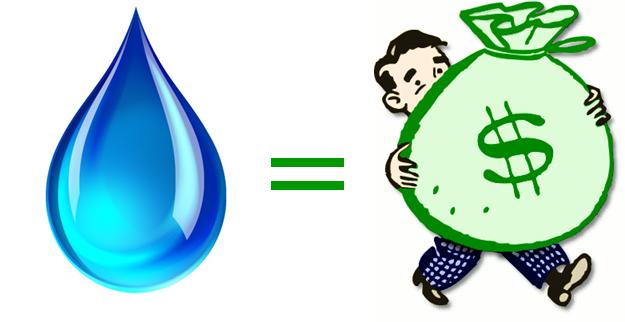 So far I've covered 14 articles specifically regarding this topic. There are also firms which are related to the water industry, to some extent, which I have left out of the list such as toilet manufacturers (Toto, Lixil and Geberit) of which I've all covered here on Seeking Alpha.
| | | | |
| --- | --- | --- | --- |
| Article Nr. | Country of Coverage | Firm | Links |
| 14 | 2016 - yearly update | All | |
| 13 | England | Pennon Group | |
| 12 | Brazil | SABESP | |
| 11 | USA | American Water Works | |
| 10 | United Kingdom | Severn Trent, United Utilities | |
| 9 | (Article about hedging a water portfolio) | N/A | |
| 8 | Japan | Kurita Water Industries | |
| 7 | France | Suez | |
| 6 | France | Veolia | |
| 5 | USA | American Water Works | |
| 4 | (Water ETF comparison article) | $PIO vs $PHO vs $FIW | |
| 3 | (Water ETF article) | $PIO | |
| 2 | (Water ETF article) | $FIW | |
| 1 | (Water ETF article) | $PHO | |
This article will revisit Japan and evaluate how Kurita (OTCPK:KTWIF), a Japanese firm specialized in water treatment, has performed over the year.
Kurita: Back To Japan and its water issues.
As a reminder for my previous readers, this working paper by the world-bank shows an interesting background on the water industry of Japan. It describes the issues Japan is facing regarding water, water usage as well as scarcity and how the government tackles these issues through their policies. Underneath a snippet which shows the water demand in Japan throughout the last decades: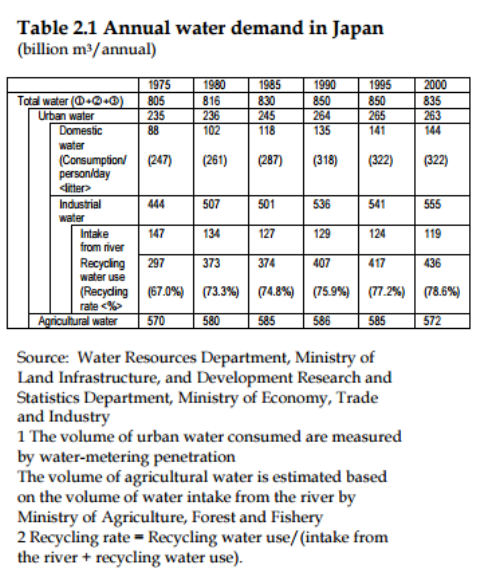 Source: Working Paper on Water Scarcity Of Japan
The table above clearly shows that at some levels, not much has changed in Japan regarding water usage. The one constant progression is water recycling which has increased by 10% from 1975 - 2000. I believe these are numbers which still show there is upwards potential in water recycling.
The organizational chart of how water policies are being used in Japan can be found on page 5. Additionally, this website also gives insightful information on how policies are being used within Japan related to water. It's very interesting for anyone who wants to know more about the water industry in Japan, but out of scope for this article as you can easily pen a full book on how Japan and water are 'married' together.
As many know, Japan relies on nuclear power because of a lack of resources for other energy forms. This does not come without risk.
"Fukushima Reactor Explosion"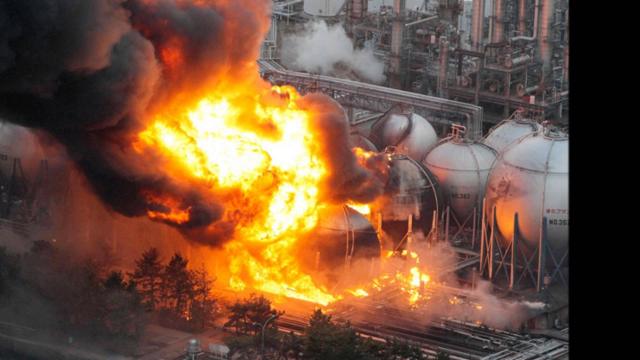 First of all, the Fukushima reactor costs are still increasing, the latest numbers nearly total $200 billion. Water management and reactor stabilization alone will cost more than 1 trillion yen in the 10-year period ending March 2025, Tepco said earlier this year. It seems like this is a continuous trail of costs as well as opportunities for Japan.
Kurita: Performance 2016
As I briefly discussed Japan's issues with water and energy, it's clear that there has always been a lot of potential in this particular industry. Potential doesn't necessarily relate to booming business however. Let's have a look on how Kurita has performed over 2016: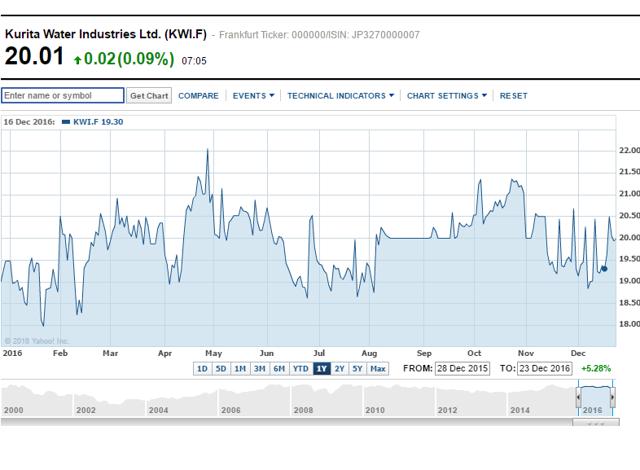 Source: Yahoo Finance
Unfortunately, not much has been achieved from a share price performance. Neither bulls nor bears were able to lift or drop this stock.
In my last article on Kurita, I mentioned it was doing all the right moves in a challenging environment, trying to expand internationally, focus on costs, yet priced a little bit too much like perfection. Unfortunately, right now its year to date performance is back to 0%, yet when I initially posted my article in April the firm had a performance of 12%. So far it's been a bit bumpy over the year, with no particular direction in sight.
Kurita: Current Results
If the share price seems incapable of following a direction, let's look at the last published results of Kurita. The investment presentation can be found here, the Q&A session can be found here.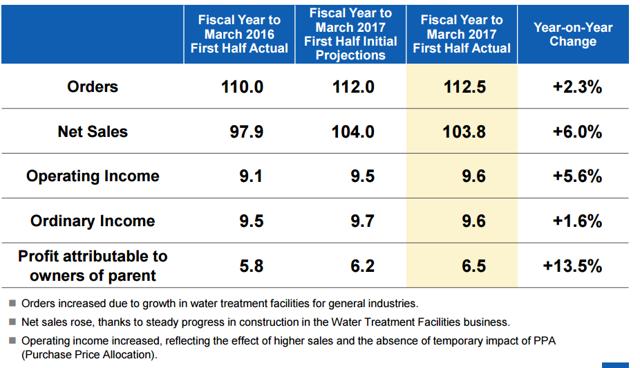 Source: Kurita Investor Presentation
The figures speak for itself as there are only plusses on the scoreboard: from low single digit to medium double digit numbers. As I mentioned before, water treatment facilities, also in light of the earlier issues, is growing. Domestic orders increased, reflecting a recovery in the production activities of some customers and the development of new customers. Overseas orders rose slightly because a fall in Yen-equivalent orders due to the stronger Yen was offset by the effect of acquisitions in Europe. Every sector, as shown underneath, has been growing in revenue: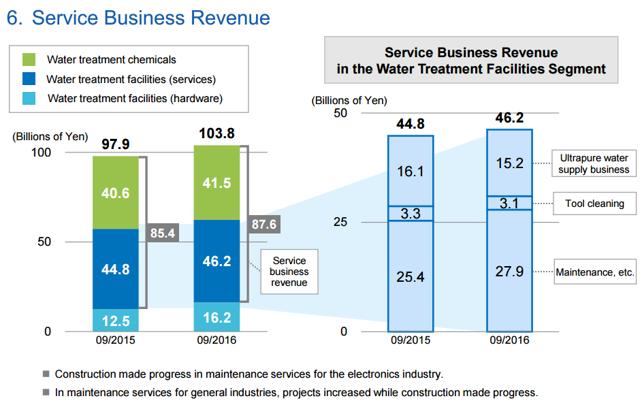 Source: Kurita Investor Presentation
Capital Expenditure and R&D slowed down a little bit: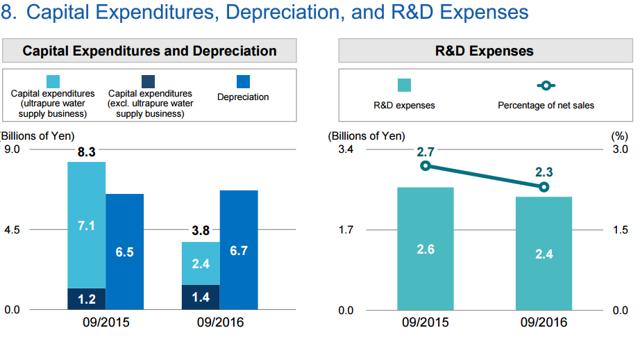 Source: Kurita Investor Presentation
Looking at the market environment surrounding the Kurita Group, in Japan, production in the manufacturing industry recovered moderately mainly due to inventory adjustments, while capital expenditure slowed due to the effect of a decline in corporate earnings associated with the stronger yen. Overseas, growth in China and other emerging economies continued to slow (but not grow negatively), while the U.S. and European economies continued to recover. Overall, overseas economies recovered moderately.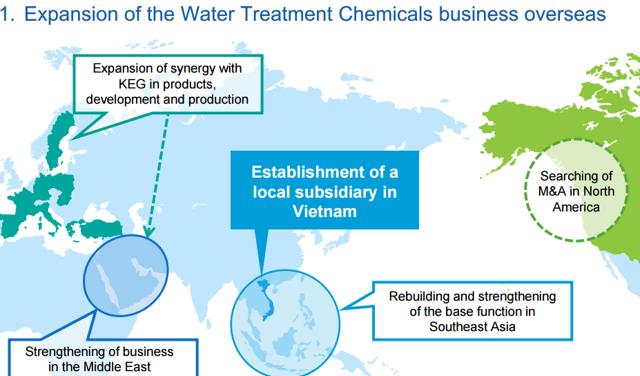 Source: Kurita Investor Presentation
One thing that should not be ignored is that Kurita is looking for M&A opportunities in the US. This is interesting as Donald Trump is about to become president there, and he has given some insight on what can be expected on water policies, something I covered in an earlier article. I believe from a 'water investment' perspective, there is a lot of potential in America left untapped. Even though many American water utilities have performed outstandingly over 2016 (such as AWK and others), yet I believe much more can still be achieved.
Looking at the forward analysis, (minor) growth is expected, with still relatively expensive fundamental metrics: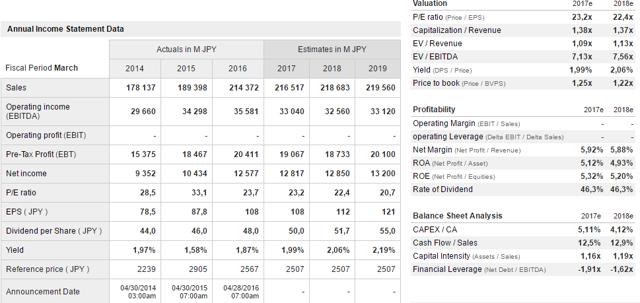 Source: 4traders.com
These figures can either be anticipated as uncertainty where the firm is headed (positive or negative) for example pending on certain M&A transactions in the future, or that analysts simply don't hold high hopes as the firm lowered their guidance: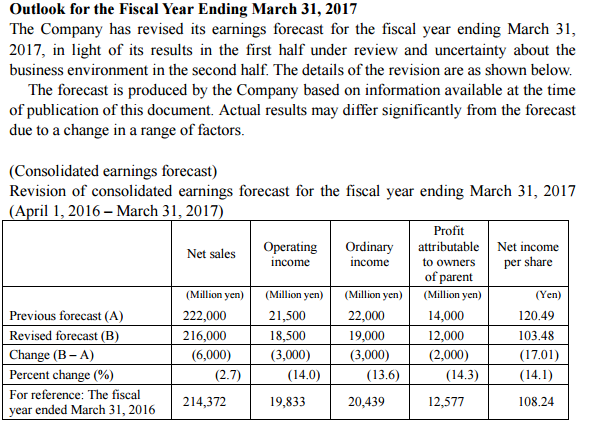 Source: Latest Business Update Kurita
Downwards revision is often not considered positively as management was clearly wrong about publishing their initial guidance in the first place. This is also discussed in the Q&A session, see a snippet underneath: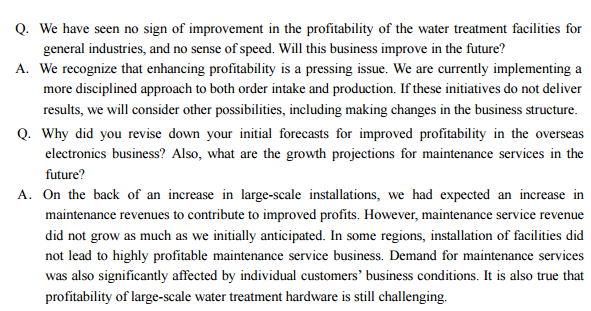 Source: Q&A session
Clearly, Kurita has some positive sides and negative sides, yet no big catalysts which could drive the stock either way. So far it's been specifically a 'floater' year-to-date return in comparison to many competitors related to water: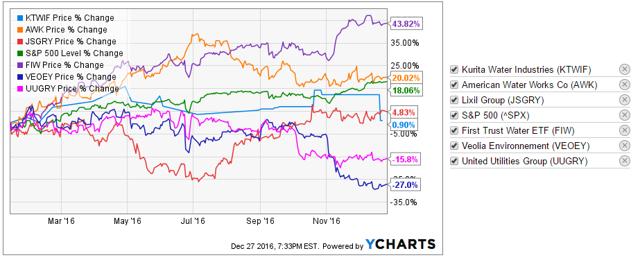 The fact that Kurita has performed in the middle of many of other firms is much in line with its actual business fundamentals, which are very much alike. Not negative growth, nor incredibly positive growth.
For example, American Water Works (NYSE:AWK) has performed above par (and therefore as a result performed better than the market). On the other hand Veolia (OTCPK:VEOEY) underperformed fundamentally and therefore dropped in share price more than the market. In the next article, I'll cover Veolia, as it seems more is going on there.
Conclusion
Kurita is a very interesting company which I believe is really trying to steer itself in a better direction. Downwards potential seems possible, yet I believe is not imminent as it is most likely that this will have to be steered by a catalyst reaction. Upwards potential seems more likely, but rather uncertain due to the massive currency fluctuations in the Yen over the year. With Trump in America, Brexit and political elections in Europe, a lot of trade deals (and therefore currency fluctuations) will occur. As the Dollar and Euro are important currencies, Kurita will not be able to completely dodge it.
As the firm is not expected to grow significantly, the forward P/E is similar to what we currently have. In other words, most of the future growth is already priced in. This is what I see as the most important issue. Kurita could have a look at creating another cash flow stream, also as they gave notice of profitability issues within the water facilities segment which only indicates they have margin issues. The other option, cost control is also something they could exercise, but I believe that should be a last resort measure.
I will update on Kurita when essential information comes about a new cash flow stream (from anywhere to a new product to a new M&A deal) as I believe that could be a positive deal breaker for the firm.
Disclaimer
I currently do not hold stock in Kurita. This article provides opinions and information, but does not contain recommendations or personal investment advice to any specific person for any particular purpose. Do your own research or obtain suitable personal advice. You are responsible for your own investment decisions. This information is not a recommendation or solicitation to buy or sell securities, nor am I a registered investment advisor.
Disclosure: I/we have no positions in any stocks mentioned, and no plans to initiate any positions within the next 72 hours.
I wrote this article myself, and it expresses my own opinions. I am not receiving compensation for it (other than from Seeking Alpha). I have no business relationship with any company whose stock is mentioned in this article.
Editor's Note: This article discusses one or more securities that do not trade on a major U.S. exchange. Please be aware of the risks associated with these stocks.