Finally, EUR/USD made it to a new 13-year low on December 15th. Before that, the currency pair was trading in a sideward range for almost two years. The low at 1.0462 from early 2015 was tested two times before it has now been broken on the third attempt. Usually, such a clear signal is followed by a switch from a sideward moving market to a strong trending market. You will find many examples looking at similar chart patterns. Comparing the recent lack of trend to similar trendless periods in the EUR/USD, you'll notice that its length was approaching a record high.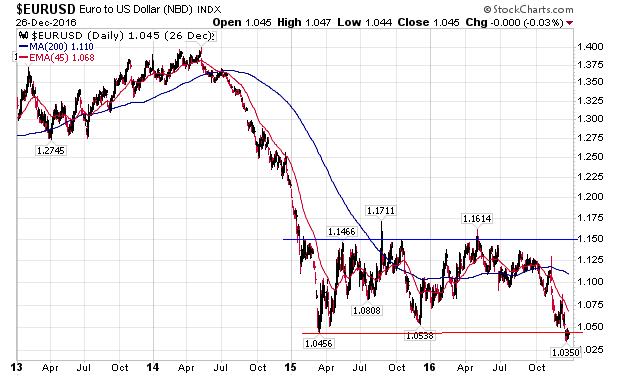 The main driver behind euro weakness versus the U.S. dollar clearly is the diverging central bank policy. Currency flows follow higher yields and make the euro less attractive. To put U.S. yields into perspective, lets take a look at the interest rates of major currencies:
Reserve Bank of New Zealand 1.75%
Reserve Bank of Australia 1.5%
Federal Reserve 0.75%
Bank of Canada 0.5%
Bank of England 0.25%
European Central Bank 0%
Bank of Japan -0.1%
Swiss National Bank -0.75%
As you can see, the U.S. dollar takes the third place while the euro is at the lower end before the Yen and Swiss Franc. The difference between the German 10-year Bund yield and the U.S. 10-year Treasury yield gives you a good sense for the fundamentals behind the down move.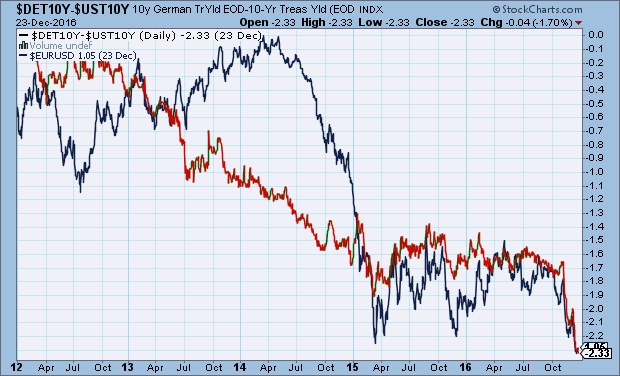 The ECB has extended its QE programme till the end of 2017. I expect the ECB to be very cautious about talking too much about tapering, as that could lead to increased uncertainty in the European bond market. Another reason for Bund yields to stay low next year will be further political uncertainty as we could already observe in June and recently around the turmoil in Italy.
Investors should be aware that parity acts like a magnet now. A sharp decline could ignite short-term panic and lead to a break below 1.0. I prefer to profit from such a development via out of the money put options with a 3 to 6 month time horizon. That gives me the flexibility to deal with any rebounds in between.
Disclosure: I/we have no positions in any stocks mentioned, and no plans to initiate any positions within the next 72 hours.
I wrote this article myself, and it expresses my own opinions. I am not receiving compensation for it (other than from Seeking Alpha). I have no business relationship with any company whose stock is mentioned in this article.