In Principal Financial (NYSE:PFG) investors pay a low double digit PE, get a 2.7% yield, and should enjoy ~7% EPS growth.
PFG is a global company that sells retirement, insurance and asset management services. The company is organized into four divisions: Retirement and Income solutions, Principal Global Investors, Principal International and U.S. Insurance Solutions. The revenue and profit trends from these businesses show that this is a stable business with good diversification. The operating earnings data on an annualized trailing basis is given in the chart below.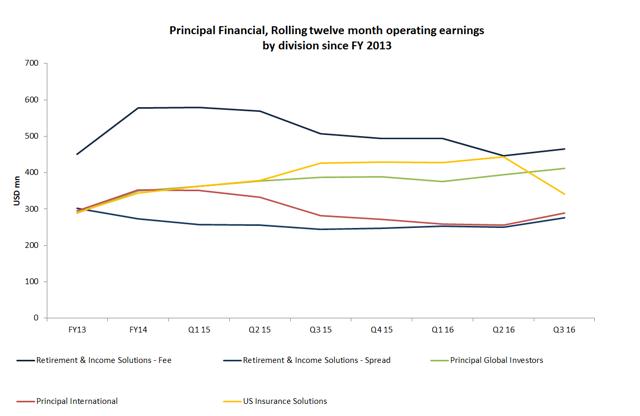 Source: Company data
PFG aims to continue the strong growth it has achieved historically. Since 2010 earnings CAGR is 8% and EPS CAGR is 10%. The strategy focuses on growing market share via excellence in active asset management strategies as well as a developing range of passive products, and developing PFG's presence in growing savings markets. Globally the points of emphasis are growth in the middle class, ageing populations and dependency ratios, especially in Emerging markets. While these geographies should be powerful growth drivers for PFG long term, it's important to recognize that U.S. growth remains healthy due to low life insurance cover in the population and c. 50% of businesses not offering retirement plans.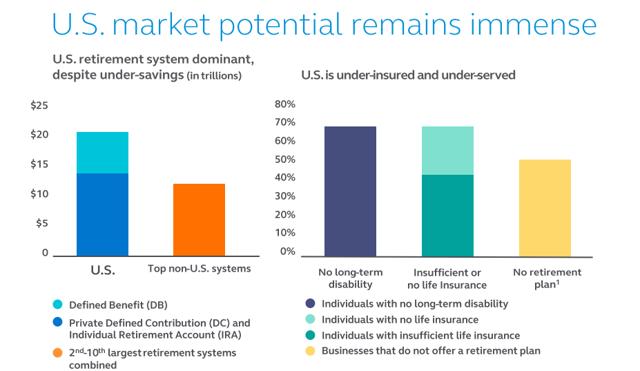 Source: Company Presentation
The outlook for 2017 is for 11-14% growth in PFG's international pension management business, and management expect margins to reach 40-45% long term as a function on increasing scale. The operating margin of this business over the last seven quarters has average 37%, so there is potential for 21% operating earnings growth on top of the top line growth being talked about over time. If delivered by 2020, these targets imply growth of between 63 and 104% for the international pensions business, or 4-6% for the group annually.
Management expects margins to be slightly lower in Principal Global Investors in 2017 due to lower incentive fees. While they expect margins to increase again from 2018 I would not base an investment in the stock on this outlook given that the passive/active balance is evolving at PFG and it seems unwise to assume anything (from an outsiders' perspective) in the asset management business currently and investors' greatest risk with this business lies here to my mind. Note though that operating margins remain above the long term plan target (33-36%) so PFG is accommodating some of this pressure in its strategy.
There is also some risk around the fee element of the Retirement Income Solutions division. This is significant for the group at 23% of revenue and 27% of operating earnings (3Q16 data). Guidance is for 29-33% over 2017, which is a 10% spread of outcome possibilities and allows for significant pressure on margins. Part of the uncertainty in this division extends to the DOL fiduciary rule changes, and competitive pricing behavior is another factor. I can see profit growth lagging revenue so if management is correct in its prognosis of low single digit revenue growth we might see a marginally negative YoY in 2017 for the Retirement division's operating earnings.
Conclusion
All told I think that mid-to-high single digit growth should continue for the group with less dynamism in the asset a management and retirement businesses and more in the international pensions business for 2017-18. PFG has set aside $0.8-1.1bn for dividends, share buybacks and acquisitions. I would assume 5% core EPS growth from the business and a further 2% from buybacks while the stock should be able to maintain a $1.6-1.8 DPS distribution, giving us at least a 2.8% yield. The PE for 2016 is 13.2x which seems unchallenging. If you agree the stock can maintain this multiple then you could expect to make 14.5% capital appreciation to end 2018 along with 5.4% from 2017-18 dividends, so a ~10% annual return all in. As a starting proposition this should compete well with the outlook for S&P returns in 2017. I would be happy to own this and would look to open a position on a pullback.
Disclosure: I/we have no positions in any stocks mentioned, and no plans to initiate any positions within the next 72 hours.
I wrote this article myself, and it expresses my own opinions. I am not receiving compensation for it (other than from Seeking Alpha). I have no business relationship with any company whose stock is mentioned in this article.