"AMD (NYSE:AMD) is not a buying opportunity" the article reads. We think they have missed the bigger picture - indeed - the end of AMD is at hand. The company we have lived with for the last 5 years is coming to a close as a new chapter opens up. This company's ecosystem and opportunities are set to radically change. How do we play this? Do we simply buy the stock or are there other options for playing this? Let's explore - shall we?
AMD is a Long-term Buy
Many wonder if AMD will pull back some. We have wondered such as well, since it has had a nice rise. However, when you look at the total potential catalysts, you can begin to understand why AMD has ryzen (bad pun intended) in price.
Nine catalysts include:
1. A new (arguably competitive) consumer CPU called Ryzen due out this quarter. This will feature AMD entering back into the arena, duking it out vs. Intel (NASDAQ:INTC) in the CPU war (an arena that sadly AMD has been almost absent from over the past few years). Will Ryzen beat Intel? Maybe... Maybe not. In the grand scheme of things, it really does not matter if they do or not. All they really need is a processor that performs well and is competitive. From that vantage point - they can compete on price.
2. New server CPUs - due out the 2nd half of 2017. At one point in time, AMD had 26% of the server market and was in Cray (NASDAQ:CRAY) supercomputers, but lost it all. We expect AMD to re-enter this market and (just shooting from the hip) take 10% market share. Vendors do not want Intel to have a monopoly in this market. Vendors want competition in order to get better pricing. AMD stands to take 1.5 billion of revenue in this market if they only take a mere 10% market share. (For a more detailed view, read the most excellent article by author Anchorite here.)
3. New APU CPU based on Ryzen in the works. This will reinvigorate AMD in the low-to-medium end for laptops and desktops. For users who want decent graphics and the ability to do some light gaming-on-a-budget - this is a great option.
4. Virtual reality is growing (as well as augmented reality) and AMD has a healthy presence in this market. Estimates range all over the board as to just how big VR or AR will grow, but we can rest assured that AMD will have a healthy presence.
5. Semi-custom refresh on Xbox and PlayStation will continue to bring in revenue for several years.
6. A mystery semi-custom chip in the works, for a yet-unannounced client.
7. "Vega" GPU is in the works - recently demonstrated at the AMD New Horizon event. (Due out second half of 2017.) This will mark the return of AMD to the high-end battle of the GPU war.
8. AMD officially entering the deep-learning ring via its "Instinct" line of GPUs. We wrote about AMD and deep learning here.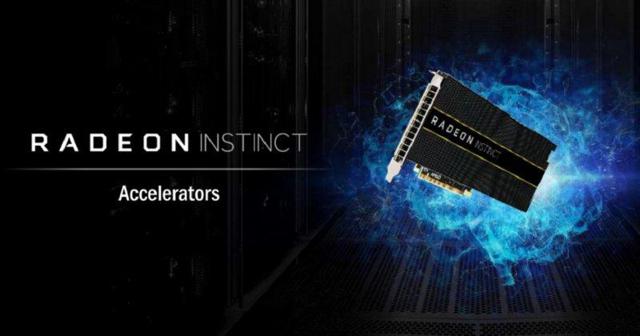 9. The rumor that AMD will work with Intel in some fashion be it simply licensing out its technology and patents to Intel to replace the soon to expire Nvidia (NASDAQ:NVDA) agreement or something even more complex. Rumors abound that AMD will have a bigger role but we will see.
All of these catalysts combined give AMD the potential for billions in revenue growth w/ increased margins. This is the long-term potential that some are missing when trying to calculate why AMD has run up so fast. Simply put, some people get it. Some realize the potential and thus are jumping on board.
How to Play AMD
Could AMD pull back? Sure, of course it can. Will it? Who knows? It is very hard to nail short-term moves with precision. However, we can use stock options if we do not want to outright own the stock. I am going to present a few ways to do this. Disclaimer: This is not investment advice. Yes, you can lose money. Options are very risky.
Disclaimer out of the way, let's look at a few things we can do for either situation, be it AMD goes up, down, sideways, or if we just want to insure against loss.
Note: We are going to keep it pretty basic here. How an option price is structured will not be covered, nor will every conceivable option play. If you understand options, you might want to skip this part. If you want to learn advanced plays with options, we enjoyed reading "The Options Playbook" by Brian Overby.
3..2..1.. Blast off options
If you think AMD is going to blast off to the moon then you could simply buy calls. Calls allow you to control 100 shares of stock per contract for X amount of time - typically days to years (via LEAPS) and at a certain strike (these are contract terms that you can use the contract at). Let's look at an example:
Below is a January 27, 2017 "Call" on the left side and a "Put" on the right. Both have a strike price of 11.50 (as shown in the middle of the picture).



So let's say you thought AMD was going to rocket up - you might buy this Call at the highlighted ask of 1.00 per share. Since all contracts represent 100 shares, this is $100 per contract. If you were to buy it between now and Jan 27th, you could at any time resell the contract or execute it and take possession of 100 shares of AMD at 11.50 per share. Granted, each day that goes by has time decay built in the contract.
Each day it gets closer to expiration and becomes fractionally worth less and less. You need to be correct on your timing if you are buying, otherwise time decay will eat that option price alive till it becomes very, very little. However, you can also sell calls against stock you own (if you want to play as the house.)
Covered Calls
If you own the stock, you can sell a covered call against it. Basically, you are going from the buyer (in the above example), to the seller of the contract. Thus, if you own 100 shares, you can sell 1x contract at .96 cents to 1.00 (the bid and ask in the above). Thus, you are under the obligation to sell the buyer at any given moment 100 shares at 11.50. Once the contract is up, (and if the stock price is over 11.50), your shares will get "called" away and you will get compensated 11.50 per share.
If it is under 11.50, the contract expires worthless and you are free to write another (if you like). Granted, you might miss out on great runs, but you can make pretty good percent gains per month. We like to sell a portion of our holdings in various stocks each month, say, one-fourth of what we own. This way, we generate month-to-month income if the stock is in a sideways motion, and yet have a large chunk in reserve in case of a big run up.
Basic Bearish Play
If you think AMD is going to implode, you might look at buying Puts. This allows you to bet that AMD is going to implode. AMD is running roughly in the 11.50s per share. Let's say you think it's going to implode to 8 in the next couple of months. You go out and find a strike of 8 and buy the puts for the time frame that works for you (and hope you are correct). IF AMD does a huge pullback, you might come out very profitable. However, time decay is a factor here and is working against you.
Insurance Plays
We insure against many disasters in life - car insurance, flood, fire, etc. We can also buy puts as a form of insurance. It does not hurt one bit to spend just a little money buying cheap puts as a basic form of total disaster insurance for the AMD stock you own. Disasters are rare - but they happen. Let me sing you a tale of sorrow that could have been avoided if we had used protective puts.
The Saga of OCZ - A Tale of Sorrow
Back in the 2012s (give or take), our brave author owned a healthy amount of a rapidly-growing company called OCZ. They were rumored to be in buyout talks with Seagate (NASDAQ:STX) and some enterprising soul actually found the corporate jet tail number in some SEC documents. Needless to say, we joyfully watched the plane take off from Seagate HQ and land near OCZ HQ. Earnings were due to arrive and they came! and went! with no news.
Then... as the author was feeling that feeling of impending doom in his stomach... the CEO of OCZ came out and announced to the world that they had lied and cooked the books to the tune of hundreds of millions. The stock imploded from 9 and opened at a mere 2'ish. Sure - a rare event - but now, when we have that nervous feeling, we throw that risk on someone else via the cheap puts we purchase.
Currently, we own puts at a 7 strike in AMD for the month of January. Since our cost average is 6.58, this protects us from a devastating loss at an extremely cheap cost. Granted, if AMD drops, we are losing massive amounts of profit, but this is the price for buying super-cheap puts. It is a risk we can sleep with at night.
Crystal Ball Predictions
Short term what AMD does is our crystal ball vs. your crystal ball. Anything could happen. AMD has had a great run up. However, it is running up because it has tons of potential catalysts that people are just starting to realize. Could it go higher? Of course! Lower? Absolutely. Maybe Ryzen is not as competitive as it could be?
Maybe AMD does not announce anything during CES? Maybe next quarter's earnings are low? It is impossible to say. Long term though, we have several positive events lined out and several opportunities for growth in markets that are virtually untapped for AMD. The end of AMD as we knew it is at hand. We are entering a new era for the company. Long term - AMD is a winner.
Disclaimer: Do your own research, options are very risky. If you have no idea what you are doing read, study, trade on paper, and get an investment advisor to guide you along the way.
If you liked this article please follow me.
Additional Reading:
Disclosure: I am/we are long WE OWN AMD STOCK, WE ACQUIRED APRIL 9 AND 10 CALLS SEVERAL MONTHS BACK. JANUARY 2018 CALLS PURCHASED YESTERDAY AT A 12 STRIKE. WE HAVE SOLD CASH SECURED PUTS AT 11.50 FOR THE JANUARY 20TH TIME FRAME. WE OWN PROTECTIVE PUTS AT A 7 STRIKE AS DISASTER INSURANCE.
I wrote this article myself, and it expresses my own opinions. I am not receiving compensation for it (other than from Seeking Alpha). I have no business relationship with any company whose stock is mentioned in this article.
Additional disclosure: The author wrote this on an AMD bulldozer cpu. Bias to AMD may be inherent in this article.